48 Hours in Wilmington, NC - Fall Edition
Like autumn leaves, this city is a kaleidoscope of fall activity.
By Liz Biro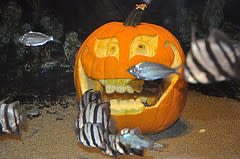 From September to December, Wilmington and its beaches pop under clear blue skies. Days remain warm, summer crowds are gone and Wilmington puts on a show. Festivals, food tours, shopping, history adventures and plenty of outdoor activities make fall my favorite time to visit.
Usually, I have just a couple days; which ones hardly matter. Wilmington presents a vibrant palette each trip. And autumn accommodation deals mean I can return often.
DAY 1
1. Go with the flow | 3 p.m.
My first stop is always the sea shore. The Atlantic Ocean stays warm enough for swimming into October. It's fun to see where the water takes you. I might fish the pier, maybe book a surfing, paddleboarding or kayaking session. Sometimes, I stroll the nearby seven-acre New Hanover County Arboretum, or 100-year-old Airlie Gardens' 67 acres. Fall washes Airlie in subtle tones and rich textures, which reminds me to reserve The Lower Cape Historical Society's late-September Secret Garden Tour, which grants tourgoers access to private downtown Wilmington grounds.
2. Shop, sip, nibble | 6 p.m.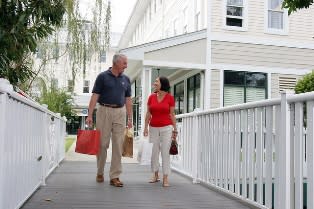 Local and national designers stock Lumina Station's tiny boutiques. What each store contains is just as impressive as where each is located: each storefront resembles a cottage, all arranged around a pond with creeks and bridges, under a shady canopy of trees. I break at farm-to-table Port Land Grille and watch for celebrities in the dining room. Wilmington hosts a major movie studio; Jennifer Aniston ate here while shooting We're the Millers. Not far away, Mayfaire Town Center's mix of brand-name and independent stores and restaurants make for a downtown-like setting, complete with condos. I'm texting my girlfriends now.
3. Bourbon and beer | 9 p.m.
Ah, cocktail time. The Forum shopping center's Pembroke's Restaurant celebrates homegrown ingredients and North Carolina culinary traditions. I'm sipping The Big Fig (bourbon, bitters and fig-infused vermouth), although I see new local beers on tap. Wilmington is experiencing a craft beer brewery boom, newbies include uptown's Broomtail Craft Brewery and Carolina Beach's Good Hops Brewing. No doubt Broomtail and Carolina Beach's Good Hops will serve samples at mid-October's Lighthouse Beer & Wine Festival.
DAY 2
4. Locavore cooking class | 10 a.m.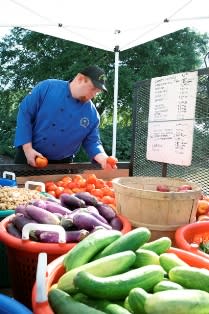 On a Downtown Wilmington Riverfront Farmers Market tour, led by Taste Carolina Gourmet Food Tours, I bought the cutest little pumpkin and tasted hand-made goat cheese. Next stop on the tour was a hands-on cooking class in the kitchen at one of downtown's 50-plus restaurants. Lunch is our classwork: seared scallops atop citrus saffron couscous, sautéed carrots, all crowned with arugula salad.
5. Down by the river | 1 p.m.
On the Riverwalk skirting Cape Fear River, I wander past charming cafes before arriving at a floating taxi. Once again, it's fun to see where the water takes you. This boat docks at the mighty, 728-foot-long World War II Battleship North Carolina, just across the Cape Fear. From the tip-top control tower, I get a panoramic downtown view. Selfie!
6. Surrounded by history | 4 p.m.
Back on the Riverwalk, I'm bound for The Cotton Exchange's maze of shops. The tall, red brick complex, dating to the mid-1800s, long ago hosted one of the world's major cotton export companies. My favorite spot sells essential oils from an old-fashioned apothecary backdrop. I stop for coffee and apple strudel at The German Café. Now, my horse-drawn carriage tour of historic downtown awaits, no reservation needed. The tour leaves every 30 minutes, every day. As we clip clop down brick streets, past moss-draped oaks and Victorian mansions, the city's 500 years unfold. My family would love this day!
7. Concert in the park | 6 p.m.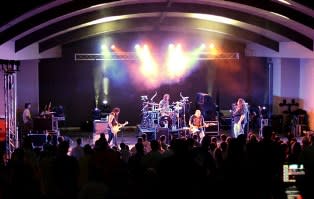 Jamming at the JJ Grey & Mofro show at Greenfield Lake Amphitheater. Big Head Todd and the Monsters played in September. The lake centers a stunning 250-acre park, one of Wilmington's oldest. In 1730, this was a rice plantation. Big names such as Lyle Lovett, Lindsey Buckingham and Travis Tritt play here, as do local and regional bands. New acts are announced through fall.
8. Long nightcap | 9:30 p.m.
Downtown Wilmington has such verve. I feel like I could party all night. Live music fills many places. My hotel is near fantastic small-plates bars. First, champagne and mushroom truffle pizza at The Fortunate Glass Wine Bar. Around 400 labels on the list! Then, drinks from award-winning barman Ian Murray of manna. I adore his Large Mouth Bass, a frothy rye, port, lemon and vermouth cocktail. Hmm, dessert…creamy chocolate mint martini at Caprice Bistro's velvet sofa lounge; or mini donuts and a dark beer, or one of 80-odd bourbons at Front Street Brewery?
DAY 3
9. Back to the beach | 7 a.m.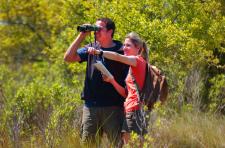 Fall sunrises and sunsets around Wilmington are spectacular. I'm searching Carolina Beach State Park woodland trails for Venus flytraps, native only within 75 miles of Wilmington. I may call friends to camp at the 761-acre park next time. Since the Civil War-era Fort Fisher Historic Site is so close, I'm headed that way. Fort Fisher was the South's largest and most important earthwork fort. A January Battle of Fort Fisher reenactment is among activities recognizing the conflict's 150th anniversary. Think I'll also pop into the N.C. Aquarium at Fort Fisher to see the white albino alligator.
10. Hot shrimp, cool tunes | 1 p.m.
Munching fried seafood and catching acts at the Pleasure Island Seafood Blues & Jazz Festival before saying good-bye. The annual, two-day, mid-October event is on the list of several fall festivals. October's Taste of Wrightsville Beach features chefs and restaurants. Downtown hosts Artwalk, the grand, three-day Riverfest and the PPD Beach2Battleship Iron Distance Triathlon. Wilmington and the beaches go all-out for Halloween with ghost tours, haunted attractions and events. November brings indie movies to the four-day, nationally recognized Cucalorus Film Festival.
Looks like I'll be back this fall – a lot.
Discover more ways to stay, play and have a great getaway with the Wilmington and Beaches Visitors Guide.