Celebrating the Art and Science of Craft Beer in Wilmington and its surrounding Beaches
Since opening the Port City Brew Bus two and half years ago, it is always interesting for me to see the reaction of "Big Beer" drinkers when they find a locally brewed beer that they really enjoy. Visitors who consider themselves craft beer connoisseurs are often pleasantly surprised by the quality of beer in Wilmington.  Our beautiful beaches, award-winning riverfront, and world-class breweries are quickly moving Wilmington into a top beer tourism destination in the South.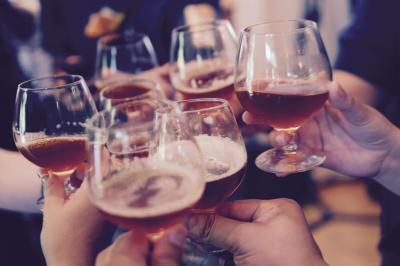 This is one of the reasons that local brewery owners, taproom managers, bottle shops owners, and other craft beer entrepreneurs wanted to form the Cape Fear Craft Beer Alliance. The Alliance is a 501c(6) organization whose mission to is to "promote awareness and increase the visibility of craft beer in the Cape Fear Region through education and community events."  As the region becomes nationally recognized for its breweries and craft beer culture, the Alliance will allow us to pool resources and put forth a combined marketing effort and help to shape the local craft beer industry. This is how we came up with 10 days of beer-fueled fun, known as Cape Fear Craft Beer Week [CFCBW].
CFCBW will take place in the Cape Fear region with a frenzy of events at local breweries, bottle shops, bars, restaurants, and other supporting venues to celebrate the area's close-knit beer community and culture.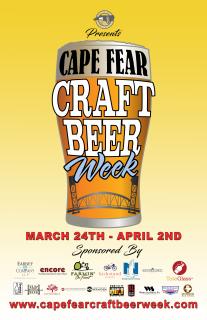 Cape Fear Craft Beer Week starts Friday, March 24th with the Ultimate Brewing Championship kickoff party and runs through April 2nd. The This capstone event for CFCBW - Cape Fear Craft & Cuisine  on April 1 -  features 20 local chefs with their best cuisine paired with 20 breweries and their best offering, showcasing the possibilities of food and beer together. Check out the Cape Fear Craft Beer Week website to see a complete list of all the craft beer related happenings going on around the Wilmington area. 
Wilmington, North Carolina and the Cape Fear region is the ideal location for a spring beer week.  Warm days with ocean breezes and cooler nights make for the perfect time to come and experience Coastal N.C.'s exploding craft beer culture.  With award winning outdoor dining, the top-rated river front in the United States, and one of the fastest growing craft brewery communities in the South, it's time to start planning your craft beer vacation for Wilmington, NC and the surrounding beaches.