Wilmington, N.C.: Hello, June. Let the outdoor theatrics begin! The time is nigh and the stage is set for the 2016 Cape Fear Shakespeare on the Green festival, held every weekend in June at the Hugh Morton Greenfield Lake Amphitheater. Now in its 24th season, the annual free-to-the-public Cape Fear Shakespeare on the Green festival, in association with the City of Wilmington, will present two shows: "Twelfth Night" and "The Two Gentlemen of Verona."
Themes of William Shakespeare's plays continue to resonate with modern audiences. Have you ever wondered where oft-quoted lines originated? For instance: "Some are born great, some achieve greatness, and others have greatness thrust upon them..." and "They do not love, that do not show their love." These memorable quotes are from Shakespeare's masterpieces "Twelfth Night" and "The Two Gentlemen of Verona," respectively. Both plays are slated for the 2016 season of Cape Fear Shakespeare on the Green and will be staged on select dates in June.
The Cape Fear Shakespeare Youth Company kicks off the season performing The Bard's first romantic comedy, "The Two Gentlemen of Verona." This playful show, directed by CFSOTG artistic director Cherri McKay, is about privileged youths with no real responsibility who are living in a world where adults are on the parameter. Cape Fear Shakespeare Youth Company performances are suitable for families and will be staged at 8:00 p.m., Monday through Wednesday, June 6-8 and Monday through Thursday, June 13-16.
"Twelfth Night," directed by Adrian Monte, is this year's feature production. Among Shakespeare's most perfect comedies, the romantic plot revolves around separated twins, misplaced passions, and mistaken identity. Meanwhile, a satirical subplot unfolds as a self-deluded steward who dreams of becoming a count is derailed by the merrymakers he wishes to suppress. Put all these people together and you have a delightful poignant symphony of miscommunication, misconception and non-comprehension, all fueled by romantic desire. Add the lush backdrop of Greenfield Park and you have the makings of a perfect summer outing. Performances are staged each weekend at 8:00 p.m., beginning Saturday, June 4 through Sunday, June 26. Performance dates for "Twelfth Night" are June 4-5; 10-12; 17-19; and 24-26, with an additional Actor Appreciation show on Thursday, June 23.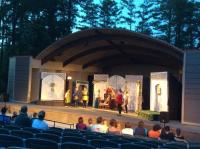 Cape Fear Shakespeare on the Green is among Wilmington's most anticipated summer traditions. Visitors and residents enjoy free productions of The Bard's works in a family atmosphere at the Hugh Morton Greenfield Lake Amphitheater. Located in the heart of Wilmington on the lake's edge, the stage is surrounded by stately moss-draped cypress trees and well-manicured gardens of Greenfield Park. With 900 seats, the amphitheater is the only one of its kind in Southeastern North Carolina and is among Wilmington's largest entertainment venues. Performances of Cape Fear Shakespeare on the Green are free to the public and donations are always welcome and appreciated. Gates open at 6:30 pm; shows begin at 8:00 p.m.
For an evening of laid-back fun that brings the arts and nature together, arrive early and bring a picnic or enjoy a snack from the concession stand. Greenfield Lake Amphitheater is located at 1941 Amphitheater Drive, Wilmington. For more details call 910-399-2878, email shakespeareonthegreen03@yahoo.com or visit www.capefearshakespeare.com.
Go with the flow and see where the water takes you. Wilmington, N.C. & Island Beaches is a convenient drive along US 74 (from Charlotte) or I-40 (from Greensboro and Raleigh).  For a free Official Visitors Guide for Wilmington, and the island beaches of Carolina Beach, Kure Beach, and Wrightsville Beach, call 1-866-266-9690. For summer highlights and events:www.wilmingtonandbeaches.com/season/2016-summer-highlights.