Whether your travel vibe is adrenaline junkie, couch potato or somewhere in between, destinations rich in "soft adventures" are right up your alley. Soft adventure, unlike its cousin hard adventure, involves little physical risk, requires little to no experience, and offers more convenience.
Read on for a list of Eight Soft Outdoor Adventures in the Wilmington area to help inspire your next coastal getaway:
Wildlife Viewing – Zeke's Island Reserve is one of the most important shorebird habitats on the East Coast. From sharks, rays and eels to sea stars, horseshoe crabs and sharks, the North Carolina Aquarium at Fort Fisher is home to more than 2,500 animal residents – including butterflies and dinosaurs (animatronic!) this spring. Birds, fish, invertebrates and sea turtles inhabit Masonboro Reserve, the longest undisturbed barrier island ecosystem in southern North Carolina.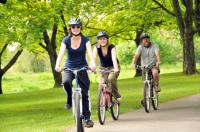 Cycling – The recently completed Gary Shell Cross-City Trail is a 15-mile primarily off-road, multi-use trail connecting Wade Park, Halyburton Park and Empie Park to the Heide-Trask Drawbridge at the Intracoastal Waterway. Mountain bikers will want to check out the courses at Blue Clay Bike Park. Fat biking on the beach has recently become popular – the Second Annual US Open Fat Bike Championship was held at Wrightsville Beach in March. Bike Cycles in Wilmington will even deliver fat bike rentals to wherever you are on the island.
Camping – Celebrate the 100th anniversary of North Carolina State Parks by camping at Carolina Beach State Park. The family campground has 83 recently updated campsites (including two wheelchair-accessible sites), as well as two camping areas for groups (available by advance reservation only). The Park is getting a major upgrade this year with the addition of new cabins. Freeman Park, located at the north end of Carolina Beach, is also a popular spot for overnight camping. Just make sure to look into the right permits ahead of time.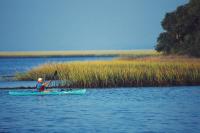 Watersports – Three nearby beaches mean watersports galore. Wrightsville Beach was named as one of the top surfing towns in the world by none other than National Geographic, and Carolina Beach is home to a surf school run by professional surfer and Olympic Gold Medalist Tony Silvagni. Standup paddleboarding (SUP, for those in the know), kayaking, sailing, kite boarding, scuba diving, fishing and boating are among the other popular watersports available in the area.
Tours – Explore on foot, via horse-drawn carriage or on a Segway. Options range from tours of Wilmington's National Register Historic Districts, film and television famous sites as seen on self-guided tours (Wilmington is also known as Hollywood East thanks to its history as a booming TV and film industry), ghost walks of Old Wilmington (it is said to be one of the most haunted cities in the world), and even culinary and restaurant tours.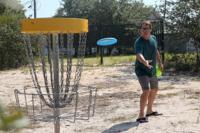 Golf – The Donald Ross-designed Wilmington Municipal Golf Course was renovated in 2014, doubling the greens and restoring the bunkers. The area also features four other public courses. Enjoy a different type of golf at Kure Beach's disc golf course. The terrain makes the course a challenge for pros and novices alike – just bring your own discs (i.e., Frisbees). Good Hops Brewing in Carolina Beach recently added a nine-hole disc golf course in its backyard for visitors to enjoy alongside their craft brews.
Hiking – There are hiking and fitness trails at Carolina Beach State Park (Carolina Beach); Fort Fisher State Recreation Area and the North Carolina Aquarium at Fort Fisher (Kure Beach); and The Loop (Wrightsville Beach). Wilmington's award-winning 1.75 mile-long Riverwalk is also a great spot for a stroll, as are all three beaches.
Yoga – In addition to surf and paddleboard lessons, Tony Silvagni Surf School offers paddleboard yoga. Practitioners in the know claim this calming type of yoga offers a number of benefits, including helping refine your technique and advance core strength. Enjoy yoga while overlooking the Atlantic Ocean from the Crystal Pier at Wrightsville Beach, courtesy of the Wilmington Yoga Center.