With more direct flights to Wilmington International Airport (ILM), visitors can easily access Wilmington's historic charm and endless adventure. Offering the luxury of city-life activities with a charming coastal twist, it's no wonder this area attracts so many Hollywood filmmakers and has legions of celebrity fans. Whether you're exploring historical attractions, admiring riverfront views or dining at celebrated favorites, newcomers will fall in love with Wilmington and its lively downtown experience.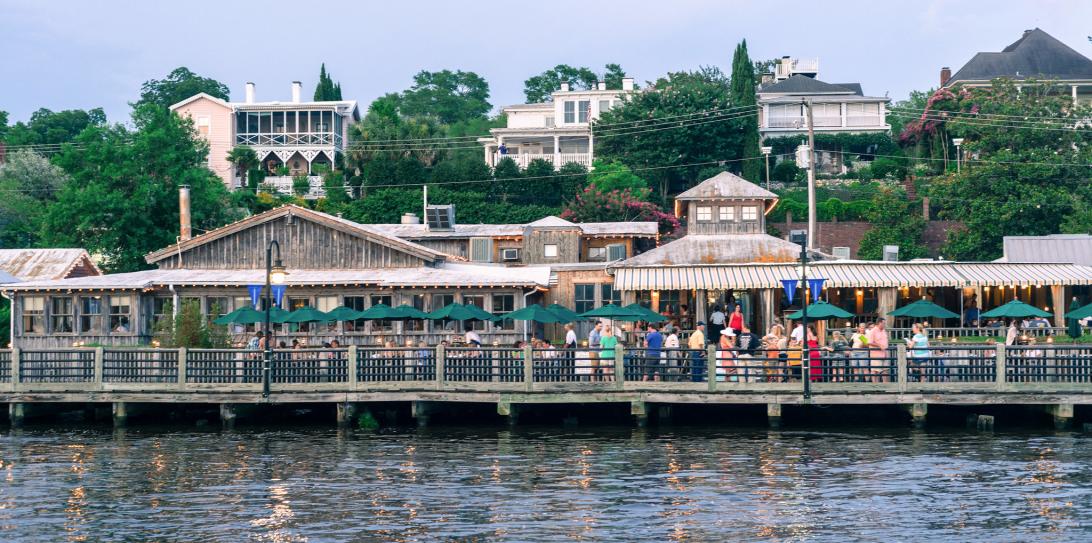 While Wilmington is North Carolina's most accessible coastal destination and enjoys many leisure visitors who make the convenient drive, Wilmington's International Airport (ILM) currently offers non-stop flights to Atlanta, Charlotte, Chicago, Dallas, Philadelphia, New York and Washington, D.C. A $60 million airport expansion will see gates added starting in 2020 as more travelers discover this hidden gem. Historic downtown Wilmington is an easy 15-minute drive from the airport. 
#WheninWilmington for the very first time, check out these essential itinerary ideas:
Stroll along the Wilmington Riverwalk and enjoy a breathtaking view of the Cape Fear River where you can stop into boutiques, cafes and art galleries that line the nearly 2-mile scenic walkway, and don't forget to snap a pic of your first time in Wilmington with the scenic river background including the iconic WWII Battleship NORTH CAROLINA. Plans are well underway for Wilmington's North Waterfront Park. Once it opens, visitors will be able to experience a children's play area, beer gardens, open lawn space and an outdoor concert venue managed by Live Nation.
Dine at PinPoint Restaurant, Benny's Big Time Pizzeria, RX Restaurant & Bar or Catch for farm- and sea-to-table cuisine. Or venture to manna ave. 123, Wilmington's only AAA Four Diamond restaurant. Whether you're in the mood for an upscale seafood dish or a wood-fired pizza, these restaurants who use the freshest of ingredients are a foodie's dream.
Enjoy outdoor, live music performances at Greenfield Lake Park's Hugh Morton Amphitheater. Jazz lovers can enjoy soothing melodic tunes outside Bellamy Mansion at special events, a museum and charming example of historic, antebellum architecture. Or visit Thalian Hall, one of the oldest, most beautiful theaters in the country, for an enduring music experience. For Broadways hits, comedy shows and popular concerts, check out the Wilson Center, Eastern North Carolina's largest and most technologically advanced theater.
Brew hop with friends aboard the Port City Brew Bus or while exploring the Wilmington Ale Trail, featuring 15 local stops. Any and every beer lover will appreciate the handcrafted, unique twist each brewery adds to its draft selection along with unique environments.
Embark on a nature lover's dream through Airlie Gardens. The beauty of Airlie Gardens – with more than 67 acres to explore – has been showcased in a number of Hollywood and television hits such as "Iron Man 3," "One Tree Hill" and "Dawson's Creek." For summertime entertainment, the Airlie Gardens Concert Series is the ideal spot to eat, drink and relax on the lawn while enjoying musical performances.
Whether you prefer walking, trolley, carriage, or Segway tours, Wilmington has plenty of ways to help visitors discover its beauty, charm, and nautical legacy. Explore the area's historical roots on a self-guided or guided tour of the 230-plus blocks of downtown's National Register Historic District, one of the largest and most picturesque in the country that holds its own alongside Charleston and Savannah.
Sip on a nightcap at a local watering hole. manna ave. 123 creates divine craft cocktails, while Tails Piano Bar and Lounge and The Blind Elephant are late-night, speakeasy favorites that will transport you back to the days of prohibition. For drinks with a view, venture up to Cloud 9 and watch the sunset over the Cape Fear River.
Add a mini-vacation to your trip itinerary and spend a sunny day at one of Wilmington's three accessible island beaches! Only a short drive away, Wrightsville Beach, Carolina Beach and Kure Beach offer spectacular coastal views and unique activities for any type of traveler.