Considered one of the most actively haunted cities in the world, Wilmington is the perfect destination for a spooky Halloween weekend getaway. Not only are there haunted sites around every corner, Wilmington's Battleship NORTH CAROLINA was also noted by the Syfy network's "Ghost Hunters" as a Top 25 Halloween pick of all time because of the paranormal activity the crew encountered while filming the show.
Journey into the depths of old Wilmington on a 90-minute Ghost Walk adventure to the city's most actively haunted homes and burial grounds. The guides are professional storytellers and actors who share actual encounters during recent tours. This nationally-acclaimed, award-winning tour has appeared on MTV, Haunted TAPS, the Discovery, Learning, History and Travel channels and was named "One of America's Top 5 Tours" by USA Today and "Top 10 Tour in the U.S." by Trip Advisor.  Watch a glimpse of the experience here if you dare.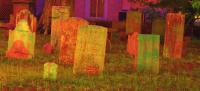 Two of Wilmington's graveyards made it into FoxNews.com/Travel's list of "Spookiest Cemeteries in the U.S." These include the Bellevue Cemetery which was used in the locally filmed FOX Television series Sleepy Hollow as well as St. James Parish, which is a stop on the Ghost Walk of Old Wilmington where guides share the unfortunate story of Samuel Jocelyn, who was buried alive in the cemetery.
Hoist a pint inside the bowels of old Wilmington's most haunted pubs on a 2.5 hour Haunted Pub Crawl adventure. Hear eerie yarns that will shiver your timbers, from the disreputable obsession of the merry wench Gallus Meg, who cut off the ears of rude customers, to the barbarous haunts of a notorious madman.  After these ales and tales, you will be shaking in your boots. Cheers as you enter here to catch a sneak peek.
All of this and more is here waiting for you and only in Wilmington.  We invite you to enter here for some frightful fun.