History & Historic Preservation Provide a Distinctive Visitor Experience
Everyone in Wilmington and the region knows that we are a distinctive destination, and in fact this was acknowledged by the National Trust for Historic Preservation when they proclaimed Wilmington as one of the Dozen Distinctive Destinations in the country for 2008.  This was a national honor and recognition for the city and the region, and a tremendous acknowledgement of the community's efforts to preserve, protect and reuse its historic resources.  Wilmington is a regional leader in historic preservation-not only across North Carolina but throughout the south.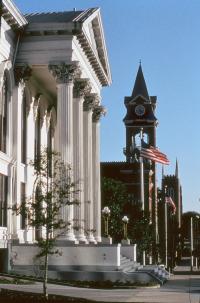 Wilmington has been about the business of preservation and revitalization since the early 1960s.  One of the first architectural review boards in North Carolina was created here in 1962 and the Historic Wilmington Foundation was incorporated in 1966 (the state's second local preservation organization).  We are a city that recognizes that history and historic preservation pays big dividends to the community.  Three historic house museums are open to the public in the downtown Wilmington National Register District, along with the historic Thalian Hall performing arts theatre. Our downtown is filled with shops, galleries, restaurants and performance spaces in repurposed historic buildings. Our Children's Museum linked three historic buildings to create one inviting educational space for children and parents. Our historic districts are filled with historic places of worship too: The Temple of Israel (North Carolina's first Jewish synagogue), St. Marks (North Carolinas first African American Episcopal Church), and the Basilica Shrine of St. Mary Catholic Church just to name a few. Wilmington offers many delightful bed & breakfast inns and lodges that are in restored historic homes and buildings.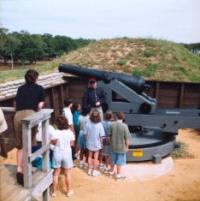 New Hanover County has 8 National Register Historic Districts located in Wilmington, encompassing almost 6000 contributing buildings.  Our historic districts are vital residential and commercial centers too, not just historic sites.   In fact Wilmington has led the state in some years in the number of completed historic tax credit projects. There are also a number of buildings located in the county and city individually listed on the National Historic Register of Historic Places, including City Hall/Thalian Hall, the Federal Building and Courthouse, USS Battleship North Carolina, Wilmington National Cemetery and Fort Fisher.  Historic Wilmington Foundation offers a unique plaque program that recognizes more than 500 of our historic sites with a description of the building's occupants and history all in a compact space.  These plaques are on houses, commercial buildings, cemeteries, a streetcar stop and even historic alleyways.
The region also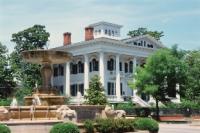 recognizes its diverse roots and how people from different places and origins contributed to our achievements.  Orange Street Landing on the Cape Fear River was accepted into the National Underground Railroad Network to Freedom.  Wilmington and the region are participating with the National Park Service in the exploratory stages of the creation of a Gullah Geechee corridor to preserve and interpret the history of the West African people who came to the southeast coastal area as enslaved people to work the farms and build the area.  Civil War history is never far away either and the mighty Fort Fisher, the Confederacy's last link to the world, is a state historic site. The highly acclaimed Civil War Trails initiative has placed 6 interpretative plaques in the region to highlight Civil War sites.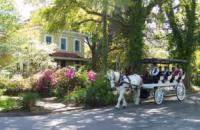 If all of this doesn't keep you busy, then we have guided walking tours of our historic district- both commercial and residential, self-guided tours, down-loadable apps for tours and carriage and horse drawn trolley tours. History and historic preservation is alive and well in Wilmington.  The city's historic preservation commission proudly proclaimed that historic preservation lives here when it recently celebrated its fiftieth anniversary.  
For visitor information on history museums, tours and historic sites, please visit www.WilmingtonAndBeaches.com/Things-To-Do and choose 'search' options Museum/Historic Sites and History.