Throughout 2016, North Carolina's state parks system will celebrate its centennial. One of the nation's first state parks was created 100 years ago at the summit of Mount Mitchell, and today, the system reaches into every corner of the state with nearly a quarter-million acres set aside for conservation, recreation and education.
The occasion offers North Carolinians a chance to celebrate a lasting achievement and to rededicate themselves to the stewardship of our stunning landscape. Every state park will hold a special event to mark the centennial and each one will be unique, reflecting the park's character and heritage. The celebration began with First Day Hikes, as each state park staged a New Year's Day hike for fitness and a reconnection with nature.
The greater Wilmington community is fortunate to have four stellar state parks nearby, two of which are located on Pleasure Island, just a few minutes from Wilmington: Carolina Beach State Park and Fort Fisher State Recreation Area. While Fort Fisher offers a traditional beach experience complemented by hiking trails and four-wheel-drive access, Carolina Beach State Park is all sound-side, with secluded camping beneath towering trees, a marina, miles of hiking trails and habitat for the renowned Venus flytrap. In 2015, Friends of Pleasure Island State Parks was created to draw these parks closer to the community.
About an hour to the west of Wilmington along US 76, residents and visitors will find Lake Waccamaw State Park on the largest of the Carolina bay lakes. It holds species found nowhere else in the world, and offers high-quality fishing, boating and paddling. Just a few miles further west along US 76 is Lumber River State Park, a federally designated Wild and Scenic River that is a scenic wonder with a rich history.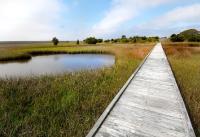 Each state park has its own personality, but all share a common heritage. The North Carolina state parks system was born of citizen passion to protect special places and to make them accessible. (Nearly all state parks are admission-free.) All state parks offer free and interesting ranger programs that help maintain a conservation ethic to last for generations.
Somewhat coincidentally in 2016, a proposed bond package will be put before voters in the state's March primary election. These four parks – along with 41 other state park units – stand to benefit. If approved, the Connect NC bonds would set aside $75 million for projects that will improve the visitor experience. (Details at www.connect.nc.gov.)
While it's a time for reflection and commitment, our centennial is also a time for fun. Statewide, there'll be a 100-mile hiking challenge, a new parks passport program and a few surprises throughout the year. All the events are listed at www.ncparks.gov, but here are the ones of local interest:
So, 2016 is the year to discover or rediscover our Naturally Wonderful state parks. Reconnect with nature, reconnect with family, rekindle memories and rededicate to protecting what's best about North Carolina.
About the N.C. Division of Parks and Recreation: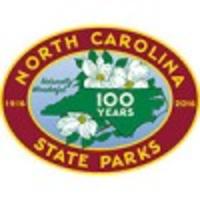 From the mountains to the coast, the Division of Parks and Recreation administers a diverse system of state parks, natural areas, trails, lakes, natural and scenic rivers and recreation areas.
The division also supports and assists other recreation providers by administering grant programs for park and trail projects, and by offering technical advice for park and trail planning and development. The Division administers the North Carolina Trails System, North Carolina Natural and Scenic Rivers, and the Parks and Recreation Trust Fund.
For more information, visit www.ncparks.gov.