Here in Wilmington, North Carolina, we've got it all: beaches, the river, a great (and growing) brewery scene, and some of the best chefs around. I know what you're thinking, "Jason, you live here, of course you love it;" that's true, but I'm also a travel and food writer and I'm fortunate to eat in spectacular restaurants the world over, so I know good food. And we've got plenty. With all the fresh seafood, the farmers growing to order for restaurants, and diners hungry for next-level cuisine, Chefs in Wilmington and the nearby beach towns have to deliver culinary greatness on every plate every night. They do, and they've racked up the awards, accolades, writeups, and kudos to prove it. Read on for some of the award-winning chefs in and near Wilmington, then pick a few to visit next time you're in town.
Jameson Chavez, manna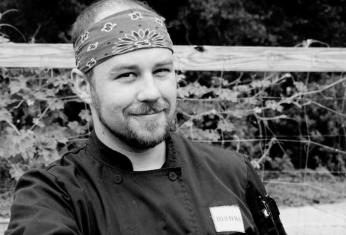 Chef Jameson Chavez has been in the kitchen at manna since 2010, and in the restaurant industry, a decade in the same kitchen is unheard of, but with passion pushing Chavez to dish up plate after plate of outstanding food, a legion of loyal diners, and an owner who knows what it takes to run a restaurant of this caliber, it's no wonder he's stayed. And he's helped lead manna to five consecutive AAA Four-Diamond Restaurant Awards, which speaks volumes to the quality, consistency, and deliciosity (fine, I made up that last word, but you get it) coming out of the kitchen. Match a menu stacked with pork belly roulade, pan-roasted catch of the day, and tuna tartare with a killer cocktail program and one of the best wine lists in the southeast and you have more than enough reasons to make a reservation.
Craig Love, Surf House Oyster Bar & Surf Camp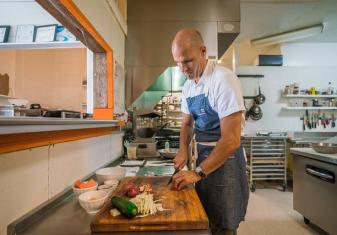 When your restaurant makes any "Must Visit" list, you're excited, so imagine how Chef Craig Love feels when diners come in saying, "We heard about Surf House in Our State magazine" or "Richmond Magazine" or "the Charlotte Observer." He takes that energy and brings it back to the kitchen, uses it to drive his next menu and push his team for excellence in every service. And they deliver. His Carolina Beach restaurant, Surf House, has been written up in Garden & Gun magazine, Coastal Living, and Food & Wine; he makes appearances at lauded food festivals like TerraVita and the Triangle Food & Wine Experience; and he's been given recognition for his business acumen and devotion to fresh, farm-raised food, named 2018 Entrepreneur of the Year and earning a 2017 Agrarian Stewardship Award. All of that says nothing about what's on the menu, but trust us, it's delicious whether you're supping on local shrimp and grits or an order of oysters on the half-shell.
Micah Edelstein, Rolled & Baked
They say Rolled & Baked makes "Biscuits for the Bold" and it's hard to argue that. Sweet tea brined fried chicken topped with sausage gravy and spicy bacon, then nestled between a buttermilk biscuit. How about an "everything" biscuit with layers of fried green tomato, smoked salmon, and pimento-dill cream cheese? Those are just two of the tasty biscuits you'll find at this Castle Street eatery where the kitchen is led by Chef Micha Edelstein. She's been on TV's Top Chef and her former restaurant was a Portland, Oregon, favorite. Now she's in the Port City changing the way we think about biscuits. No mean feat, but she dishes up a persuasive plate; stop in to see what all the fuss is about.
Keith Rhodes, Catch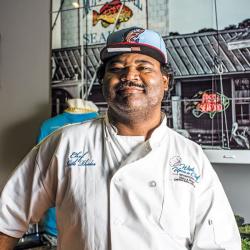 Talk to Chef Keith Rhodes and you'll see he's not one to take the spotlight, he'd rather do his talking one dish at a time. Which made his nomination for the James Beard Award Best Chef Southeast – essentially The Oscars of food – that much sweeter. Recognized by his peers, by food journalists and restaurant critics, and by the public for his culinary excellence, his was the first nomination for a Chef from Wilmington and it drove him to work harder on that next menu. Chef Rhodes cooks cuisine celebrating Low Country culture, Gullah flavors, and Southern food, but through a global lens. This creative blend drove him to an appearance on Top Chef and has made Catch a popular spot for visiting celebrities and dignitaries, well, dishes like his NC Lump Crabcake, a spicy lobster tail, and flavors that bridge the gap between the southeast and southeast Asia don't hurt either.
Dean Neff
In 2019 Chef Dean Neff became Wilmington's second chef to earn a James Beard Award nomination for Best Chef: Southeast. At the time he was in the kitchen at PinPoint and developing dishes that were bold, flavorful, and beautiful. He's stepped away from PinPoint to develop a new project, one he's keeping under wraps to all but a select few, but trust us, when it opens, you'll need to be there.
Jessica Cabo, EAST Oceanfront Dining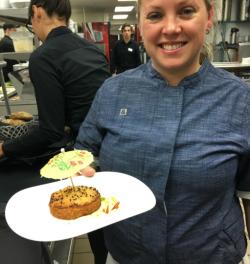 At Wrightsville Beach's Blockade Runner Resort the kitchen turns out an amazing spread under the leadership of Chef Jess Cabo. Chef Cabo draws on her favorite flavors – from Mexico, Asia, the Mediterranean, California, our own waters and fields – to develop a menu that goes beyond typical restaurant cuisine. Whether it's freshly foraged mushrooms, a simple chicken liver pate or a fried avocado taco, her creativity shows. Early in her culinary career she appeared on TV's Hell's Kitchen, cooking her way into the finals before making her way here where her food has earned her a permanent spot on the radar of foodies in the know.
Ones to Watch
Oh, we have more chefs and restaurants for you. These are places on the rise and chefs who are coming into their own in big ways.
When Guy Fieri's Diners, Drive-Ins and Dives stopped by, several Wilmington eateries made it on the air. Favorites like Fork N Cork and Copper Penny dished up duck wings and a hot roast pork sandwich to Fieri's delight, while Ceviche's served a pair of Panamanian dishes. At Cast Iron Kitchen, Chef Josh Petty served Fieri a Dirty South Biscuit – fried chicken, runny egg, sausage gravy – and Not My Momma's Meatloaf – a meatloaf sandwich that's anything but mundane. Keep an eye on Chef Petty and the kitchen crews at each of these restaurants because you'll hear more about them in the future.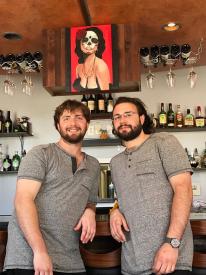 But the future's quite bright for Sam Cahoon, Chef and Owner of Savorez, in Downtown Wilmington. This Latin-meets-North-Carolina restaurant does one thing good: everything. Order the tacos because whether you get the Caliente Tuna, the Crispy Flounder, the Pork Belly or a vegetarian-friendly version, you'll wish you had room for two more. While you're at it, the Latin twist on shrimp and grits is a delight, the Vegeta Comida – a platter packed with perfectly prepared veggie dishes – might convince you to go vegetarian, and the sweet potato guacamole will have your taste buds spinning.
So, next time you're in Wilmington, give one of these chefs a try and discover just why the foodies here are so excited about their next meal out.
Click here for a complete list of restaurants in Wilmington and its island beaches.