Wilmington, N.C. - The surf's up in Wilmington and the island beaches of Carolina Beach, Kure Beach and Wrightsville Beach, where surfers and paddlers of all skill levels will find nice surf breaks and respectable waves, as well as calmer waters in the sound. And the mild coastal climate lends itself to surf and standup paddle competitions that are growing in popularity.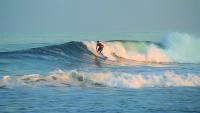 Surrounded by the Atlantic Ocean and sound-side waterways, Wilmington and its island beaches have long been lauded as a premier surf destination, with documented surf activity that dates back to 1909. In fact, a state Historic Highway marker recognizes Wrightsville Beach as the birthplace of surfing in North Carolina. There's also a Waterman's Hall of Fame exhibit at the Wrightsville Beach Museum of History.
National surfing recognitions continue with Thrillist.com naming Wrightsville Beach one of the "Best Small Beach Towns in America" [May 2016]. Zozi.com includes the island in its list of "13 Epic Surf Spots in the U.S." Wrightsville's SUP accolades include Outside Magazine's April 2015 list of top "Stateside SUP Hubs" and the Men's Health 2015 roundup of "Summer Hot Spots," citing the island's harbor as a great place for SUP.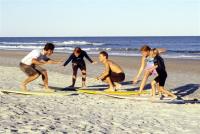 Today, the area's surf culture remains vibrant in Carolina Beach, Kure Beach and Wrightsville Beach. Surf shops and outfitters provide a wide selection of gear, while surf schools offer lessons and camps for beginners. Coastal Living magazine (June 2016) gives a nod to Wrightsville Beach Surf Camp as one of its picks for "Best Summer Beach Vacations" and American Way magazine recently featured IndoJax Surf School. And the area's first surf school, Crystal South Surf Camp, is proud to present the 2016 Wrightsville Beach Wahine Classic in August. Professional surfer Tony Silvagni recently placed 5th in the World Longboard Tour. When he's not competing he teaches surfing to students of Tony Silvagni Surf School in his hometown of Carolina Beach.
Surfers are welcome to bring a board (or rent one) to hone their skills or learn the basics in Wilmington and its island beaches. Following is a roundup of summer surf & SUP events to stoke the surfer's soul.
Summer Surf & SUP Events: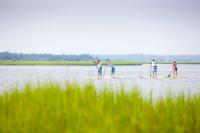 ONGOING: WEEKLY SUNSET SUP, 6pm-7:30pm. Thursday evenings through August 6, the Sunset SUP Series features free clinics and races for adults and kids. Blockade Runner, 274 Waynick Blvd., Wrightsville Beach,www.facebook.com/BlockadeRunnerSurfToSoundAcademy?fref=ts
JULY 15-17: 11th ANNUAL O'NEILL/SWEETWATER PRO-AM SURF FEST. 8:00am each day. The O'Neill/Sweetwater Pro-Am Surf Fest is the 2nd largest surfing contest on the East Coast. Dozens of amateur surfers and an average of 96 professional surfers from around the world participate. Past professional winners include Rob Machado, Fisher Heverly and Avon Cormican. Location: Oceanic Street, Wrightsville Beach.  910-256-3821. Details: www.wblivesurf.com; www.sweetwatersurfshop.com.      
JULY 16: MUSIC & ART FEST. 4pm-9pm. The Pro-Am Surf Fest includes a Music & Arts Fest at Wrightsville Beach Park with live surf and Reggae music. Food, beverage and raffle proceeds benefit local charities. Wrightsville Beach Park. www.facebook.com/OneillSWPROAM?fref=photo
AUGUST 6: ESA-SNC CONTEST #4:  The Eastern Surfing Association (ESA) was founded in 1967 by East Coast surfers to promote, preserve, and protect the sport of surfing on the East Coast. Carolina Beach location TBA. For ESA Southern North Carolina team info: http://www.esa-snc.com/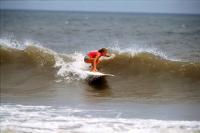 AUGUST 20-21: WRIGHTSVILLE BEACH WAHINE CLASSIC. Move over boys of summer! Surfer girls return August 20-21 when wahines of all ages and levels compete in an all-female surf event on the South end of Wrightsville Beach, continuing a beloved Wrightsville Beach surfing tradition. Divisions include: Pro-Shortboard and Pro-Longboard (all ages), Amateur Shortboard and Longboard (grouped by age), Stand Up Paddleboard and the crowd favorite Tiny Wahine. Details at https://www.crystalsouthsurfcamp.com/wb-wahine-classic/; 910-465-9638.
AUGUST 22: SURFER'S HEALING. Day camps that enrich the lives of people living with autism by exposing them to the unique experience of surfing with local surf volunteers. Wrightsville Beach, www.surfershealing.org.
Find your summer bliss in Wilmington, N.C. and its island beaches, one destination with four unique settings. For summer highlights and specials visit www.wilmingtonandbeaches.com/season/2016-summer-highlights/.  For a free Official Visitors Guide for Wilmington and the island beaches of Carolina Beach, Kure Beach and Wrightsville Beach, please call 1-866-266-9690 or email visit@wilmingtonandbeaches.com.  For online visitor information and a complete Calendar of Events, please visit the website www.GoWilmingtonAndBeaches.com.