Rags (a canine visitor) explores pet-friendly activities in Wilmington and its island beaches. Read about Rags' favorite things to do with his human when he's in the area.
BREAKFAST AND WALKIES
There are over a hundred pet-friendly restaurants here—so we got breakfast at Java Dog Coffee House on Front Street. I like that it's got "dog" right in the name!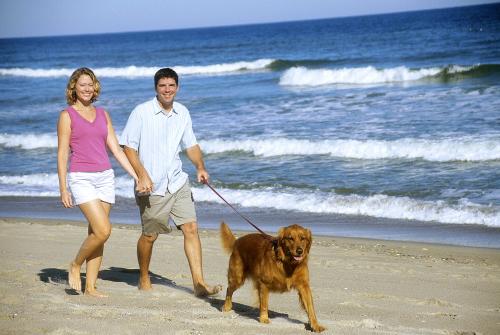 Afterward, we went for a walk. I just LOVE walks! We went to Greenfield Lake Park. It has a crazy beautiful trail all around it with azaleas, cypress, moss, and so many squirrels to chase. My human likes looking at the pretty water. I like barking at turtles!
Carolina Beach State Park has almost nine miles of hiking trails for long walks with my human. There are so much wildlife and pretty plants to sniff! Oooh, look! Venus flytraps and other carnivorous plants grow along one of the trails.
When we go walking in Wrightsville Beach I have to be on a leash the whole time, so I'm on my very best-est good behavior there. Between April 1 and September 30, I can't be on the beach. The rest of the year, though, I can be on the beach as long as I am on a leash. I don't mind because people and most businesses there are very dog-friendly. (Hey, I just realized, I'm dog-friendly, too!)
DOG PARKS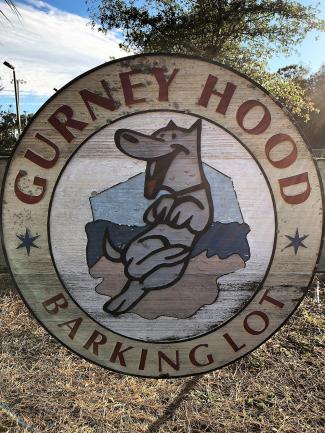 Next, we went to the dog park at Hugh MacRae Park. They have two separate areas for big and small dogs so I can play with other doggies my size. There's lots of water and shade here, too, plus pine straw and sand to dig in! I made many, many friends there.
Other times we go to the dog park at Empie Park. It also has plenty of shade and water and separate areas for big and little dogs—or as I like to call them, big and little friends.
Or we'll go to the dog park at Ogden Park. It's like the other two, only with different dogs to meet. I like it so much here that I yip and jump around and happy-bark like crazy. Ruff!
When we're on Pleasure Island there are two more dog parks to choose from. Carolina Beach has one at Mike Chappell Park, and at Kure Beach, I enjoy the Gurney Hood Barking Lot, which is the dog park at Joe Eakes Park. In fact, it's the only public area in Kure Beach where dogs can be let off the leash. Yay! for the freedom to romp and play and make friends. 
MIDDAY BREAK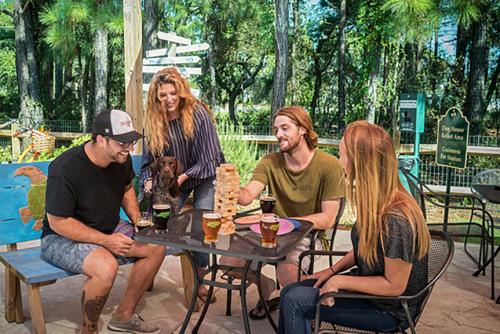 The humans at Sweet N Savory Café are so nice! I got petted a lot there! That pretty much happens at all the dog-friendly restaurants here. Of course, it helps if you're a cute dog—which I am! Sometimes I get bacon if I beg without whining. Bacon!
Last time we were at Kure Beach my human got his midday feeding at Big Daddy's, which is another great dog-friendly place. I like to see what drops. Oooh! A French fry!
And because I was a very good dog, we went to Woof Gang Bakery & Grooming where we stocked up on all kinds of really cool and nutritious doggie treats. I also got a new brush that feels so good.
THE ABSOLUTE BEST—THE BEACH!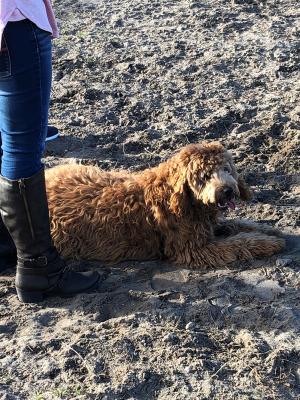 Freeman Park in Carolina Beach is great because it has a big beach. Between April 1st and September 30th I have to be on a leash there, but the rest of the year I can be off-leash! Woof-woof for that.
Fort Fisher State Recreation Area has a great beach, too, where I can splash. I have to be on a leash, but splashing and chasing seagulls and jumping and splashing are my favorites! Did I mention splashing?
DOG DAY'S END
Since we were staying downtown at the pet-friendly Best Western Plus Coastline Inn, we topped off our day with walkies along the Wilmington Riverwalk. Even though I have to be on-leash, it's great for views of the Cape Fear River and Battleship NORTH CAROLINA, stunning sunsets, and checking out other dogs showing off their humans!
I WOOF WILMINGTON AND BEACHES!
With so many dog-friendly places and dog parks to visit in the Wilmington area, you should have your human load you in the car and come explore. I know that when my human brings me here I almost wag my tail off. Come visit and see why!
---
LOCATIONS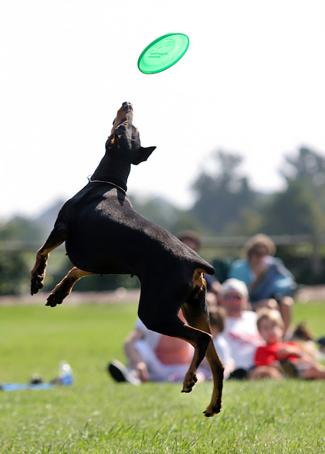 Rags also recommends these woof-worthy places:
Dog Parks
Hugh MacRae Park (with dog park here, plus video here), 314 Pine Grove Drive, Wilmington. Hours: 8AM-10PM
Empie Park (with dog park here), 3405 Park Ave, Wilmington. Hours: 6AM-7PM
Ogden Park (with dog park here, plus video here), 3405 Park Ave, Wilmington. Hours: 8AM-10PM
Mike Chappell Park (with dog park here), 501 Dow Road S., Carolina Beach
Joe Eakes Park (with dog park here), the corner of K and 7th Avenue, Kure Beach
Year-round Dog-friendly Beaches
Fort Fisher State Recreation Area (and here), 4845, 1000 Loggerhead Rd, Kure Beach
Freeman Park (and here), 1121 N. Lake Park Blvd., Carolina Beach
Parks with Easy Trails
Greenfield Lake Park, 1739 Burnett Blvd., Wilmington
Halyburton Park, 4099 S. 17th Street, Wilmington
Carolina Beach State Park, 1010 State Park Road, Carolina Beach
Just a Sampling of Our Area's Dog-Friendly Places to Stay
Best Western Plus Coastline Inn, 503 Nutt Street, Wilmington, 910-763-2800
Best Western Plus Wilmington/Wrightsville Beach, 5345 Market Street, Wilmington, 910-799-4292
Nacho Mama's B&B, 415 S Front Street, Wilmington, 910-297-0145
Extended Stay America, 4929 New Centre Drive, Wilmington, 910-793-4508
Residence Inn by Marriott Landfall, 1200 Culbreth Drive, Wilmington, 910-256-0098
Drifters Reef Motel, 701 N. Lake Park Blvd., Carolina Beach, 910-458-5414
Summer Sands Suites, 104 S. Lumina Ave., Wrightsville Beach, 910-256-4175
A Sampling of Dog-Friendly Restaurants (with pet-friendly outdoor dining)
Sweet N Savory, 1611 Pavilion Pl, Wilmington
Java Dog, 303 N. Front Street, Cotton Exchange, Wilmington
Waterman's Brewing Company, 1610 Pavilion Place, Wilmington
Flaming Amy's Burrito Barn, 4002 Oleander Drive, Wilmington
Rucker John's Restaurant, 5564 Carolina Beach Blvd., Wilmington
Big Daddy's Seafood Restaurant, 206 Ave. K, Kure Beach
The Fish House Grill, 1410 Airlie Road, Wilmington
South Beach Grill, 100 South Lumina Ave., Wrightsville Beach
More Doggie Places
Goat & Compass. A dog-friendly neighborhood pub. 710 N. Fourth St., Wilmington
Good Hops Brewing. A family-friendly craft brewery with a dog-friendly outdoor space. 811 Harper Ave., Carolina Beach.
Coastal K-9 Bakery. Handmade all-natural, organic, non-GMO treats. 5941-D Carolina Beach Rd., Wilmington
Woof Gang Bakery. Gourmet dog treats made with love. 1930 Eastwood Rd., Ste. 108, Wilmington
Von Barkees Dog Spa & Bakery. 2038 Carolina Beach Road, Wilmington