Whether we're enjoying a chilly, season-appropriate frosty eve or laughing at the fact that we're wearing shorts at Christmas, the holidays in Wilmington offer a wide range of possibilities. With nearly three decades under my belt here in the Port City, I've surfed on Christmas Eve, fished on Christmas Day and hiked the Sugar Loaf trail in Carolina Beach State Park on the very last day of the year. And while all those activities have their appeal, some of the most awe-inspiring sights occur after the sun sets. Check out some of my family's favorite holiday light events happening around Wilmington and its island beaches from late November through December:
November 29-30, December 6-22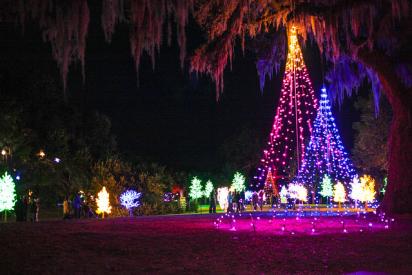 Enchanted Airlie
Airlie Gardens
Bring the entire family for a holiday stroll among the elaborate displays mounted throughout the area's most lovely botanical treasure. My son always loved their impressive Lego creations. Admission is by the carload, so the price per person is quite affordable. But don't wait too long for tickets, as they are assured to sell out. Advance ticket purchase required. 910-798-7700
November 18-January 2
Open during Aquarium hours (9am-5pm)

Cape Fear Festival of Trees
NC Aquarium at Fort Fisher
I've always loved Fort Fisher, in particular because of the historical significance of the location. However, the beauty of the beach gets an upgrade as this unique holiday display consumes the Aquarium grounds. Benefitting Lower Cape Fear Hospice, the festival mesmerizes attendees with a combination of glimmering sea life and gorgeously lit trees. Admission charge; ages 2 and younger free. 910-772-0500
November 29-December 31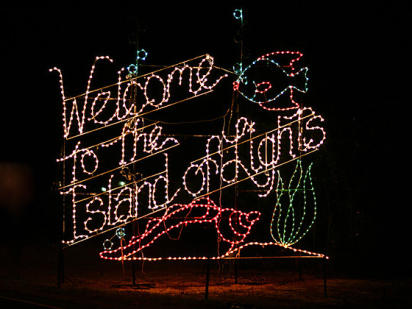 Islands of Lights Festival
Carolina Beach & Kure Beach
Pleasure Island has long been my preferred local beach destination, especially in summer. But this winter they're kicking things off with the Lighting at the Lake celebration on November 29th, the Island of Lights festival runs through the end of the year with a lighted Nighttime Christmas parade December 6th, a Christmas Flotilla on December 7th, a holiday Tour of Homes December 21st and wraps with a New Year's Eve outdoor party on the Carolina Beach boardwalk where the holiday lights become a dazzling fireworks display. Free. 910-458-5507
November 29-30
36th Annual Wrightsville Beach Holiday Flotilla
Wrightsville Beach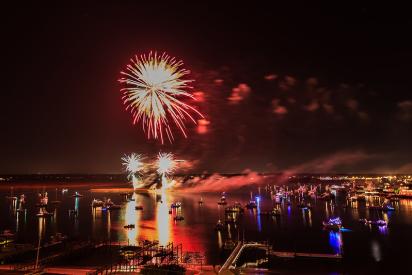 The waterway is lit up for the holidays when area boating enthusiasts hit the water with their wonderfully decorated watercraft. Participants go all out to show their holiday spirit and the evening closes with a fireworks display that illuminates the entire island. Plus, there's a Tree Lighting and visit with Santa Friday evening at Wrightsville Beach Park, as well as a Festival in the Park (with classic car show) prior to the water parade. On Saturday, be sure to arrive early for good parking, get some dinner and bundle up for the show! The event is free, however, there is a charge to attend the Blockade Runner Resort's viewing party. 910-256-2120
November 29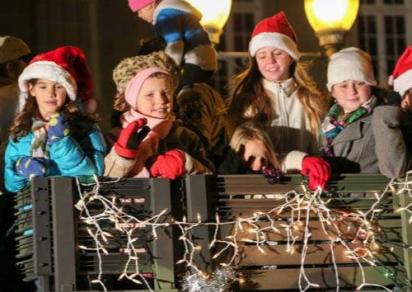 5:30 PM-8:00 PM
Wilmington Downtown Tree Lighting
Riverwalk, 54 N. Water St., Downtown Wilmington
As a bartender downtown for many years, I always loved looking over the edge of the rooftop bar where I worked to see this magical event. A riverside option for kicking off the holiday season, the downtown tree lighting features live music, shopping opportunities and a visit from the North Pole's most famous holiday couple. Free. 216-374-8884
December 20-24
6:00 PM-10:00 PM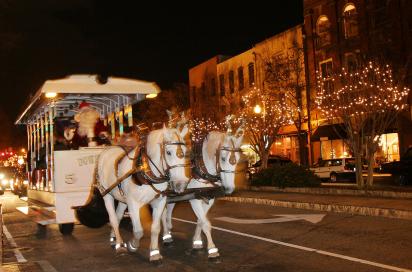 Caroling with Horse-drawn Tours of Wilmington
Market and Water Streets Downtown
Downtown's regular carriage tours get a holiday makeover as Santa takes the reins and substitutes some special "reindeer" for his usual Percherons. Riders bundle up under blankets and sing holiday carols as they enjoy downtown sights and twinkling lights, while lit up in their own special holiday "sleigh." I've probably learned more history about downtown from these carriage rides than any other local activity. Admission charge; free candy canes. 910-251-8889
December 7-8
4:00 PM-8:00 PM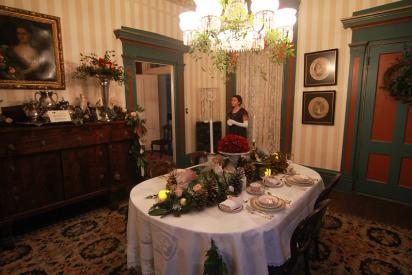 The Old Wilmington by Candlelight Tour
Downtown Wilmington
This self-guided tour gives you an opportunity to explore some of downtown's most unique spaces as they are decorated to the nines for the holidays. Included among the 13 sites are: The Latimer House, Temple of Israel, The Hooper-Rohler house (currently a literary B&B called Between the Covers that my wife created the landscaping design for) and more. Proceeds benefit the Lower Cape Fear Historical Society. Admission charge. 910-762-0492
November 29-30, December 12-14, 20-21, 27-28
6:30 PM-8:30 PM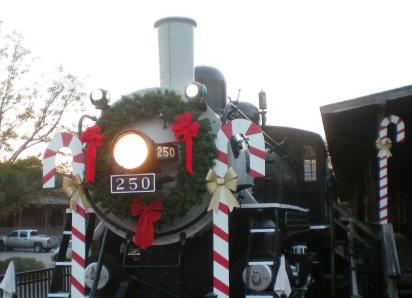 Christmas Train and Light Spectacular
Wilmington Railroad Museum
Trains are as much a part of Christmas as holiday lights are and now you can enjoy both simultaneously. We spent years as members of The Railroad Museum when my son was young and it truly gets decked out with over 25,000 lights that complement their already intricate and detailed model displays. Toss in appearances by everyone's favorite holiday elf, Santa, and you've got a perfect adventure for that train lover on your list. Admission charge; children 2 and under free. 910-763-2634
December 6-January 12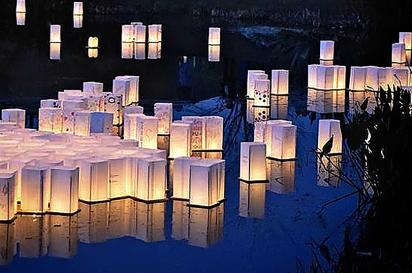 10:00 AM-5:00 PM; open until 9:00 PM. on Thursdays
Art of Illumination 2019
Cameron Art Museum
I've enjoyed a wonderful working relationship with CAM over the years, providing performing arts programming for youth, theater and musical events. This, the 5th year of this annual occurrence, is a unique take on holiday illumination. Based on themes from traditional lantern festivals and less on western holiday motifs, this unique approach to "holiday lights" also features an open invitation to artists to submit designs that compete for cash prizes. The festival wraps with a floating lantern ceremony. Admission charge; ages 19 and under are free when accompanied by an adult. 910-395-5999
Wrapping Up the Season
Living at the beach during the holidays makes for some unique and incredible opportunities to enjoy the scenic nature of our coastal home. These events represent some of our favorites. My son's birthday falls on Christmas Day and each time we're able to spend the holiday at home, we venture out to celebrate the day he was born by attending some of these amazing spots. We're so thankful for the home we've chosen and for all the wonderful people that orbit our lives here in this small little corner of Carolina. They are our true gift of the season.
Plan your own memorable vacation by downloading a free Wilmington and Beaches 2019 Holiday Event brochure with more than 50 coastal holiday traditions. For more holiday events and activities, explore our Seasonal Highlights.
Insider Tip: Did you know that the Battleship NORTH CAROLINA is open 365 days a year? Yes, that includes Thanksgiving Day (8:00 a.m.-5:00 p.m.) and Christmas Day (12:00 p.m.-5:00 p.m.)! Ticket sales end one hour prior to closing.