"Do you miss white Christmases?" I asked Jock, my favorite Canadian transplant to Wilmington. 
"No, the holidays here offer so much more than just scenery," he replied.
In my lifetime we have only had one truly White Christmas – 1989 when we got 18 inches of snow.Though I visit those few, magical snow-covered holiday days in my memory still, the things I look forward to about the Holidays around Wilmington and the island beaches usually involve our talented arts community.  May I share with you some of my favorites that visitors are sure to enjoy?
Theatre
Growing up in Wilmington during the hey-day of Film Impresario Dino De Laurentiis, and later Frank Capra, Jr.'s reign at EUE/Screen Gem Studios, I have an abiding love and admiration for our film and theatre community. There are a variety of ways to experience holiday stories on stage.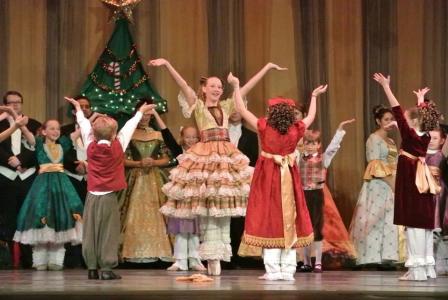 In addition to the multiple annual productions of Tchaikovsky's "The Nutcracker," (my favorite is the Wilmington Ballet Company: The Great Wilmington Nutcracker Ballet at the Wilson Center), "A Christmas Carol" remains the holiday classic. Local theatre legend Tony Rivenbark has spent decades portraying Ebenezer Scrooge's transformation on stages in several states. This year he joins Thalian Association's production of "A Christmas Carol" at Thalian Hall.  To see the story from another perspective, Big Dawg Productions offers Tom Mula's show "Jacob Marley's Christmas Carol."  Most audiences only think of Marley as making a brief appearance to warn Scrooge of the three hauntings ahead of him, but Mula explores the idea that Marley must save Scrooge in order to save himself.   It really is a beautiful and stirring evening of theatre that makes the lessons of Christmas incredibly poignant. 
One of my Favorite Wilmington traditions is the annual production of David Sedaris' "Santaland Diaries" (this year by Panache Productions at Thalian Hall). Sedaris grew up in North Carolina, and we still adore him. "Santaland Diaries" chronicles his first winter living in Manhattan, when he discovered the only job he could get was working as an elf in The Macy's Department Store Santaland.  The one-man show (for adult audiences) will make you laugh, cry, and experience a gratitude you never imagined possible all in 90 minutes. 
Music
What are the holidays without carols?  Wilmington Water Tours offers a magical and nautical evening of Holiday music while cruising the Cape Fear River: The Spirit of the Holidays Cruise!  (They have a full bar!) 
There are a host of Choral concerts this time of year.  We have two exceptional Youth Choirs in town. Girls Choir of Wilmington presents their Holiday Concert on December 14 at UNCW's Beckwith Recital Hall. After a 20-year hiatus, the Wilmington Boys Choir is back!  This year they present "Holiday Pops: A Dickens Christmas" on December 18 at the Landfall Country Club.
I also really, really love something a little more folky and down to earth like the Homegrown Holiday with Zoe & Cloyd at Kenan Auditorium. As a special guest they have invited one of my favorite duos: Stray Local, to join them on stage. Trust me, once you hear Stray Local's beautiful blend of Americana, you will be a fan for life.
Visual art/holiday markets
The visual arts scene in Wilmington continues to grow and amaze me. From extremely high-end fine art to the burgeoning "maker" culture here – you could, in theory, manage an entirely hand-made gift list this year.  The art galleries seem to multiply annually.  From working artists' studios like Acme Art and the Art Works to traditional fine art galleries like New Elements and Art in Bloom, to the more avant-garde work in Bottega Art & Wine or Art Fuel, the range of art available in the area is mesmerizing.  Fourth Friday Gallery Night is the night for the Gallery Walk when many of the galleries stay open later – but really, on a nice crisp, sunny day you can make your own gallery walk and meet many of our artists while they are working.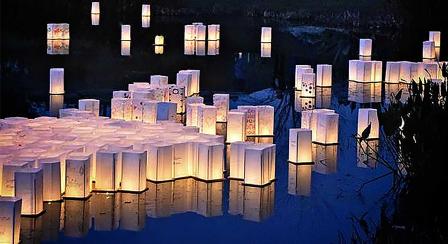 The Holiday Flea at the BAC is a great place for vintage finds – but the upcycled treasures are what draw me back year after year. (That and the cash bar. Cocktails while you shop? Yes, thank you!) 
For a slightly quieter, more reflective experience, the Cameron Art Museum hosts a Floating Lantern Ceremony.  Lanterns are launched on the reflecting pond. If you would like to decorate your own lantern, there are lantern sleeves and supplies available to decorate one for a fee.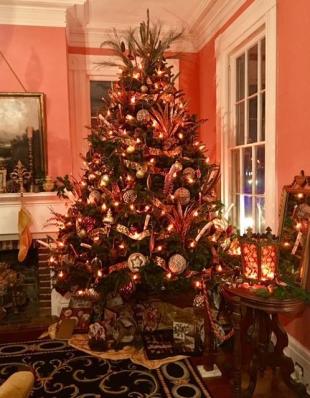 I really love Poplar Grove Plantation. Love it. The big beautiful house, the outbuildings filled with traditional crafts and skills (it's where I learned basket weaving), the animals – all of it just thrills me no end. The Plantation hosts A Merry Little Christmas Festival which is the loveliest outdoor market for the holidays you could encounter. The tours of the house are informative and really make the day to day reality of life on A Southern Plantation come alive: how was food preserved? What did people wear? The house is magnificent and beautifully preserved, but part of what you learn on the tour is the history behind how the house was put together. Part of what makes historic home tours in Wilmington so interesting to me is that because we were blockaded during the Civil War and were so far off Sherman's March to the sea, we still have pre-Civil War era architecture you can visit. The Old  Wilmington by Candlelight Tour is truly like stepping back into the past. You are invited into people's homes, several of the churches and the Historic sites that are all decked out in period decor for the holidays.  It feels really intimate and magical.
Speaking of magic, on December 8, one of my favorite Christmas festivals happens: A Christmas Stroll through the Past.  It is a joint effort with the Burgwin-Wright House, Bellamy Mansion Museum and St. James Episcopal Church filled with music, dancing, costumes, refreshments and more! For our family, it would have satisfied my mother's love of historic houses and my childish delight with all things "old fashioned Christmas" themed (and sweets!) 
So… no, we don't have snow.  But we do have a creative community that is bursting at the seams and makes unique memories to last a lifetime.
Click here for more Seasonal Highlights and a link to download a 2018 Holiday Events Brochure with more than 50 activities.