If it's been awhile since your last visit to Wilmington, you will be amazed by all that's new, especially along Wilmington's award-winning riverfront. Surrounded by water, Wilmington's landscapes continue to evolve with more to offer visitors than ever before with new restaurants, breweries, hotels and more! Check out these What's New highlights.
Wilmington's River District Blends Historic Charm with Modern Amenities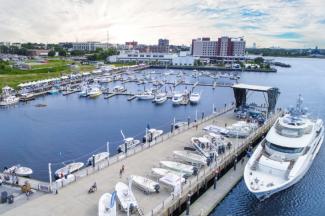 Wilmington ushers in a new era of vitality and experiences with its renewed riverfront concentrated in a vibrant, walkable River District. The transformation continues with an award-winning riverfront as its centerpiece, creating a picturesque landscape that seamlessly blends historic charm with modern new hotels, restaurants and event venues. The new 186-room Embassy Suites by Hilton Wilmington Riverfront with Steam Restaurant & Bar and a rooftop bar with expansive views of the Cape Fear River is the most recent addition to the north end of Wilmington's Riverwalk. More exciting additions will come to life in 2018 and beyond, including new waterfront restaurants, hotels, rooftop bars, event venues, and a city park with a stage and greenspace. Wilmington's pedestrian-friendly Riverwalk connects the city's shops, cafes, museums, award-winning restaurants, nightlife, parks, and more.
Iconic Made-in-Wilmington Television Series "Dawson's Creek" Marks 20-Year Milestone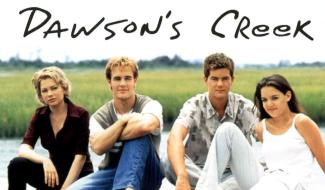 Did you know that Wilmington is the real "Capeside" from the iconic television series "Dawson's Creek"? In 2018, "Dawson's Creek" celebrates 20 years since the pilot first aired and ran for six seasons. Fans still travel from far and wide to experience the show's locations and coastal landscapes, from the riverfront to the oceanfront and marshes in-between. Visitors can download a Dawson's Creek FAQ Sheet self-guided tour to walk in the footsteps of Dawson (James Van Der Beek), Joey (Katie Holmes), Jen (Michelle Williams), Pacey (Joshua Jackson), and other characters, including Bessie (Wilmington actress Nina Repeta).
Celebrity Chef Vivian Howard Opens Gourmet Pizzeria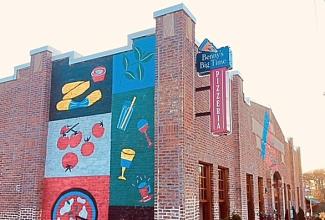 Just as Wilmington is coming into its own as a foodie destination with farm-to-fork restaurants, renowned chefs and culinary accolades, celebrity Chef Vivian Howard (PBS "A Chef's Life") opens Benny's Big Time Pizzeria in Wilmington. Food & Wine magazine recently named Vivian Howard one of the "20 Most Innovative Women in Food and Drink". Owners Vivian Howard and husband Ben Knight's flagship restaurant, The Chef & The Farmer, is located two hours away in Kinston. The couple opened Benny's Big Time Pizzeria in Wilmington's newly revived South Front neighborhood, which will soon welcome PinPoint pastry chef Lydia Clopton's new bakery.  Watch for Benny's Big Time Pizzeria on episodes of "A Chef's Life" in 2018.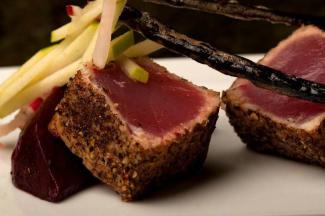 In other culinary news, Wilmington restaurants continue to garner praise:  PinPoint Restaurant owner/chef Dean Neff was featured on The Cooking Channel show "The Best Thing I Ever Ate" (season 8) with show host/local cookbook author Fanny Slater, a fan of PinPoint's catfish and grits. The Food Network will feature five Wilmington restaurants (Sweet 'n Savory Café, Copper Penny, Something Fishy, Fork N Cork and Ceviche's)  during upcoming episodes (air date TBA) of Guy Fieri's "Diners, Drive-ins & Dives." manna restaurant receives its fourth consecutive AAA 4-diamond rating in January 2018. Front Street Brewery is among The Bourbon Review's list of "America's 99 Best Bourbon Bars" (South Region).  Bitty & Beau's Coffee owner and founder Amy Wright is the 2017 CNN Hero of the Year for employing workers with disabilities.
Craft Beer Boom Continues; More Breweries on the Horizon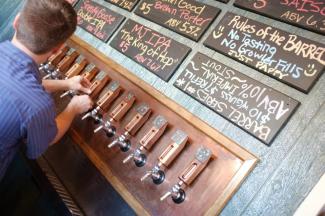 With more than a dozen craft breweries and more expected in 2018, Wilmington is now a bona fide craft beer destination. Readers of Carolina Brew Scene (Dec. 2017) voted Wilmington as "Best Beer Town" and several local breweries took home awards from the 2017 N.C. Brewer's Cup. Last year saw the opening of five new breweries, including Edward Teach Brewing (a.k.a. Blackbeard, the pirate). Wilmington breweries on tap for 2018 include: Flying Machine Brewing Company, Mad Mole Brewing, Tidewater Brewing Co., and Skytown. In Carolina Beach, Good Hops Brewing will add a beer garden and expand its disc golf course. Visitors can create an itinerary using the Wilmington Ale Trail or book a Port City Brew Bus tour, or visit during Cape Fear Craft Beer Week (March 23-April 1) and Wilmington Beer Week (October). 
Wilmington International Airport Welcomes United Airlines & Adds Nonstop Flights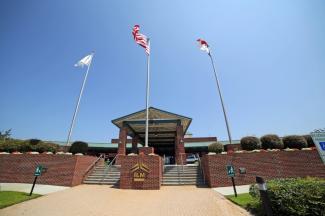 Beginning in April 2018, the Wilmington International Airport (ILM) will welcome United Airlines with two new non-stop routes from Wilmington (ILM) to Chicago O'Hare (ORD) and Dulles/Washington DC area (IAD). American Airlines will expand its service with a daily non-stop flight to Reagan National Airport (DCA) beginning in May 2018, and summer non-stop flights to Chicago's O'Hare International Airport (ORD) beginning in June. Due to its success last fall, American Airlines will extend non-stop service from Wilmington (ILM) to Dallas-Fort Worth (DFW) on Saturdays April through August 2018.
Attractions News
Accommodations News
Hilton Wilmington Riverside is undergoing a major renovation to include: guestrooms and bath, meeting space, outdoor pool, restaurant, and a new bridal suite. This spring the hotel will rebrand as the Hotel Ballast Wilmington, a Tapestry Collection by Hilton.
Wilmington's AAA 4-Diamond Recipients in 2018:
Stay In The Know
Be the first to receive special offers and travel packages as they are announced, plus learn about our top picks on seasonal events and things to do in Wilmington and our Island Beaches when you Sign up for our eSpecials.