Urban Coastal Living at its Finest
If you haven't ventured over to Wilmington's Northern Riverfront in a while, prepare to be pleasantly surprised. In recent months, the stretch along North Water Street, from the Wilmington Convention Center to the Isabel Holmes Bridge, is being transformed from an unsightly industrial area into a veritable showcase of urban coastal living.With thoughtful progress, a sense of community is evolving along the Northern Riverfront.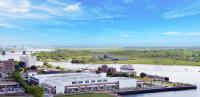 Just a few short years ago the majority of the northern riverfront area was considered wasted space. The 2011 grand opening of the riverfront Wilmington Convention Center highlighted the need to improve the deteriorating landscapes that surrounded the beautiful new center. Soon the focus shifted to enhancing adjacent properties. This evolution is creating a sense of place and community within the new convention center district.
Indeed, this is an exciting time for Downtown Wilmington's Northern Riverfront with a number of new development projects in various stages of planning and construction.  In the summer of 2015, the Port City Marina opened, and already two new restaurants are under construction and slated to open later this year. The marina, restaurants and residential component will combine to create a unique waterfront community and a place for gathering.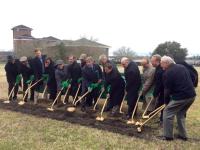 To create this new "neighborhood" there exists a strong synergy among Port City Marina, the City of Wilmington, the Wilmington Convention Center and Cape Fear Community College. The City of Wilmington has expanded its award-winning Riverwalk to the North end, which now extends through the marina site and beyond to the bridge. In October 2015, Cape Fear Community College opened its state-of-the-art Humanities & Fine Arts Center just a couple of blocks from the marina, becoming coastal North Carolina's largest indoor performance venue. On February 11, the City of Wilmington and Harmony Hospitality broke ground for a full-service riverfront Embassy Suites Hotel next to the convention center. The City also plans to develop a waterfront park adjacent to the marina. There's even a luxury apartment project under construction and another planned for later this year.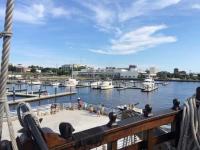 And it just keeps getting better. Marina owners are in the process of renovating and repurposing an old shipping pier into an exciting new event space. Pier 33 offers 27,000 square feet and sweeping views of the Cape Fear River and the Battleship NORTH CAROLINA. A large "band shell" (a.k.a. "amphitheater") has been installed on Pier 33 to host private events that range from cookouts to live performances. Up to 5,000 people can be accommodated on and around the event pier. Already, the pier has hosted a July 4th party, the Beach2Battleship triathlon Finish Line, the Feast of the Pirates festival, and the El Galeon tall ship from Spain. More than 14,000 residents and visitors toured the pirate ship while it was docked at the marina. Port City Marina, in partnership with Wilmington Harbor Enhancement Trust, plans to bring more tall ships to Downtown Wilmington. More events are in the planning stages and will be posted via the Port City Marina website and Facebook Page.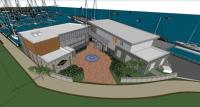 Two restaurants are under construction with projected opening dates in summer 2016: BlackFinn Ameripub and Vida Kitchen y Cantina, both managed by BMG, a Charlotte-based restaurant management firm.  Blackfinn Ameripub is a lively restaurant and bar that offers affordable, desirable American food, craft beers and signature cocktails. Vida Mexican Kitchen y Cantina dishes up specialty Mexican fare, handcrafted cocktails, an extensive list of tequilas and signature Skinny Margaritas.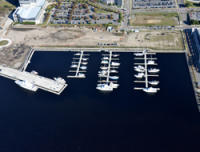 The Port City Marina serves as a gateway for boaters to Historic Downtown Wilmington. It is a protected deep-water Marina on the Northeast Cape Fear River that is equipped with state-of-the-art floating concrete wet slips that can accommodate boats up to 250 feet and beyond. More than 6,000 feet of linear dock space covers 10 acres of water, and a full complement of first-class amenities and services is available, including: a fuel dock (gas & high-speed diesel); private & secure bathrooms and showers; metered electric (30, 50, & 100 amp); free wireless Internet; pet walking areas; daily trash pick-up; complimentary pump-out for guests; and a marina store. With the addition of the two restaurants and event pier, marina guests will have many options onsite. The great news is that all of this is located within an easy walk from the heart of Downtown Wilmington with 200 shops, restaurants, attractions, tours and exciting nightlife. And it's an easy drive or cab ride to the beaches of Wrightsville Beach, Carolina Beach and Kure Beach.  
2016 is going to be a year like no other along the Northern Riverfront. Like Savannah and Charleston, Downtown Wilmington offers a mix of old and new. The Northern Riverfront's tasteful, modern architecture contrasts and blends nicely with historic buildings that are just a few blocks away. 
There's a lot to look forward to in 2016 with pier events in conjunction with the 69th Annual North Carolina Azalea Festival (April 6-10). And this fall, the marina and Wilmington Convention Center will co-host the inaugural Wilmington Boat Show (September 9-11), which will be the area's largest boat show to date.
As someone who has lived and worked in Wilmington for going on nine years and who hopes to spend many more decades here, I am excited about the future of the Northern Riverfront.  It's exciting to see new residents moving to the Downtown area, but most of all, I am excited to see how this waterfront evolution will add to the quality of life for Wilmington visitors and residents in the years to come.  So next time you're in Downtown Wilmington, take a drive along North Water Street or board a river cruise so you can see first-hand the amount of thoughtful progress that has taken place in recent months.
About Port City Marina: The Marina in the Middle of it All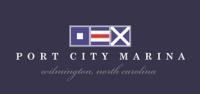 The Port City Marina is a protected, deep water, full-service marina in Wilmington, North Carolina with over 200 state-of-the-art floating concrete wet slips and a full complement of first-class amenities and services for boats and boaters of all types. The marina is situated in the heart of a thriving downtown and just 3 miles from the Wilmington International Airport. Whether you fly commercial or your own aircraft – you can be relaxing on your boat in less than 10 minutes. Convenience at its finest. Port City Marina is located at 10 Harnett Street, Wilmington, N.C. Latitude/Longitude (34°14'39"N, 77°57'05"W). For more information about the Port City Marina, please call 910-251-6151 or visit www.portcitymarina.com.
Images #3, #4, #5 are courtesy of Port City Marina.