A "craft" cocktail is made with care, often using hand-made ingredients like fresh-squeezed juices, bitters (born of the centuries-old medicinal/apothecary tradition), and a little extra flair, like muddling fresh herbs, or garnishing with a flaming twist.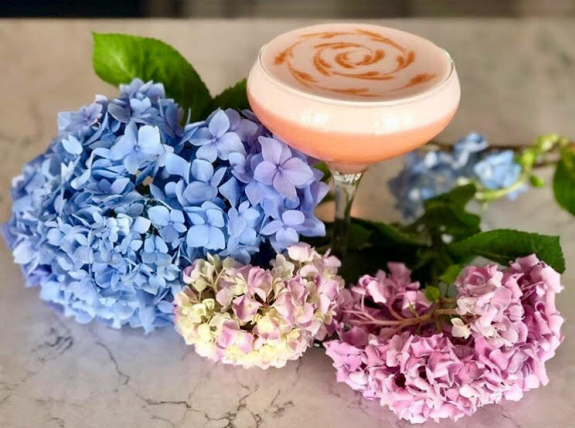 ––4th Street Flip, from Surf House, made with: Conniption American Gin,
Aperol, Elderflower, lime, egg white & Angostura bitters.
RIVER DISTRICT / DOWNTOWN WILMINGTON
Fifteen years ago, when I created the first cocktail menu at Caffe Phoenix, there were few others to compare it to besides Caprice Bistro, which might have been the first, and their sofa bar upstairs remains a locals' favorite. But back then, despite our best-intentions, area bartenders faced a lack of key ingredients and were forced to buy entire cases of liqueurs like Chartreuse or Creme de Violette just to mix up an occasional Last Word or Aviation. Lucky for us, those hurdles no longer exist due to a few trailblazers. And today, restaurants and bars in the area have more than made up for any previous mixological lag.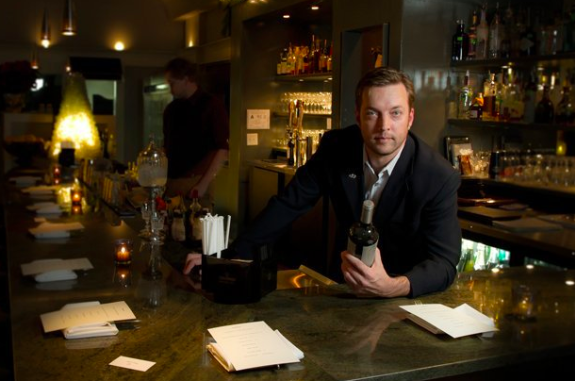 ––"Billy" Mellon at manna, 123 Princess St.
Owner of manna, William Mellon, has played a starring role in challenging the ABC to get with the times. After opening in 2010, Manna's farm-to-table innovation quickly became among the favorite fare of visiting celebrities working on films in town. Feeling the need to keep up with the kitchen's culinary excellence, the bartenders rose to the challenge, and many have been named "Best Mixologist" by Encore Magazine, including current barman Luke Carnevale. Their creative focus: combining classic elements of sweet, strong, bitter, acidic, and aromatic, and then stirring/shaking them together just so. Sometimes it can be tough to land a stool during the dinner rush, so if you're only looking for drinks, consider Mellon and Carnevale's recent venture, Earnest Money & Sons, located about a block away on Princess St. In fact, if I were to pick a single street for cocktails downtown, I'd choose Princess St., and end my night at KGB, a kind of secluded basement bar with many tasty original creations.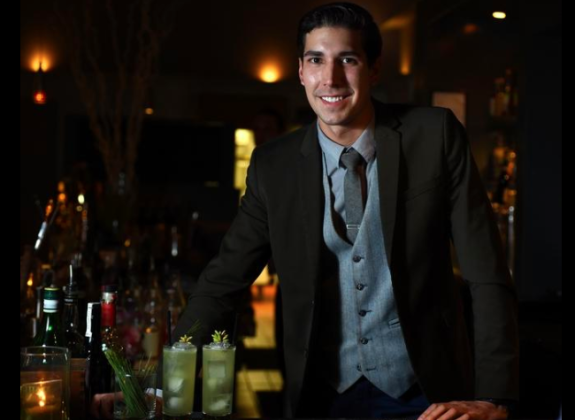 ––Luke Carnevale from Manna and Earnest Money & Sons,
voted "Best Mixologist" in Wilmington.
My second favorite street downtown for cocktails is Grace St., home to "Best Mixologist" runner-up Abbie Ovbey of Rum Cow and Whiskey Tango Foxtrot. WTF is helping to lead the charge of innovation, including the occasional molecular experiment––like their margarita encased in gelatin––in a laid back atmosphere, and there's often live music. Next door, at Rum Cow, you will find the same level of drinks with cuisine to match.
Other downtown favorites include: Dram & Morsel (great food and atmosphere, with karaoke mid-week led by local actors––hint: take the elevator to the third floor at the back of the building, if you'd rather not huff the stairs), Tails Piano Bar (for an elegant evening, with a relaxing "secret garden" in back), and the Dram Yard, a brand new addition to town, part of ARRIVE Wilmington hotel.
ISLAND BEACHES
En route to Wrightsville Beach, and if you love a great steak, True Blue Butcher & Table has the cocktail menu to match. Looking for more of a place to dance, try 1900 Lounge in Lumina Station. If DJ music is not your scene, a short walk around the pond leads to Grand Cru, a piano bar with a more laid back vibe. All have excellent bar-chefs.
Crossing over the draw-bridge to Wrightsville Beach's sand and waves, you might want to start your day poolside at the Blockade Runner, relaxing with a fresh coconut Pina Colada. Come sunset, try my new favorite spot, the Oceanic's new bar on the Crystal Pier. Parking is easy, and there's nothing like sipping a blood-orange margarita at sunset as the waves turn to mercury beneath the surfers gliding and diving in the water below. The only comparable place is the Tiki Bar at the Ocean Grill in Carolina Beach, which is also an excellent place to eat, drink, and hear some of the best live music in the area on the pier with the ocean as your scenic backdrop.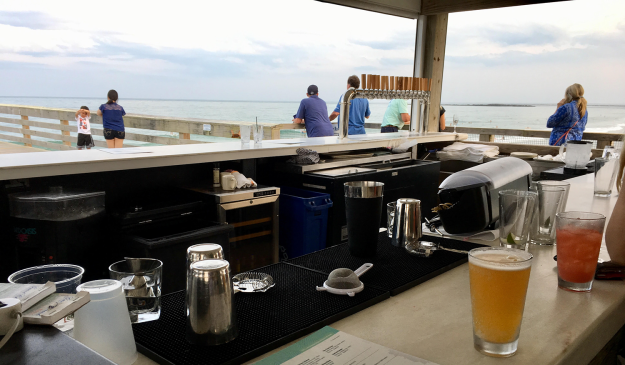 ––The Oceanic bar on Crystal Pier
But if delicious cocktails were my sole determining factor in choosing a beach bar, I would most-likely pick Surf House in Carolina Beach. It's a little off-the-beaten path, but it doesn't disappoint. Like a beachier version of manna or Pinpoint, Surf House has a veteran crew and a high level of creativity. On my most recent visit, for my wife's birthday, I ordered a Boulevardier, which is kind of like a Negroni, but made with whiskey instead of gin. It came stirred (for dilution) before strained over a large, hand-cut cube. I watched bartender Josh Giles shave the ice from a large block, like an ice sculptor. He then twisted a wide swath of orange peel and you could see the spritz settle on the rim of the glass as the aroma filled the air. It inspired me, later, to sing Sinatra's "You Make Me Feel So Young," at Dram & Morsel's karaoke. My wife had a 4th Street Flip. Thank you for a beautiful evening. Find out more about visiting Wilmington and its Island Beaches at WilmingtonandBeaches.com.
––Bartender Josh Giles at Surf House in Carolina Beach