Writing about music introduces me to acts performing in the Wilmington area. While it's fun, avid curiosity and work research leads me down the rabbit hole to more new bands. It's the same when traveling. I seek out music, whether it's visits to Kauai, Chicago, or Saluda, N.C. I'm interested in local music produced and live shows, and I ask about local bands in record shops. It's about the discovery.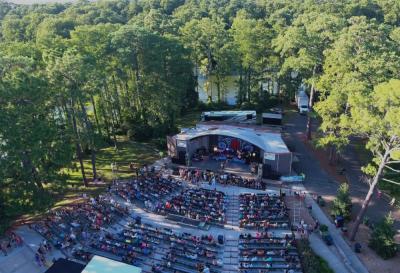 If you're a music lover and visiting the Wilmington and our beaches, there are year-round showcases and venues—big and small—where you can see a variety of national and homegrown acts perform. Annual music-centric events include the N.C. Azalea Festival (April), Pleasure Island Seafood Blues & Jazz Festival (April), the Cape Fear Blues Festival (June), the N.C. Jazz Festival (January), Carolina Beach Music Festival (June), and Rock the Beach Festival (March), along with summer music series from the river to the sea. Less-publicized events include the Alt-Zalea Festival (April), Thou Shall Rock (September), and the Wilmington Death Metal Convention (October).
Local musicians have always been a constant (in the mid-90s Rolling Stone cited Wilmington as "next to be a scene") but their number has grown considerably the last decade. While the area has seen increased population, much of the music growth stems from proliferation of technology and those learning to use it to make and record music. This—paired with a university in the heart of Wilmington and venues that support local talent—explains how so much original music is produced, on average 50 albums a year.
It's important to note that people of all ages are involved, releasing albums while in high school or the age after their kids have graduated high school. That's what's incredible about the area—music isn't confined to one age group or genre. Performers can play a local venue (or brewery, bar, record store) and possibly open for a national act, whether it's a smaller venue like Reggie's 42ndStreet Tavern, The Whiskey, or Satellite Bar & Lounge, or a larger space like Greenfield Lake Amphitheatre or Brooklyn Arts Center. Indoors and outdoors you can see live music at 40-plus different locations.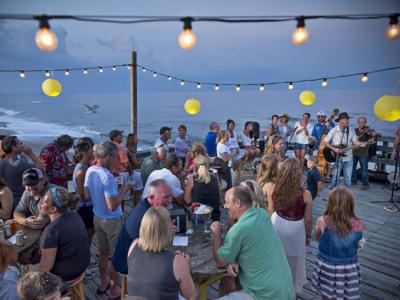 Smaller, up-close shows bring wide variety. Satellite Bar showcases Americana, a mixture of rock bands, and a bluegrass show on Sundays. A block from the Cape Fear River is The Whiskey, home to jam bands, funk-rock, and some reggae shows. If you want blues, go to The Rusty Nail and for something artistically different or challenging, seek out The Juggling Gypsy. Reggie's is a rugged home-away-from-home and probably has the biggest range of music featuring all varieties of rock, metal and punk bands, occasionally roots and alt-country, as well as varied outsider acts. The Palm Room, a stone's throw from the ocean on Wrightsville Beach, hosts singer-songwriters, jam bands, brass bands, and reggae. Live at Ted's is an intimate listening room designated as an official WoodSongs Coffeehouse (an audience- and artist-friendly environment) located under the bridge downtown. The pier at Ocean Grill & Tiki Bar in Carolina Beach and Kure Beach Oceanfront Park are among the venues that host summer concert series that showcase local bands.
If you're a music lover with a fondness for discovering something new, Wilmington has much to offer. You can find it at a local venue or an independent record store (Yellow Dog Discs, Gravity Records) selling local albums. You'll find a performer and a song that will grab you and linger after a visit has ended. The beauty is the song, or album, was born out of someone's experiences here, shaped by the area, their life, and all they've learned along the way. And in doing so, Wilmington gets to be a part of you.
Click here for Brian Tucker's in-depth sampling and illustrative list of local musicians and bands currently performing in Wilmington and its beaches.