When I travel I always ask myself, "Could I live here?" I think we all do, that's why we seek the places locals go for breakfast, or the local bar, or that secret beach only locals know.I'm a foodie; I love to cook, adore a farmers' market, and always find a delicious dish or two at a restaurant packed with locals. Here—in Wilmington and at our beaches—you're in my home and when you see me out for dinner, it's at one of our restaurants where they take farm-to-table seriously. These chefs and owners buy everything they can from local farmers and fishermen, cooking fresh and taking pride in every plate. Here are a few of my favorite farm-to-table restaurants in Wilmington and at our local beaches.
Catch

You'll find Chef-Owner Keith Rhodes—a James Beard Award finalist and Top Chef alumnus—shopping at one of our farmers' markets or on Instagram showing off a bushel of oysters, a dozen soft-shell crabs, or a mess of grouper caught by his wife. Rhodes serves a menu that brings Asian flavors and familiar southern dishes together, pulling inspiration from the flavor-filled fresh catch (hence the name) and local produce. Sweet potato salad, a pimento-cheese-twisted take on Oysters Rockefeller, fried local flounder with greens grown right up the road; these are just a taste of what you'll find at Catch.
Rx
Rx serves two of my favorite dishes in Wilmington—hickory smoked chicken wings and Buffalo-style pig ears—but look deeper into the menu and you'll find it reads like a farmers' market lives in the kitchen: cabbage, zucchini, tomatoes and potatoes from Black River Organic Farms; herbs from Shelton's Herb Farm; crabs and fresh catch from local fishmongers. The flavors are deep and well developed, and if you want to try to cook one of these dishes—grilled grouper with summer succotash, maybe—you'll find everything you need from the growers themselves at the farmers' market in downtown Wilmington, at Wrightsville Beach, or at Carolina Beach.
PinPoint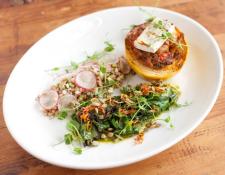 There's a reason PinPoint was named one of the South's Best New Restaurants by Southern Living magazine and why I eat there every chance I get: veggies. Chef Dean Neff's approach to vegetables showcases each one as he coaxes out the maximum flavor with killer technique. Working with a dozen area farms, fishermen and ranchers, he packs his menu with homemade pickles, grilled vegetable platters that are as filling as they are tasty, fried chicken with hot pepper vinegar (think Hot Chicken, but local), and, of course, local oysters on the half shell. [Vegetable plate photo by Mira Adwell]
East Oceanfront Dining
Chef Jessica Cabo never gets to appreciate one of your dinnertime views when you sit down at East Oceanfront Dining at the Blockade Runner Beach Resort on Wrightsville Beach, she does get to create your favorite view: your dinner plate. Fresh is the rule at East, as ceviche—made with fish caught that day (I've bumped into the chef or sous chef at my favorite fishmonger)—and fried oysters with pickled green tomatoes, local clams linguini and a killer crab cake done Lowcountry style mark this menu as one you can't miss.

Port Land Grille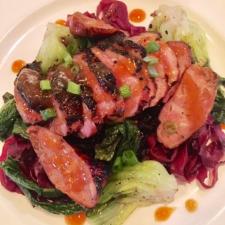 Here in the Port City, we get a great bounty from the sea and the land, and that's where Port Land Grille got their name. Using local suppliers and responsible farmers, fishermen and ranchers is key to their culinary creations. With small, sharable dishes like hummus made with roasted North Carolina peanuts, truffle sweet potato fries, fried oyster and organic greens salad; and entrees like wild caught grouper and duck breast come served with sides from a local veggie ratatouille to cheese grits to roast vegetable with tomato compote. ["Sugar & Spice" breast of local duck (Piedmont, NC) with purple heirloom rice, grilled smoked duck sausage, grilled baby bok choy & farmer's market local peach-wild flower honey-anise glaze]
manna
The only restaurant with a AAA Four Diamond Rating in Wilmington, manna sources everything they can from as close to the restaurant as possible. Buying local from some dozen farmers, fishermen and ranchers means big flavor on every plate. The dishes here are playful, with cheeky names—Eight is Enough, an octopus dish; The Reel Thing, the fresh catch; Iron Chef: Bobby Filet, a steak—and unexpected sides—pickled jalapeño and sunflower seed tapenade, beet "soil," strawberries and burrata—but impeccable execution.
 
Insider Tip: Many restaurants that serve locally sourced food will display 40Eats and FeastDownEast stickers on their front windows. For a list of restaurants in Wilmington and the island beaches of Carolina Beach, Kure Beach and Wrightsville Beach, visit the Wilmington and Beaches restaurant page and search by location and/or cuisine type.