We asked John Meyer, former editor of the Cape Fear Wedding guidebook, to share his insights on what makes Wilmington and our island beaches such a desirable wedding destination. Here are his thoughts, along with some helpful tips he learned from couples who chose to say "I do" in our alluring coastal setting:
Our area's attractions and appealing lifestyle are bringing growing numbers of couples to Wilmington and its island beaches to get married. Some of the reasons for "destination weddings" in our coastal destination are its Southern hospitality, historic attractions, mild climate, and the ocean. The beaches are a prime draw for destination weddings, of course. But so are downtown Wilmington and its River District, and our wealth of historic sites, urban mansions and churches, gardens and parks.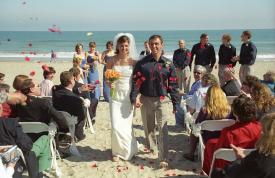 What could be more romantic than a wedding on the seashore, with the magnificent backdrop of sea and sky? With a little help, any couple can create an unforgettable ceremony right on the oceanfront. That help is a matter of logistics, getting the necessary equipment and approvals. For example, one beach town requires a permit for a beach wedding; others don't allow chairs on the beach. Tents and alcohol aren't allowed, so the reception should be somewhere else – maybe as close as a vacation-rental home a few yards away.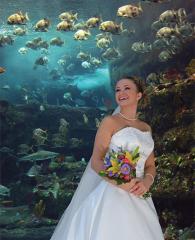 Many other popular reception areas are convenient to our beaches, such as the North Carolina Aquarium at Fort Fisher in Kure Beach, and several full-service oceanfront hotels, including the Blockade Runner Beach Resort, Holiday Inn Resort and Shell Island Resort in Wrightsville Beach, as well as the Courtyard Marriott Carolina Beach Oceanfront.
Summer heat and the inevitable sand can be opportunities. A couple should take those factors into account when choosing a gown and formal wear, and writing invitations. A seaside ceremony is a good opportunity to mix casual and elegant. The groom can roll up the legs of his tux; the bridal party can go barefoot. Male attendants may do without jackets; bridesmaids can opt for sleeveless dresses and short skirts.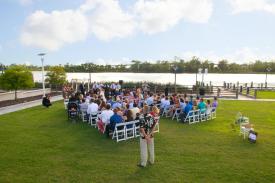 If you prefer bricks and cobblestones to sand, Wilmington's River District and Historic District are full of elegant places for both ceremony and reception. Distinctive architecture is a major draw, as are views of the Cape Fear River. Riverfront venues with stunning views include the Wilmington Convention Center, the Hotel Ballast, the Embassy Suites Wilmington Riverfront Hotel, the Aloft Wilmington at Coastline Center and The Pier at Port City Marina. A dozen magnificent old churches stand a few blocks from the river, which is lined with a two-mile promenade called the Riverwalk. It connects several popular party spots, tour boat docks and marinas. Close by are plenty of restaurants, hotels and bed-and-breakfast inns, private clubs and other venues that host receptions and rehearsal dinners. Downtown's short distances make it practical for newlyweds to travel in unconventional means such as a horse-drawn carriage, and for guests to stroll from ceremony to reception.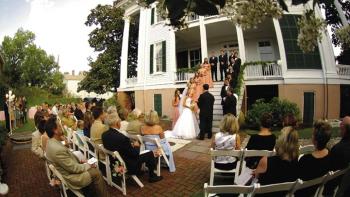 Historic buildings often have a dramatic scale — high ceilings, wide doors, tall windows — that's hard to find in newer places. Many have beautiful grounds, with ancient oaks or lavishly landscaped gardens, which can accommodate receptions. Some examples are the Inn at City Club, Thalian Hall-City Hall, the Bellamy Mansion Museum of History & Design, Graystone Inn and the Brooklyn Arts Center + Annex, a restored 1888 church. Closer to the beach than downtown, Airlie Gardens is another favorite spot for weddings in a coastal garden setting. Other leading visitor attractions offer their own unique ambiance. The North Carolina Aquarium at Fort Fisher, the Cameron Art Museum and our historic World War II-era USO building are all popular for weddings.
Our mild climate makes outdoor events popular, especially in spring and fall. Not too hot and not too cold, those are by far the favorite times for weddings here. Balmy weather typically starts in February, and lasts into November. Heat, humidity, crowded beaches and frequent rain showers make July and August less popular. April and October are the driest months, and have the mildest temperatures.
The Wilmington and Beaches Convention & Visitors Bureau offers a variety of pre-planning services. For everything you need to know about planning a destination wedding in Wilmington and the island beaches of Carolina Beach, Kure Beach and Wrightsville Beach, please visit our wedding page. 
Helpful Tips for Out-of-town Couples:
To get a marriage license, both bride and groom must appear in person, within 60 days of the wedding, at any county Register of Deeds office in North Carolina.
Unless you want to juggle a dozen or more vendors and suppliers by long distance, a local wedding planner can be indispensable.
The most popular wedding and reception sites, especially those near the ocean, get booked up far in advance. Check early — a year or more isn't too soon — to avoid disappointment.
Many hotels will offer a special rate for blocks of rooms for wedding guests. But this is a prime tourist destination, so you'll need to plan well in advance to ensure rooms are available.
For more helpful tips, visit the Wilmington and Beaches Frequently Asked Questions page.