I forget that Wilmington is ostensibly a beach town. Surrounded by three beaches, many people think of us as a destination based around summer sun and waves. But unlike many places that fit that description, we don't close up shutters during the off-season and wait for Memorial Day as the signal to come back to life. The idea of a "season" is actually pretty alien to me because there is so much to do here all year long.  Partly it is our beautiful weather and mild climate, but also this is such a vibrant area that life just wouldn't slow down and stop because of winter.  If anything, it seems to get more alluring.
Even before Wilmington incorporated as a city, live theatre has been extremely important to us. The first American playwright, Thomas Godfrey, is buried in St. James Cemetery on the corner of Fourth and Market streets.  With over 30 active theatre companies in town, there's a plethora of live theatre every week at a variety of venues including historic Thalian Hall Center for Performing Arts, the North Front Theatre at Level Five, TheatreNOW dinner theatre, the Cape Fear Playhouse, and The Wilson Center, which hosts national touring acts and Broadway shows.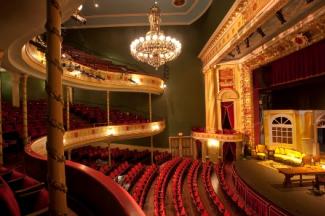 One of the things I look forward to every February takes place at Thalian Hall. Cinematique, our fine arts film series, devotes a week in February to screening short films nominated for Academy Awards in the categories of animation, live action shorts, and short documentaries.  For $8.00 you can see truly world-class films (especially the animation) on the big screen, while enjoying a glass of wine or locally crafted beer in one of the most beautiful historic theatres in America. This is usually my stop for Valentine's Day. Thalian Hall's other winter events include concerts, Mainstage musicals and intimate theatrical productions.   
For a truly Southern, down-home experience, the Rusty Nail Saloon on South Fifth Ave., located just past the railroad tracks, is a blues bar that really keeps the flame of live music burning. They host regular blues jams and provide a venue for performers all year long. The Fat Tuesday Mardi Gras Celebration is especially worth the trip.  If Randy McQuay is playing, mark your calendar. He keeps racking up national accolades in the Blues world, but since he calls Wilmington home, we get to see him play in intimate venues.  Imagine if you saw B.B. King at a small club in 1949, before his first number one hit? That's what seeing McQuay here is like.  Up and down Front Street live music pours out of the doors of venues like The Whiskey and The Calico Room, as well as Whisky Tango Foxtrot on Grace Street. 
I personally have a shopping addiction. I don't mean big box stores,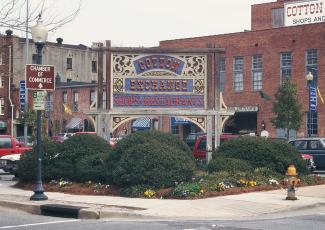 but the small cute boutiques filled with treasures and unique finds. The Cotton Exchange in Wilmington's historic River District was developed just to fit that bill.  I can spend hours in Occasions…Just Write, a stationery store filled with art supplies and journals that make my imagination soar!  My dogs like to visit Coastal Paws, the doggie bakery and treat store before we hit Java Dog, the dog-friendly coffee shop.  After a morning at the Cotton Exchange, I can still find hours of entertainment in the shops along Front Street and in the Castle Street Arts & Antique District. I always stop at Gravity Records, our much beloved independent record store, where owner Matt Keen and his three dogs love to help customers sniff out good sounds, or pose for doggie selfies.  
Of course cooler weather also inspires thoughts of comfort food and culinary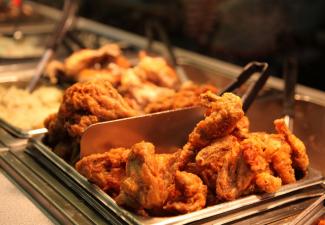 indulgence. In recent years the foodie scene in Wilmington has grown to rival Charleston. While there are lots of outstanding gourmet and farm-to-table restaurants, I am still a fan of a number of the spots locals love. On Oleander Drive you will find Casey's Buffet where owners Larry and Gina Casey take special pride in their barbeque and soul food. The fried chicken is almost as legendary as the pig's feet on the buffet.  If you ask the locals for the best burger in town they will likely direct you to Winnie's Tavern on Burnett Boulevard.  It's a real out-of-the-way place, and in addition to burgers and fried bologna sandwiches, they also offer fried pickles.  Fans of David Lynch movies might recognize it as the filming location for The Slow Club from his cult classic Blue Velvet. 
But if you really want to get to know Wilmington, take a river cruise with Wilmington Water Tours. This area developed because of the river, the ocean and our port. There is no better way to see and understand the beauty of our coastal region, than from the water. Besides, the cruise also affords stunning views of Wilmington's riverfront which blends historic charm with modern amenities, all connected by a 1.75-mile Riverwalk with lots of places to shop, dine and imbibe.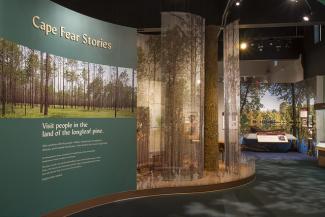 If after the cruise you are curious to learn more about the region's history, I have always been a fan of the Cape Fear Museum of History and Science.  Its interactive exhibits provide great "edu-tainment" on a rainy day.  For a more adult-focused afternoon, there are few things quite as lovely as an afternoon spent at Cameron Art Museum. I love sitting in the museum's CAM Café, sipping a glass of wine and chatting with my guy before we explore the exhibits. Right now the biennial "State of the Art; Art of the State" exhibition is up (through July 8), which is comprised of work by 637 North Carolina artists, so you can really get a feel for local life. The "off-season" is really the time to come out and enjoy life here—we sure do!
###
Note: For information about seasonal events such as the North Carolina Jazz Festival and the Wilmington Wine & Chocolate Festival, special offers and other highlights click here. Three nearby colorful island beaches also welcome visitors year-round: Carolina Beach, Kure Beach and Wrightsville Beach. You can also read more about wintering at Wilmington's island beaches.