Will the azaleas be blooming?
That dreaded question frequently haunts the North Carolina Azalea Festival board, staff, volunteers, and vendors alike. Of course, we all hope and pray that come April 5-9 the azalea blooms will abound. However, judging by the early spring-like weather that Wilmington and our island beaches have had this winter, it seems Mother Nature may have other plans. The Azalea Festival Ticket Office receives calls daily this time of year, checking the status of the local gardens. While we don't have any botanists on staff, what we can tell you is the NC Azalea Festival will be blossoming for its 70th Anniversary celebration, regardless of the number of azaleas we have in bloom!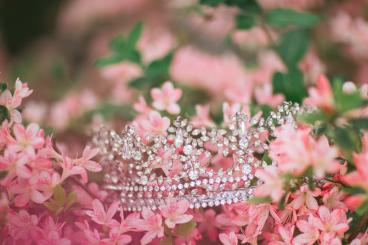 You see, while the North Carolina Azalea Festival honors the azalea as its namesake, the true celebration encompasses so much more than a single flower. The Azalea Festival was founded to celebrate our region – the beauty that lies not only in our gardens but in the Southern hospitality of the people in our community.
For over 70 years Wilmington citizens have opened their city to hundreds of thousands of visitors to share the rich heritage and culture of our unique river-to -sea community. Part of the Azalea Festival's mission is to stimulate civic participation and volunteerism. Each year over a thousand volunteers work together to plan, orchestrate, and execute Azalea Festival events. These passionate and dedicated volunteers are the reason we can stage a three-day Street Fair and a grand Parade, as well as headlining Main Stage Concert acts, a Boxing Competition, festive Patron Galas and Garden Parties and more. Volunteers even help support these events, serving on committees such as sanitation, publicity, invitations, and a committee who transports our signature azaleas from event to event. These volunteers give their time not because they have an inherent love of the azalea flower, but rather because they understand the value of a community event of this magnitude.
Visitors and Wilmington residents join together to create memories on our city streets with family, friends, and yet-to-be discovered friends. Communities and relationships are formed.
Parade participants share in the grogginess of waking extra-early to get to the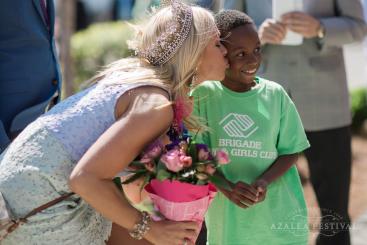 Parade route. High school pageant contestants share in their nerves as they walk across the Scholarship Pageant stage for the first time. Children giggle in excitement as they exit the Children's Stage after their dance routine at the Street Fair. Music lovers share in anticipation as they await their favorite artist to hit that first note. These are the kinds of memories that help thread together the fabric of Wilmington's community.
THIS is the North Carolina Azalea Festival that we celebrate; one that honors the people who bring the festival to life by their participation. So, if we don't have an azalea bloom in sight, or if we don't have those famously blue Carolina sunny skies, you can still find us in full celebration mode. We'll be the ones welcoming you to join us (in true Southern hospitality fashion) and reminding you to take time out of the busy, hectic race of life to stop—even if there aren't any flowers to stop and smell—to stop and revel in and enjoy the company and hospitality of the Wilmington community. As we all say: Nothing can be finer than to be in Carolina!
For more information about the NC Azalea Festival and a complete schedule of events, please visit www.ncazaleafestival.org