Wanting to get away and get outdoors during a quick, weekend retreat after being stuck indoors? Look no further than Kure Beach. Whether you are traveling as a family or embarking on a road trip without kids, this small-town beach is the perfect destination for a 48-hour jaunt. 
Not only does Kure Beach offer a number of outdoor activities fit for social distancing, the island town is also easily accessible from throughout North Carolina and nearby, surrounding states. Plus, many lodging properties have adopted enhanced safety and cleaning protocols. 
Read on for our guide to 48 hours in Kure Beach. 
Disclaimer: The below businesses are subject to changes in hours and open/closed status as a result of COVID-19. References to dine-in services are based on restaurants operating at limited capacity. Please visit our COVID-19 page for updated information and be sure to confirm individual businesses are open prior to making plans.
Friday 
Rest Your Head
When you get here, check in to your home away from home for the weekend. Perfect for a family or group of any size, many of Kure Beach's vacation home rentals offer private amenities like porches, decks, pools and grills – and some sit oceanfront with beach access. For smaller groups or couples, condos provide the same level of privacy and added amenities as rental homes. Kure Beach's motels offer vintage lodging experiences that are just a short walk, drive or bike trip from any part of town. 
Palm Air Realty has developed the "Palm Air Cares" program to ensure safe, clean, sanitized and disinfected vacation homes for guests. The program includes enhanced disinfecting practices, rotating of bed linens and towels, waterproof mattress pads and more to protect guests' health and reduce cross-contamination and virus spread. The Admiral's Quarters has implemented new safety and cleaning procedures as well, including additional in-room sanitization and socially distanced check-in and housekeeping services. 
Lodging properties will also have the opportunity to participate in a new statewide, evidence-based safety guidance program, Count on Me NC, that is designed to educate and train businesses on best practices for reopening. 
Saturday
Morning On the Water
Start your morning off right with breakfast-to-go from the Kure Beach Diner, currently offering takeout from across the street at Beach House Burgers. Then, spend time relaxing and rejuvenating on – or in! – the water:
Embark on a kayak adventure to Shark Tooth Island, known for its uninhabited landscape and the much-coveted shark teeth and seashells that explorers can find buried in the sand, or venture to Zeke's Island Reserve to see firsthand one of the most important shorebird feeding habitats on the East Coast. Kayak Carolina, Pleasure Island Rentals and Paddle NC all offer kayak and gear rentals for self-guided, as well as guided tours.
Make your way to Kure Beach's coquina rock formation, which is home to a very rare and distinctive mossy hard rock outcropping. Located near the coast of Fort Fisher, the rock formation is only visible during low tide and is cemented together by seashells and coral with an estimated origin ranging from 12,000 to 80,000 years ago.
Dive in and explore hundreds of dive sites that can be found off the coast of Kure Beach. Among the most interesting is North Carolina's First Heritage Dive Site – The Condor, a civil war blockade runner that is one of the best-preserved shipwrecks on the North Carolina coast. Dive slates provide a self-guided tour from May 1 to Nov. 1. Visitors can also charter a dive to The Condor or any of the other nearby dive sites from one of the island's professional SCUBA companies, Carolina Diving Adventures or Carolina Beach Scuba. 
Afternoon Activities
Fuel up for your afternoon with a savory meal from Jack Mackerel's Island Grill, a Caribbean-inspired restaurant that incorporates local, flavorful ingredients into its dishes and is currently offering takeout and delivery. Or, pack a picnic lunch and explore the outdoor exhibits at Fort Fisher State Historic Site. Then, set out for an afternoon adventure:
Relax at Fort Fisher State Recreation Area, where you can enjoy six miles of undeveloped shoreline and observe undisturbed wildlife like Loggerhead sea turtles. Cast a list from the shore and catch a few fish or check out the Basin Trail, a hike that leads you through salt marshes and a maritime forest. 
Or, rent a four-wheel drive-vehicle from SunFun Rentals to explore the south end of the island, which is the perfect spot to catch an unforgettable sunset to close out the day. All rentals include a day-permit.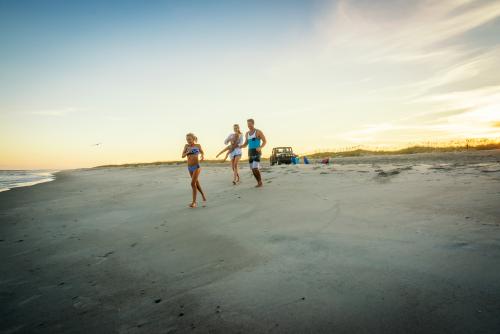 Fort Fisher State Recreation Area  
Eat, Drink & Indulge
After a full day of adventure, stop by Freddie's for authentic Italian cuisine served in an Irish pub atmosphere (including legendary pork chops), currently offering extended curbside pickup hours. For groups of five or more wanting to test out a few local spots, and learn a little something on the way, book a private Tasting History Tour. The "Signature Tour" walks groups through the island streets and into several of the restaurants to sample their offerings, while the "History in a Glass Tour" lets groups sip on beer, wine and distilled spirits – with a shot of history on the side!
Sunday
Fishing, Parks and Other Outdoor Activities
The early birds get the worm – or catches the fish from the Kure Beach Fishing Pier! Wake up early and grab a Pier Side Nitro Cold Brew from Happy Hippies Java Hut, then stroll along the beach before spending your morning casting a line from one of the oldest fishing piers on the East Coast. Bait, rigs and tackle are available at the pier, too.
After a morning spent with the best catch, grab an early lunch from Kure Beach favorite Beach House Burgers, offering walk up and take out orders next to the Kure Beach Fishing Pier. Before heading for home, soak up some more outdoor time at one of Kure Beach's parks:
Joe Eakes Park is ideal for any sports lover, complete with baseball, volleyball, basketball, tennis and bocce ball courts, as well as a playground, picnic area and off-leash dog area. The park also recently opened an 18-hole disc golf course. 
Kure Beach's largest public green space, Ocean Front Park & Pavilion features a walking path and play area for kids – including a pretend pirate ship – all with oceanfront views!
Kure Beach is the ideal destination for a post-quarantine weekend getaway or active staycation.