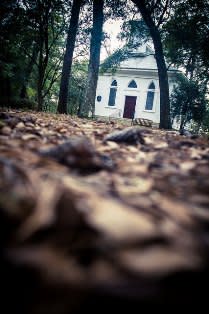 Photo by Brett Cottrell, courtesy of New Hanover County
Since 1983, more than 400 film-related projects have lensed in the Wilmington, North Carolina region, often affectionately referred to as "Hollywood East."  SLEEPY HOLLOW, Fox Television's thrilling mystery-adventure drama, is among Wilmington's hundreds of production credits. Seasons 1 and 2 of the wildly popular weekly series are filmed primarily in the Wilmington, North Carolina region, as well as at locations in nearby coastal counties.
Co-creators/executive producers Alex Kurtzman and Roberto Orci ("Fringe"; "Star Trek" & "Transformers" franchises) give a modern-day twist to Washington Irving's classic "Sleepy Hollow." In the series Ichabod Crane, portrayed by Tom Mison ("Salmon Fishing in the Yemen"), is resurrected and pulled two-and-a-half centuries through time to unravel a mystery that dates back to the founding fathers. Revived alongside Ichabod is the Headless Horseman who is on a murderous rampage in present-day Sleepy Hollow. Ichabod quickly realizes that stopping Headless is just the beginning, as the resurrected rider is but the first of the Four Horsemen of the Apocalypse and only one of the many formidable foes that he must face to protect not only Sleepy Hollow, but the world. As Ichabod finds himself in modern-day Sleepy Hollow, he discovers a town he no longer recognizes and grapples to understand. (source: www.fox.com/sleepy-hollow)
Season 2 of "Sleepy Hollow" premiered in Fall 2014 with new edge-of-your-seat mysteries and adventures as the series' heroic duo of Ichabod Crane (Tom Mison) and Lt. Abbie Mills, portrayed by Nicole Beharie ("42," "The Good Wife,") fend off the forces of evil to save not only their town, but the world. Nothing is as it seems in this fantastical world of mythology, death-defying romance, untold history, signature "Crane" humor, hair-raising evil., and perhaps, much-needed hope. Other stars include: Orlando Jones ("Tainted Love," "Rules of Engagement") as Capt. Frank Irving; Katia Winter ("Dexter") as Katrina Crane; Lyndie Greenwood ("Nikita") as Jenny Mills; Nicholas Gonzalez ("Melrose Place") as Det. Luke Morales; John Noble ("Fringe," "24") as Henry Parish; and John Cho ("Harold & Kumar") as Andy Brooks, along with guest stars Sakina Jaffrey ("House of Cards") as Sheriff Leena Reyes and Matt Barr ("Hatfields & McCoys") as Nick Hawley. SLEEPY HOLLOW airs on FOX on Mondays at 9PM/EST. (source:www.fox.com/sleepy-hollow).
Fans of SLEEPY HOLLOW (a.k.a. "Sleepy Heads") may also be interested in other TV series that filmed in Wilmington and its island beaches, such as The CW's "One Tree Hill" (2003-2012) and The WB's "Dawson's Creek" (1998-2003). FAQ sheets are available for "One Tree Hill" and "Dawson's Creek." Other television credits include: CBS's "Under the Dome" (2013-2014); ABC's new series "Secrets & Lies" (2014); HBO's "Eastbound & Down" (2009-2013); NBC's "Revolution" (2013); NBC's "Surface" (2005); and the late Andy Griffith's series "Matlock" (1993-1995). Additionally, hundreds of films were made in Wilmington and its island beaches, including recent box office hits like "Iron Man 3," "Tammy," "Safe Haven," "We're the Millers," and cult classics such as "Teenage Mutant Ninja Turtles" (I & II), "Blue Velvet," and "The Crow." For a full list of credits, visit www.WilmingtonFilm.com. "Sleepyheads" visiting Wilmington and its island beaches can see locations where their favorite TV show was made. Following are Frequently Asked Questions and a self-guided tour.
Frequently Asked Questions about SLEEPY HOLLOW:
1. Can I see the show being filmed?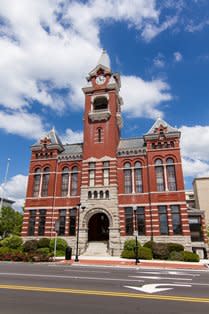 Photo by Brett Cottrell, courtesy of New Hanover County
Unfortunately, SLEEPY HOLLOW only filmed its first and second seasons at EUE/Screen Gems Studiosand on location in the Wilmington, North Carolina region (2013-2015) and sets are no longer available. However, visitors can experience Wilmington's film history via a guided walking tour of downtown movie locations. The Hollywood Location Walk of Old Wilmington (www.hollywoodnc.com) includes some downtown locations used in SLEEPY HOLLOW, as well as others appearing in past and present films and TV shows. Airlie Gardens also has a page on their website dedicated to garden credits, including SLEEPY HOLLOW: http://airliegardens.org/plan-your-visit/tv-movie.
2.  SELF-GUIDED TOUR-Historic Disctrict: Filming takes place at various locations in the Wilmington region. You'll see familiar sites in Wilmington's historic river district—period buildings, alleyways, the riverfront and brick-lined streets—as well as cemeteries, churches and parks.  Begin your self-guided tour at the Bellamy Mansion Museum (503 Market St.) where you'll recognize the kitchen in the "Sin Eater." At the corner of 5th and Market streets, the Kenan Memorial Fountain is where Ichabod and Abbie encounter the lost boy in "John Doe." Proceed to 3rd and Market to St. James Parish (25 S. 3rd St.; exterior view only) where Ichabod sees Katrina in purgatory in the Season 1 finale. Just a block south, the Graystone Inn (100 S. 3rd St.; inside access only for overnight guests) dining room is where Headless beheads the four Masons and where exterior horse scenes took place in "The Midnight Ride." Due north at 3rd & Princess streets is the show's most iconic location, the Historic New Hanover County Courthouse (24 N. Third Street) which fans will recognize as the Sleepy Hollow Sheriff Department (exterior view). Diagonally positioned at Third and Princess Street is the 2nd Street parking deck where the four heads hung from rafters with the elegant Thalian Hall/City Hall (102 N. Third St.) visible in the background. One street over on Chestnut Street is the Cape Fear Hotel Apartments (121 Chestnut St.; exterior view only) where a woman jumped in "For the Triumph of Evil". In the next block is the private Cape Fear Club (206 Chestnut St.; exterior view only) where Abraham gave Katrina a necklace in "The Necromancer." The corner of Chestnut and N. Front Street appears in various season 2 street scenes. The Cotton Exchange (300 N. Front St.) parking lot that faces Water Street appeared in foggy scenes of "This is War" during the search for Ben Franklin's key. Just across the street, in a grassy area outside Cape Fear Community College's W building (403 N. Water St.) was the location for Ben Franklin's statue/lair (a temporary structure). Trek back up the hill and head south on Front Street to check out cool shops and businesses along the way. Barbary Coast (116 S. Front; must be 21 to enter) is the billiards bar in "The Lesser King of Solomon." Next, turn down Dock Street toward the Wilmington Riverwalk where Ichabod and Abbie converse on the riverfront by the Henrietta III riverboat dock (100 S. Water Street) in the episode 3 preview.    
Locations outside the Historic District (but worth the drive): Just across the river, there's Battleship Park (on Eagle's Island, beside the Battleship North Carolina), the site of the carnival scene in "The Golem". Other filming locations in New Hanover County include:  The EUE/Screen Gems Studios (1223 N. 23rd Street) filming took place on studio sets (exterior view only; studio lot is not open to the public). One Tree Hill Way is a short street beside the studio lot that's often utilized for driving/street scenes. Bellevue Cemetery (1701 Princess Place Dr.; closes at 5pm) appears in several cemetery scenes, including the horseback chase in the Season 1 finale. Brooklyn Arts Center (516 N. 4th St.) provided the church basement Hessian fight scene in "The Lesser King of Solomon". Adam's Antiques (545 Castle St.) is the antique shop the Hessians robbed in "Necromancer."  Greenfield Lake Park (N. Lakeshore Dr.) doubled as the Lost Colony island in "John Doe" and as a park in "The Golem." Mount Lebanon Chapel at Airlie Gardens (300 Airlie Rd.) provided the exterior for St. Henry's Parish in the season 1 finale; interiors were filmed at St. James Parish in the historic district. Outside New Hanover County, about a half-hour drive: Brunswick Town (8884 St. Philip's Rd. SE, Winnabow, NC) was used for purgatory scenes in the Season 1 finale and in a museum scene in "The Midnight Ride."
3.  How can I see movie/TV stars?
During filming of a movie or television production, security is tight both on location and at the studios. The only way to see the stars in person is a chance celebrity sighting at a public place such as a restaurant, boutique, coffeehouse, grocery store, local event, etc. Although TV and movie stars appreciate their fans, we ask that you please respect their privacy.
4.  Where can I buy SLEEPY HOLLOW and TV/Movie memorabilia?
Fans will find official SLEEPY HOLLOW merchandise at www.fox.com/shop. Other TV/movie-related memorabilia is available in Wilmington at the Black Cat Shoppe (8 Market Street; 910-251-6663), Poodle's Island Wear (18 S. Water Street; 910-763-4523), and Krazy Mike'z (1 N. Front St.; 910-632-2808).
5.  How can I find out more about the show and its stars?
FOX Television maintains a website with information about the show: www.fox.com/sleepy-hollow. You can also keep up with news about SLEEPY HOLLOW and other TV/film productions on the Wilmington and Island Beaches website's "Hollywood East" pages at www.WilmingtonAndBeaches.com/Hollywood-East. There are also two local film blogs that are frequently updated: http://wilmywoodnc.com/ and   http://wilmonfilm.blogs.starnewsonline.com.   
6.  How can I be an extra on a TV show or movie?
Several Wilmington-based casting companies casts extras for local productions. If you're interested in being an extra or have other questions about film production in Wilmington, please check the Wilmington Film Office website Frequently Asked Question page at www.wilmingtonfilm.com/Intro/FAQ/tabid/65/Default.aspx. Before visitors travel any distance to be an extra they are encouraged to check the website and contact casting companies directly to find out about casting needs and employment requirements.
See where the water takes you! For visitor information about Wilmington's historic river district and the island beaches of Carolina Beach, Kure Beach and Wrightsville Beach, call 1-866-266-9690, or stop by the Wilmington and Beaches Visitor Center located at 505 Nutt Street, Unit A, or the Riverfront Visitors Booth (April-October) at Market & Water streets. Or, visit http://www.GoWilmingtonAndBeaches.com
NOTE: Tours and businesses are individually operated. Hours of operation, fees and availability are subject to change without notice.