Traveling to a new destination can be overwhelming, especially if you're only there for a long weekend. But squeezing in all the must-sees and must-dos in a 72-hour timeframe doesn't have to be a daunting task.
Wrightsville Beach, N.C., is home to breathtaking views, a spacious beach, and plenty of things to see and do. And as North Carolina's most accessible beach, Wrightsville Beach is easier to get to than most other beaches…which means more time for vacationing!
See below for an adventure-packed, 72-hour itinerary that will ensure you get the most out of your island getaway.
Day 1
Morning: Grab a coffee from Sunday's Café – it's located above South End Surf Shop – and head to the beach to watch the sunrise over the Atlantic Ocean. Then kick-start your morning by trying your hand at standup paddleboarding. Take a SUP excursion on Banks Channel or the Intracoastal Waterway with Cape Fear Paddleboarding. Spending time on the water is a great way to relax and reflect.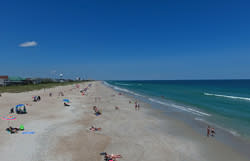 Afternoon: After getting settled into your hotel or vacation rental, head to the famous mailbox on the beach. Located on the north end of the island, visitors and locals alike head to this special landmark to write down their special memories and innermost thoughts. The original mailbox was so popular that there are actually two now, each maintained by different local groups. Leave a note and become part of a decade-long tradition – you never know who might read it!
Evening: Finish your first day at Dockside Restaurant and Bar. Serving delicious, fresh seafood and refreshing drinks on the water's edge for over 25 years, this spot was featured in movies like Nicholas Sparks' "The Choice." Watch the sunset over the Intracoastal Waterway before heading out for a night on the town with a visit to a watering hole like Poe's Tavern or Jerry Allen's Sports Bar for live music and cocktails.
Day 2
Morning: Take a morning stroll or jog around The Loop, a 2.45-mile trail offering incredible views of the island's waterways. Then head to one of Wrightsville Beach's restaurants for a hearty breakfast. Café del Mar and Causeway Café are two local favorites.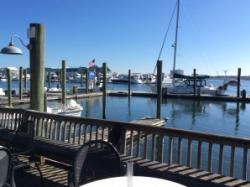 Afternoon: Learn about Wrightsville Beach's rich history with an afternoon at the Wrightsville Beach Museum of History. Try one of their new tours, including a walking tour of historical landmarks along the beach or a family scavenger hunt. Then stop by Tower 7 Baja Mexican Grill for lunch. Try the Malibu Shrimp and Baja Fish Tacos, two of the restaurant's best-selling dishes. Afterwards, check out the stores at Wrightsville Beach to shop 'til you drop. Pick up beach necessities like sunscreen and boogie boards at Sweetwater Surf Shop, Surf City Surf Shop or South End Surf Shop, or embrace the beach style with a new outfit from Hallelu Boutique.
Evening: Dine on the fresh catch-of-the-day while enjoying panoramic views of the Atlantic Ocean from Oceanic Restaurant. Try coastal cuisine like freshly caught little neck clams, flounder and mahi-mahi. Finish the evening off with a delicious ice cream sundae from Kohl's Frozen Custard, and head to the beach for an after-dinner, moonlight stroll.
Day 3
Morning: On your last day, it's only fitting to take a surf lesson in one of the best surf towns in the world. Whether you are a beginner or have spent your whole life on a board, instructors at one of the island's outfitters like Sean's Private Surf Instruction will help you feel right at home. Learn valuable skills like how to pick the perfect wave, key water safety tips and much more. Pick a private lesson for one-on-one learning or grab your friends and family to learn together for a fun morning on the water.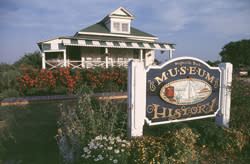 Afternoon: No trip to Wrightsville Beach would be complete without a little beach time. With crystal-blue waters and smoke-free air, Wrightsville Beach is one of the cleanest and most environmentally friendly beaches in North Carolina. For those who would rather spend the afternoon off the sand, cast a line from Johnnie Mercer's Pier where you'll be sure to catch a spectacular view of the ocean, as well as a big catch.
Evening: Enjoy a picture-perfect view of a breathtaking sunset aboard a relaxing cruise. Wrightsville Beach Scenic Tours' one-and-a-half-hour sunset cruise features views of surrounding islands and wetlands like Masonboro Island. Finish off the day with a fresh seafood dinner from Bluewater Waterfront Grill or The Bridge Tender, both located right on the Intracoastal Waterway.