Do you love enjoying and exploring the outdoors at Wrightsville Beach? Or perhaps you're competing in one of our upcoming races or outdoor events? We'd love to hear from you! 
You are invited to share your adventures in our #MyWBAdventure contest!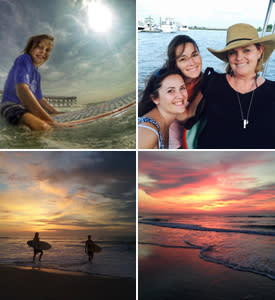 Here's how: Share a photo or video of your adventures on Facebook or Instagram using the hashtag #MyWBAdventure for the chance to be featured as the Wrightsville Beach "Adventure of the Month."
Renowned as a watersports haven, there are plenty of ways to embark on an adventure at Wrightsville Beach. In fact, Men's Journal refers to Wrightsville Beach as a "naturally gifted watersport hub." Men's Health magazine (June 2015) includes Wrightsville Beach among its roundup of Summer Hot Spots that highlight "the five best places to ride a wave, spike a volleyball, or paddle into the blue."  
Wrightsville Beach has also been proclaimed by National Geographic as one of the World's 20 Best Surf Towns.
From exploring our waterways to attending one of our seasonal signature events, the possibilities are endless!
Photo credits:  Thanks to Jean Konitzer, Laura Breault Casey and Lesa Downs for their submissions last month, and a special congrats to Jeff Anderson for his winning photo in the top left corner!