At Wrightsville Beach, North Carolina's most accessible beach, hotels are successfully producing and hosting events that provide guests with a unique way to experience the island's offerings. From national watersport events like the NC Surf to Sound Challenge to the annual Lumina Daze fundraising event, these hotels are becoming event producers in their own right, providing guests with an inclusive and convenient getaway that features captivating events.
Location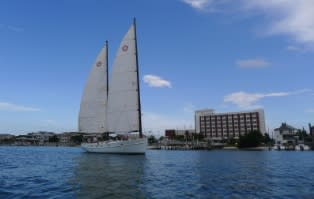 Dubbed one of the top surfing towns in the world by National Geographic, Wrightsville Beach has become known as a premier watersport destination, making it a natural fit for watersport events of all types. Situated squarely between the ocean and the sound, the Blockade Runner Beach Resort uses its "assets" to attract guests. Making use of its protected paddling cove, the hotel produces several multi-day watersport events that draw competitors from around the world. The cove is also the perfect spot to try water-based sports like kayaking, standup paddleboarding, canoeing, sailing, fishing and more.
Creating Experiences
The NC Surf to Sound Challenge, a World Paddle Association (WPA) event attracting hundreds of paddlers from across the globe, and the Wrightsville Beach Wahine Classic, one of the country's top females-only surfing competition, are just two of the events that are headquartered at the Blockade Runner. The hotel works with other participating organizations to put together a multi-day schedule of events that includes clinics and expos leading up to the main event, as well as smaller races for children and amateur competitors. With so much to see and do, guests have more reasons than ever to extend their stay.
Activities Galore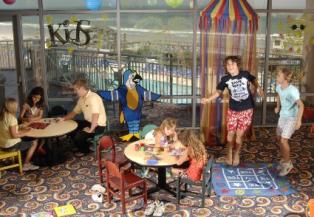 At the Holiday Inn Resort Wrightsville Beach's KidsClub, selected as one of Parents magazine & TripAdvisor's "10 Best Budget Beach Resorts", younger guests have just as much opportunity for adventure as the adults. Staff members take kids on a journey that includes crafts and games based on a special "theme of the day." The KidsClub also offers programs throughout the year like surfing classes, a marine sciences boot camp and mixed martial arts classes.
Collaboration
By producing events, resorts not only give guests the type of experiences they want, but they are also able to collaborate with local outfitters and other businesses to create a bigger economic impact. Each year, the Blockade Runner teams up with the Town of Wrightsville Beach and the Wrightsville Beach Museum of History for Lumina Daze, a fundraising event featuring live music, silent auctions, local artists and more.