Cheers to the 32nd Annual North Carolina Holiday Flotilla for expanding its route to include fabulous views from popular Wrightsville Beach restaurants! Thanks to a newly expanded route, spectators of the dazzling nighttime boat parade now have even more vantage points from which to 'ooh' and 'aah' over the twinkling vessels that illuminate the waterway.
Each year on the Saturday after Thanksgiving, the island of Wrightsville Beach welcomes visitors to experience the North Carolina Holiday Flotilla (November 28). Elaborately decorated watercraft, cheering onlookers and lively outdoor parties along the parade route create a festive island vibe. From the tiniest of rowboats to the grandest luxury yachts, captains and their crews go all-out to please the crowds and impress the judges, decorating their boats in traditional and contemporary themes. The friendly and jovial competition is a beloved Wrightsville Beach tradition.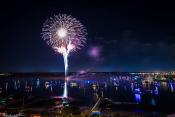 This year's flotilla of decked-out boats and crew members will cruise past restaurants that overlook the waterway as the procession makes its way along Banks Channel toward Waynick Blvd. and the Blockade Runner Beach Resort where an impressive fireworks display will provide a grand finale.
Restaurants and hotels along the 2015 N.C. Holiday Flotilla route:
Blockade Runner Resort, 275 Waynick Blvd.
Bridge Tender Restaurant/Marina, 1414 Airlie Road
Fish House Grill, 1410 Airlie Road
Dockside Restaurant, 1308 Airlie Road
Bluewater Grill, 4 Marina Street
South Beach Grill, 100 South Lumina Ave.
Visitors who plan to arrive on Friday can make the most of the holiday weekend beginning with a tree lighting ceremony at 5:45pm at Wrightsville Beach Town Hall, followed by visits with Santa. There's also a Flotilla launch party with live beach music and delicious food at the Blockade Runner Beach Resort at 7pm (admission charged). Saturday's free Festival in the Park, from 10:00 a.m. until 4:00 p.m. at Wrightsville Beach Park, features live music, an antique car show, and arts and crafts by local artisans and merchants. For children, there's a large play area with inflatable slides, bounce houses, a coloring contest and the ever-popular Arab Choo-Choo. At 6pm the main event gets underway with the N.C. Holiday Flotilla's show of glimmering boats and fireworks. All these activities add up to a weekend of holiday glee. For information about the flotilla events, route and parking, visit www.ncholidayflotilla.org.
The N.C. Holiday Flotilla is Wrightsville Beach's signature holiday event, so be sure to make advance reservations for premier flotilla viewing at waterfront restaurants. For seasonal specials and additional holiday highlights at Wrightsville Beach, visit www.visitwrightsvillebeachnc.com/season/2015-holiday-highlights/.