For fashionistas, vacation time can be a great time to treat yourself to a little something that makes you reminisce about your fabulous vacation. Fortunately for you, Wrightsville Beach is one of the only North Carolina beaches with a shopping scene that will keep you coming back for more, thanks to options that include chic boutiques, artisanal jewelry stores and surf shops.
Here's our guide to some of the island's standout retail stars:
Trendy and chic – Stop by Hallelu, the largest fashion boutique at Wrightsville Beach that carries everything from dresses, tops, rompers, outerwear, accessories and shoes. Inspired by her grandfather's entrepreneurship at Wrightsville Beach, Catherine Yearwood opened the chic shop as a passion project in 2005 with her husband, Dave. Don't worry when you fall in love but have to leave the island – you can shop their popular Instagram feed for new outfits whenever your heart desires.
One-stop shop – Check out Redix Inc., a Wrightsville Beach staple since 1969. Unassuming from the outside, the department-style store sells a variety of products including clothing from some of the best brands – Southern Tide, Barbour, Vineyard Vines and Southern Proper – and high-end sunglasses – Costa Del Mar and Ray Ban. Redix offers much more than your typical beach apparel.
 
Stylish memento – Find unique fossil jewelry, coffee and snacks at The Workshop. The brand new concept store integrates the owner's passions – scuba and coffee. Shop shark and Megalodon necklaces that are the perfect complement to any outfit while enjoying a touch of French flavor from almond croissants in the morning to baguette sandwiches at lunch. We know you'll leave saying "oui."
 
Surf's up – Check out Annex Surf Supply, named one of the 22 Best Surf Shops in the World by SurfCollectiveNYC.com, for some of the hottest surfer brands like Volcom, Body Glove, Vans, Hippie Tree and Alpine Star. This local favorite brings the community together through its support of art, music and culture. Stop by to check out local art exhibits, live music and enjoy a cup of pour over coffee while deciding which outfit to buy. Annex Surf Supply is also the place to go for all of your beach day needs. Rent paddleboards, surfboards, body boards, umbrellas, bikes and beach chairs all in one spot.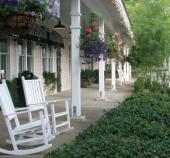 Something for everyone – Before heading across the bridge to the island, stop by Lumina Station. Winner of Coastal Living magazine's first-ever award for contextual design, the outdoor shopping village inspired by the beloved Wrightsville Beach dance pavilion, is home to local favorite boutiques including Monkee's, Island Passage, Beanie+Cecil and more. You can even show off your new outfit at some celebrity favorite restaurants like Port Land Grille, and Brasserie du Soleil, which you might recognize from Nicholas Spark's film "The Choice."