There's no doubt that Wrightsville Beach is a top coastal destination for adventure seekers. From standup paddleboarding to windsurfing to scuba diving, a vacation here can mean endless excitement and adrenaline-pumping experiences. After your action-packed getaway, you'll want to relive your memories again and again (and maybe even cause some vacation envy among your friends).
To help you capture all of the highlights of your #MyWBAdventure, we've rounded up the top five spots on the island to catch incredible GoPro photos and video footage:
1. From the ocean – Wrightsville Beach is known far and wide for our rich surf culture, and it's no surprise that GoPro videos from atop a surfboard are incredibly exciting to watch (and take!). Strap a GoPro to your head and enjoy a classic surf session at Wrightsville Beach, or if you're a beginner, sign up for lessons at Indo Jax Surf School or WB Surf Camp and bring your GoPro along! Nothing will help you remember the time you learned to surf like a vivid GoPro video documenting the first time you rode a wave.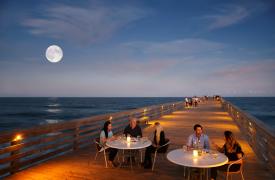 2. From the pier – To capture sweeping views of the coastline and our stunning sunrises, head to one of Wrightsville Beach's famous piers. The Crystal Pier is a free walking and fishing pier that is also home to a WB favorite, Oceanic Restaurant. The Oceanic is WB's only freestanding beachfront restaurant, offering breathtaking Atlantic Ocean views and fresh seafood. Spend your evening at Crystal Pier with your GoPro, and make sure to save some battery life for the end of the night. Every Wednesday and Friday night from mid-April until the end of summer, the Oceanic hosts live music on the pier as part of its Beachside Music Series. If you're visiting during a full moon, you can enjoy entertainment and dinner specials during the restaurant's Full Moon Rising Celebration and capture incredible shots of the moon over the ocean.
Johnnie Mercer's Pier is the only concrete fishing pier in North Carolina. It's located right at the center of Wrightsville Beach and has been a favorite WB fishing spot for years. Bring your GoPro and take videos of your catch as you fish off the pier, or capture a walk from the beginning to the end of the pier. Because of its central location, this pier offers one of the most breathtaking views of the entire shoreline. You're likely to catch a great video of surfers from both piers, too!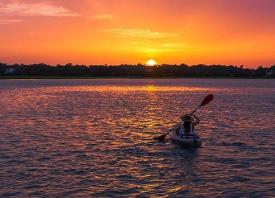 3. From the Intracoastal Waterway – Rent a standup paddleboard (SUP) from Cape Fear Paddleboarding or Carolina Paddleboard Co. and explore Wrightsville Beach's many waterways with your GoPro! Whether you decide to stay in the smooth Mott's Channel or brave the ocean waves, you're guaranteed to get exciting footage of your excursion. One could argue that a sunset view on the Intracoastal Waterway is by far the greatest from the water, but we'll let you be the judge of that!
4. From the marina – Visit Bridge Tender Marina or Wrightsville Beach Marina & Dock to capture breathtaking views in a nautical setting. From Bridge Tender Marina, you can almost see the entire island of Wrightsville Beach, making it a great place to take a photo or video of the town from afar. From Seapath Yacht Club and WB Marina & Dock, you'll have clear views of Banks Channel and Mason's Inlet. All three marinas offer plenty to photograph, including beautiful sailboats, fishing boats and skiffs, or even a pelican or two walking along the docks! Don't hesitate to ask a boat crew if you can film them docking a boat to capture a memory of Wrightsville Beach's rich maritime culture.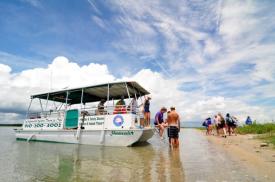 5. From a tour – Let an expert guide you to Wrightsville Beach's scenic locales on a boat cruise with Wrightsville Beach Scenic Tours. Bring your GoPro on a birding tour or an island safari to capture great videos of wildlife you won't see anywhere but the North Carolina coast. You can even take your GoPro with you and film an epic seashell search on Masonboro Island – an ecological jewel only accessible by boat!