Located just 20 minutes from the Wilmington International Airport, Wrightsville Beach is a North Carolina coastal getaway unlike any other. Technically an island located in between the Atlantic Ocean and the Intracoastal Waterway, its clear waters has attracted vacationers and adventure lovers from along the East Coast — and the world — for well over a century. It's a beach with attitude, but not the kind that seems pretentious. Instead, there's a distinctly laid-back vibe here — a go with the flow (pun intended), welcoming attitude that only a southern surf town can possess. While other beach towns have a tendency to hide its local gems from visitors, Wrightsville Beach residents let them shine. Here's a look at local favorites and the little-known treasures every visitors needs to see (or try) when they vacation in this corner of North Carolina.
Get caught up on the area history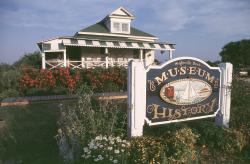 Set inside a historic Myers Cottage along The Loop, the Wrightsville Beach Museum of History is a free attraction that details more than 100 years of history. Originally known simply as "The Banks," visitors became enamored with Wrightsville Beach around the turn of the century when a railroad company created a trolley line from downtown Wilmington to Harbor Island. While the streetcars no longer run, you can still see remnants of the original line just in front of the museum. Once inside, you'll learn how Wrightsville Beach learned to rebuild first after the Great Fire of 1934 and again in 1954 when Hurricane Hazel struck. Run primarily by volunteers, the Wrightsville Beach Museum of History and its staff will offer a unique look at the area and its landmarks and help you appreciate it all the more.
Tip one back at Wrightsville Beach Brewery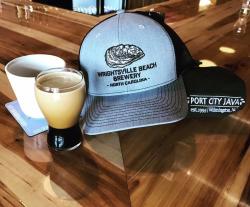 Based on the amount of people at the bar and sitting at the tables, you wouldn't know that the Wrightsville Beach Brewery has barely been open for a full year when you walk through its doors. On any given night, young adults and professionals are elbow to elbow with retirees, proving that Wrightsville Beach Brewery is a hometown staple that won't leave anytime soon. The brainchild of a local oysterman, Wrightsville Beach Brewery, located nearby Wrightsville Beach, serves up microbrew beers from across the surrounding area, including eight of their homemade brews, as well as a well-balanced menu of classic beach staples and bar food favorites. For the ultimate experience, order an Oysterman Stout and an appetizer of steamed (or stuffed) oysters.
Get out on the water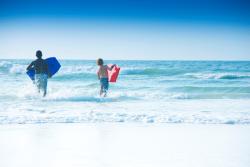 From sunrise to sunset, there's always something to do in Wrightsville Beach, especially out on the water. There are numerous watersport rental locations and tour operators throughout the area, so you can take in the scenic coastline views from all sides. As a top-rated surf and stand-up paddleboarding locale, we recommend surf or SUP lessons. However, if you'd prefer to explore more of the Intracoastal Waterway and its marshes, opt in on a kayak rental or tour so you can get up close and personal to all Wrightsville Beach has to offer.
Score the catch of the day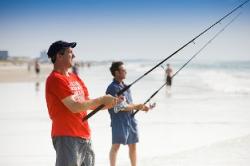 Just like Bubba Gump loved shrimp, Wrightsville Beach loves fishing. There's pier fishing, surf fishing, shell fishing, or deep-sea fishing — essentially any kind of fishing experience you can imagine is here. Fishing charters are available year-round; however, the best experience comes atop the Johnnie Mercer's Pier. Stretching more than 1,200 feet into the Atlantic Ocean, Johnnie Mercer's Pier is the only concrete pier in the state and is a must for anglers who are itching to test their skills on the East Coast.