A secret locals know is that winter is one of the best times of the year for a getaway to Wrightsville Beach. You're treated to mild temperatures averaging in the mid-50s, miles of breathtaking shoreline perfect for a morning or afternoon stroll and plenty of options for both indoor and outdoor recreation.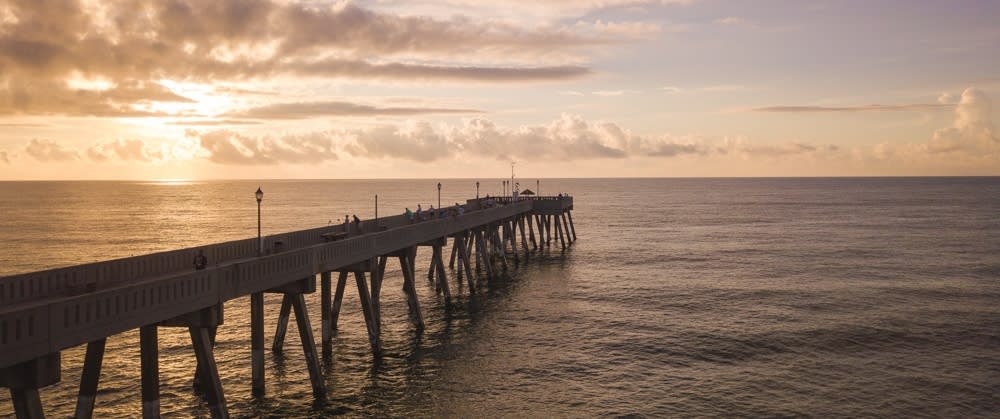 Start your day with a beautiful sunrise from Crystal Pier and keep your eyes peeled for possible migrating humpback whales. After, warm-up at SUNday's Café with a latte and pastry while taking in ocean views. If you're yearning to learn something new, head to the historic Palmgren-O'Quinn cottage and visit the Fred and Alice Stanback Coastal Education Center. Learn about unique aquatic wildlife found in the area through art exhibits and the "Living Classroom" featuring native plants, rain gardens and more.
Warm afternoon sun makes it an ideal time to take your four-legged friend for a walk on the beach. Head to the North End for birdwatching opportunities or catch a sunset from the South End. Once the sun goes down, there are plenty of ways to soak in the island's culture and entertainment. Enjoy oysters on the half shell at Shark Bar and Kitchen or heat up the taste buds with authentic Tex-Mex from Tower 7 Baja Mex. You can't go wrong dancing to the sounds of live music at The Palm Room or partying like the locals at Lager Heads Tavern.
If you're looking for pamper over party, Alice Lawson Salon + Spa offers luxurious treatments for both wellness and beauty in a relaxing, coastal environment. After, treat yourself to a baguette from The Workshop and enjoy "coffee with a bite" while browsing the unique assortment of local shark and Megalodon tooth jewelry for sale. If you're more into boutiques, Hallelu Boutique offers a one-of-a-kind selection of women's clothing, jewelry, shoes and accessories. Take home pieces of artwork from Wrightsville Beach Art Company featuring 3D nautical art made from recycled items and other select creations by Jazzy Boy Art.
Warm winter days make it easy to get out and get active. Walk along the 2.5-mile Loop and enjoy inland island views of the Intracoastal Waterway and marshes. Nearby, Airlie Gardens features 67-acres of walking paths, formal gardens, seasonal blooms and the historic 473-year-old Airlie Oak. Get out on the water with a birding cruise, visiting Masonboro Island, or watch the setting sun from the water with Wrightsville Beach Scenic Tours.
A winter getaway to Wrightsville Beach offers the perfect balance of nature and recreation without the summertime crowds.