Port City Pints: Wilmington's Growing Craft Beer Scene
Exploring breweries and bottle shops in Wilmington, NC
By Jason Frye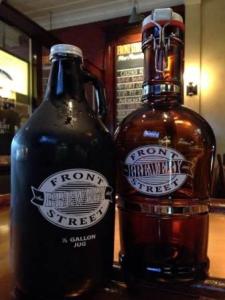 Hopheads, stout sippers and IPA acolytes know North Carolina is a craft beer haven, and now, eyes are turning toward Wilmington. That's reason enough to celebrate by hoisting a pint and taking a stroll along the Cape Fear River while contemplating where to fill a growler later.
Front Street Brewery, the city's first microbrewery, turns 20 in 2015. For a while, it was the only brewery in town, but that's no longer the case. In the last year, a dozen or so breweries, bottle shops and homebrew supply stores have opened in Wilmington and the nearby island beaches of Carolina Beach and Wrightsville Beach.
On that note, it's time to raise a glass and toast craft beer. Here's a list of can't-miss bottle shops, tap rooms and tours to help you plan your next trip to Wilmington and our surrounding beaches, so come see us…and come thirsty.
Breweries

The only place the Venus flytrap grows in the wild is within a 70-mile radius of Wilmington. Flytrap Brewing took its name and logo (it's both the plant and a bottle cap) from this fascinating carnivorous plant. Head to Flytrap and grab a tasting flight or pint. They brew their own American- and Belgian-style beers, have a few guest taps and, for the adventurous, offer up a menu of sours and wild ales. Their Saison with Lemon is a great warm-weather beer, and the seasonal Chocolate Coffee Milk Stout makes for an outstanding pint in cooler seasons. Area food trucks frequent this cozy brewery, making it easy to spend an evening here.
Front Street Brewery celebrates two decades of brewing craft beer in 2015, but that's not the only reason for a toast: it also has one of the first female head brewers in the state: Kelsie Cole. And it's Wilmington's only restaurant and brewery. Daily tours of the brewery—complete with a pair of samples—give you a look into the brewing process. Be sure to grab a cold Coastal Kolsch—a crisp, slightly hoppy brew that's on tap year-round—or Dram Tree Scottish Ale—a rich brew that tastes great in a glass or in their Brew-BQ Sauce; try them both.
Wilmington Brewing Company knows its way around beer. These guys aren't afraid to experiment, putting flavors like lemongrass, hot peppers and ginger into beers or making hoppy brews with complex layers of flavor—their Jalapeno Saison and wild brews like the Chocolate Peanut Butter Porter are fine examples of their creativity. Try a pint and like it? Grab a growler and take it home with you. They love to chat about beer, so belly up to the bar and expand your brew IQ.
Broomtail Craft Brewery was born in a barn. Literally. The last horse moved out, the brewing equipment moved in, and Broomtail—a slang term for wild and untrained horses—was born. You'll find their brews in more than two-dozen spots around town, including that brewery-barn they call home. The Rappe, a light Imperial Stout; and Elysium, a malty Belgian-esque brew, are common sights on taps around town.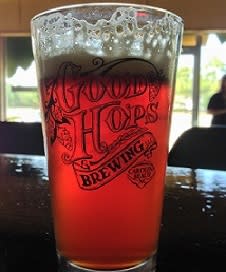 One of the most beautiful breweries in North Carolina, Downtown Wilmington's Ironclad Brewery is the kind of place where you should grab a drink and claim a dark corner as your own. Two bars—one upstairs, one downstairs—and plenty of seating makes this a great spot for large groups. It takes its name from the heavily armored Civil War ships built at the Beery Shipyard right here on the Cape Fear River and their Cape Fear Defender IPA really embodies the strong, bold namesake ships.
The passion for great beer is spreading beyond Wilmington, to spots like Carolina Beach, where you'll find Good Hops Brewing, new breweries and bottle shops are popping up.
Bottle Shops and More
Downtown's Cape Fear Wine & Beer has more than two-dozen taps—including a cask, a nitro, and the connoisseur's cabinet of rare brews—and hundreds of bottles, so you'll always find something good here. Not sure what you want? The staff knows its stuff, and they're not afraid to pour a taste and guide you to a pint you'll love. If you're going to be in town for a while, grab an index card and start tracking your beer consumption; after 200 brews quaffed, you'll belong to a secret society of beer fans, so drink up.
At Palate Bottle Shop and Reserve, great music, a dozen taps and a wide-ranging selection of beer and wine all make spending Turntable Tuesdays (or any day, for that matter) in this chic spot a treat. In addition to their outstanding taps, they have a number of bottles you can enjoy on site.
Fermental Beer & Wine, in Ogden, a short drive from downtown, has a thoughtfully curated selection of beer and wine where you'll always find a surprise. Just about every weekend features some sort of live music, tap takeover, visiting brewery or local food truck on site. Keep an eye on their schedule and make plans to attend one of their special events.
The folks at Lighthouse Beer & Wine, in Wrightsville Beach, know their suds. They're quick with a recommendation, so chat them up and let them introduce you to your new favorite brew. There's also an outdoor beer garden, perfect for lounging and events when the weather is nice, which it often is in these parts.
Stop by Hey! Beer Bottle Shop for a selection of bottles and drafts that go beyond the expected. You'll see tough-to-find brews in their cooler and they always have something interesting to take home in a growler; it's a great place to stock your cellar or party.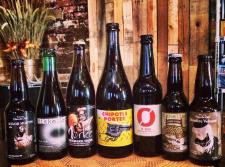 Bring a snack when you visit Bombers Bev Co., one of downtown's newest bottle shops. They have a dozen taps and hundreds of bottles to choose from, and if you're going to make a run at trying everything they have, you'll need something to eat. Speaking of running, the Bombers Bev Run happens every Wednesday, so stop by, go for a run and earn your beer.
If you're looking for great beer and great food, Ogden Tap Room and Hops Supply Co. have you covered. At Ogden Tap Room, you'll find awesome pub grub (fried oyster mushrooms? yes, please!), but more importantly, you'll find 40 beers on tap. Expect more than your standard bar fare at Hops Supply Co. There, you'll find an excellent selection of North Carolina beers on draft, in bottles and in cans, and a menu that just won't quit. Try the black bean burger: it's been known to convert carnivores into vegetarians for the evening.
Wilmington Homebrew Supply is more than just a brewery par excellence: it's also a mighty fine brewer's supply shop. Stop in on Saturday morning for a hands-on lesson in brewing, then pick up everything you need to make your own at home.
Tastes and Tours


Not sure which brewery to visit next? Let Port City Brew Bus take care of the planning and the driving. The Brew Bus departs from Downtown Wilmington on a four-hour tour of three area breweries. At each, you'll meet the folks responsible for brewing, bottling and serving up some fine brews, and you'll learn about different beer styles as well as the brewing process. Tours are also available for private parties.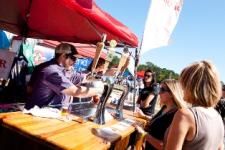 A trio of fall festivals give beer and wine lovers a chance to sample new and old favorites all while showing off some great local chefs. In late September, the Wilmington Wine & Beer Walk hits downtown and leads the thirsty on a search for new and unusual brews. The second week of October sees the one-day Taste of Wrightsville Beach, which brings together the best food and drink nearby Wrightsville Beach has to offer. And in the third week of October, the Lighthouse Beer & Wine Festival returns for a full day of beer tastings and music. Get your tickets early, and don't forget the Voracious! Rare Beer Festival, which kicks off Lighthouse's festival weekend.
With so much to explore, don't miss out on Wilmington's exciting craft beer scene!
Get a free visitor guide and start planning your Wilmington adventure now. Then map out your trip via Wilmington's Brewery Trail. Hopheads, stout sippers and IPA acolytes know North Carolina is a craft beer haven, and now, eyes are turning toward Wilmington.