Exciting World War II History Thrives in Wilmington, NC, the Nation's First WWII Heritage City
On September 2, 2020, Wilmington, North Carolina became the inaugural American WWII Heritage City, thanks largely to the efforts of historian/author/community leader Capt. Wilbur D. Jones, Jr. who founded the WWII Wilmington Home Front Heritage Coalition. We asked Capt. Jones to shed light on how Wilmington became the first city in the nation to receive this designation and ways that visitors can experience its World War II heritage.
Did You Know...
…a German U-boat fired on the Ethyl-Dow chemical plant (near Wilmington, N.C.) in 1943, perhaps the only attack on America?
…Wilmington claims the only high school with multiple World War II Medal of Honor recipients?
…in Wilmington, you can tour a WWII battleship moored in the mud surrounded by a cofferdam, and you can visit a working WWII USO building?
And this is only a sampling of Wilmington's World War II heritage. Read on to find out why Wilmington, N.C. was recently designated as America's first World War II Heritage City.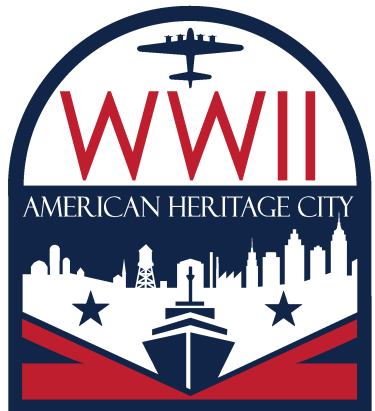 Welcome to America's First World War II Heritage City!
Famous for enchanting pre-Colonial and Civil War history and its 19th Century downtown, Wilmington and environs have burst onto the global scene with a dynamite new destination tourism dimension that gives travelers another splendid reason to visit.
On September 2, 2020 at the Battleship NORTH CAROLINA, President Donald Trump announced that Wilmington received the inaugural American World War II Heritage City designation. This culminated a 12.5-year project conceived and led locally which established a national preservation program administered by the Secretary of the Interior.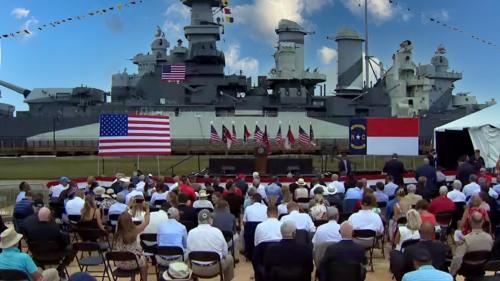 Wilmington was selected by exceeding two major criteria to earn the WWII Heritage City designation for its war effort contributions and its preservation of WWII history sites.
WWII history's hot appeal is depicted in TV documentaries, premier movies, periodicals, seminars, an array of books, and Europe and Pacific battlefield tours. Visitors can now experience WWII history first-hand in Wilmington. Iconic attractions, historical markers, memorials, and museum exhibits allow visitors to step back in time and visualize how Wilmington has protected its World War II legacy.
Our Crown Jewel, and Pride and Joy
Wilmington's "crown jewel" and prime attraction is the beloved Battleship NORTH CAROLINA, the state's WWII memorial museum to honor its 11,000 soldiers who died. Since 1961 it has been moored on the Cape Fear River across from downtown as a major attraction.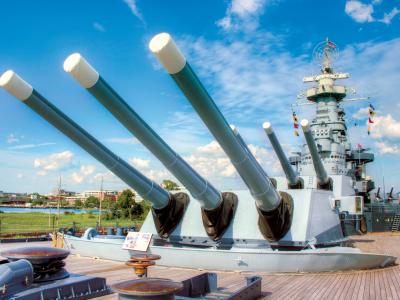 Although currently resting on mud and undergoing hull repairs, the Battleship's nine decks remain open to the public. The cofferdam which drained the river is a sight to behold. Enjoy the regal encompassing walkway that encircles the ship and look for Charlie the Alligator in the marsh. The gift shop is stocked with cool WWII souvenirs.
Wilmington's WWII "pride and joy" is the Hannah Block Historic USO/Community Arts Center (HBHUSO/CAC) downtown is among several WWII USO buildings still standing. A perfect venue blending history and the arts, it hosts theater productions, pottery classes, corporate meetings, and wedding receptions, and is on the National Register of Historic Places.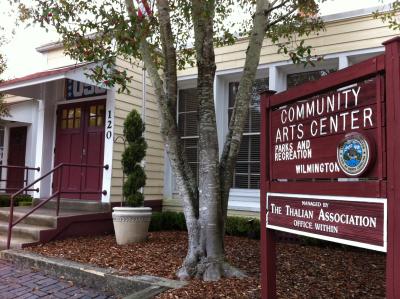 As the hub of regional WWII events with its home front museum containing memorials, exhibits and displays, photomurals, wartime military artifacts, and art—and an original giclee of the National World War II Memorial. Its restorations, art, original and repro furniture, and furnishings relocate visitors into 1943.
Honoring Medal of Honor Recipients
The William D. Halyburton, Jr., Memorial Park is a natural park and events center at 409 South 17th Street. The park honors the 1943 New Hanover High School (NHHS) graduate, Pharmacists Mate 2nd/Class, and Medal of Honor recipient, a Navy hospital corpsman killed in action on Okinawa. The visitors center contains his citation. Halyburton's name is also on the nearby Veterans Park main thoroughfare.
The masonry Medal of Honor monument at NHHS pays tribute to Halyburton and Medal of Honor recipient 1st lt. Charles P. Murray, Jr., in Alsace, France, in December 1944. To our knowledge, NHHS is the only high school with multiple WWII recipients. Murray Middle School in Veterans Park bears his name and citation. The HBHUSO/CAC memorializes both.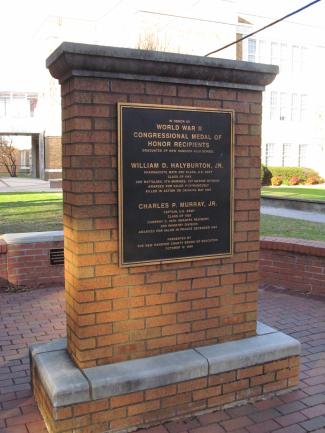 German Prisoner of War Camps
Wilmington hosted 550 German POWs in three camps from February 1944 to April 1946. Historic markers are posted for two of them: at the SE corner of Shipyard Boulevard and Carolina Beach Road, and the main camp at 10th and Ann Streets in Wilmington.
Legendary German U-Boat Attack
On the night of July 23-24, 1943, a submarine surfaced just offshore of Kure Beach and fired three shells at the Ethyl-Dow chemical plant. They missed, landing in the river. I am among many who believe it happened and was the only German attack on America.
Two markers in Kure Beach and a Smithsonian magazine article provide further reason to fantasize. Two of my books, A Sentimental Journey: Memoirs of a Wartime Boomtown and its sequel The Journey Continues: The World War II Home Front, provide more details about the U-Boat attack and wartime Wilmington.
Ways to Tour World War II sites in Wilmington
>>> The World War II Heritage Guide Map of Wilmington and Southeastern North Carolina provides a self-guided tour map of World War II sites and is available for free download.
>>> Guided tours of WWII sites are offered by Trips By Patty, led by Patty Rogers (404-791-3166) in conjunction with Wilbur Jones (910-793-6393).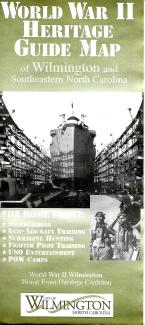 Learn More about Wilmington's WWII Homefront Heritage
Exhibits at local museums further interpret Wilmington's home front role during WWII, including: Cape Fear Museum of History, the Wilmington Railroad Museum, Fort Fisher State Historic Site, and the NC Military History Museum at Fort Fisher, as well as historical images on permanent display at the Wilmington Convention Center. 
Related Links:
Wilmington's war effort contributions
Wilmington's preservation of WWII history sites
National Park Service: American World War II Heritage City program
Star News: What's Next After WWII Heritage City designation?
ABOUT THE AUTHOR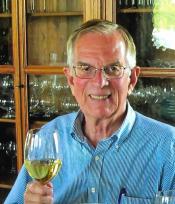 Wilmington native Wilbur D. Jones, Jr., is a retired Navy captain, military historian,
and author of 19 books, including 2 on wartime Wilmington. He serves as chairman
of the World War II Wilmington Home Front Heritage Coalition.
For more information: www.wilburjones.com.