Wilmington and Island Beaches, where no two experiences are alike
Fun in the city and at the beach, with activities the whole family will enjoy
By Bryan Richards
My wife and I grew up with two very different vacation styles. Her family was more of the adventurous sort and mine preferred to lounge on the beach. For years, we took turns planning our own family vacations. One year, we'd play "Romancing the Stone," in Cartagena, Colombia, and the next we'd spread our towels on a beach in Cabo San Lucas. Ultimately, one of us would have a good time, while the other would think about next year.
Then, we found Wilmington and its island beaches—one of the few places that could satisfy both of our vacation styles. In the morning, we'd take off for the adventure of the day, and, in the afternoon, we'd relax on the beach. We love it so much that we've been back multiple times, excited to see which side of Wilmington we could uncover next.
Eco-adventure exploring
On one particular trip, our Wilmington and beaches vacation was all about family adventure. Our son was young, but we didn't want to be beholden to just the pool, beach, and sandcastles—at least my wife didn't. So, on our first day, we headed out to fuel up for our adventure. We stopped for breakfast at the Kure Beach Diner, a quaint, homey little place with fast, friendly service and the biggest, fluffiest homemade biscuits and creamiest grits I've ever had.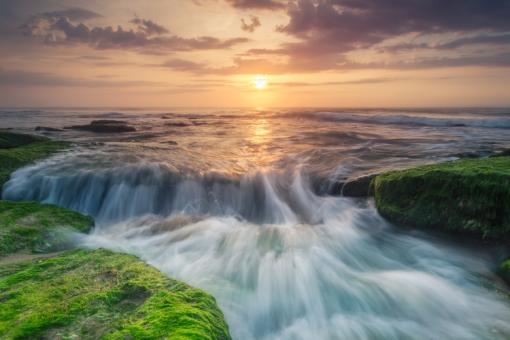 After filling up, we headed to Fort Fisher State Recreation Area to hike the mile-long Basin Trail, which meanders through the Maritime Forest and across the marsh via a boardwalk and past a World War II bunker that we later learned the Fort Fisher hermit called home. After a lovely stroll, we headed off to explore the coquina rocks. We had heard about this sea shell rock formation, named for the Spanish word for cockleshells or shellfish, which is only accessible at low tide, and had planned our visit to coincide with that after checking the tides the night before. Our son was delighted by the sea life he found in the tide pools around the moss-covered rocks—sea urchins, sea stars, blue-legged crabs, and hundreds of thousands of mussels clinging to the rock formation. He enjoyed collecting colorful shells and rocks and putting them in a bucket with the help of mom, and even found a cool sand dollar.
Brews, food, and tunes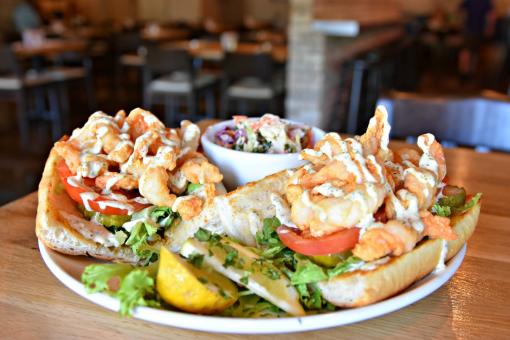 After a morning of exploration, I was ready to relax with a cold brew, so we headed down the road to Waterman's Brewing Company, just before the drawbridge to Wrightsville Beach. I had the Abundant Sunshine IPA, which was perfectly refreshing with hints of citrus, coconut and pine, and my wife had the Apriberry Blonde Ale, which she said was delicious and tasted of apricots and blueberry. The Blackened Tuna Tacos with sautéed veggies made for a nice light lunch for my wife, and I dug into the Shrimp Po Boy with tater tots, a great and filling option, enough to share with our toddler. Then, we made our way down to the sand for a few hours of beach time, before catching some live music in the park, part of Wrightsville Beach's WECT Sounds of Summer concert series.
Family adventure, from River to Sea
The next morning, we decided to start our day at Carolina Beach State Park and ventured down the half-mile loop Venus Flytrap Trail, where the carnivorous plant—which only grows natively within a 100-mile radius of Wilmington—is on display along with other insect-eating plants like the Bladderwort and Pitcher Plant. Afterwards, we headed to Paddle NC where our son's favorite part of the trip turned out to be on the water with me as I tried my hand at stand-up paddle boarding. After working up an appetite, we headed to downtown Wilmington's Riverwalk. Unlike most coastal resort towns, Wilmington's appeal doesn't just center on saltwater and sand. The city filled with historic charm and its two-mile long scenic walkway along the Cape Fear River has a cool metropolitan vibe and is filled with art galleries, boutiques, outdoor cafes, restaurants, river cruises and horse-drawn carriage tours, and other attractions.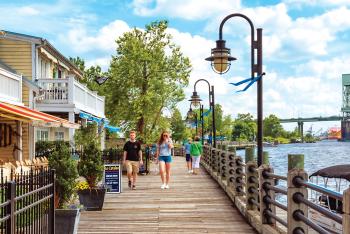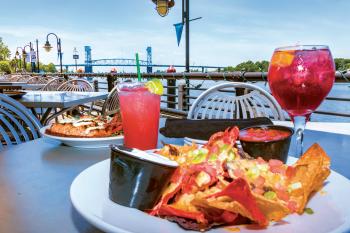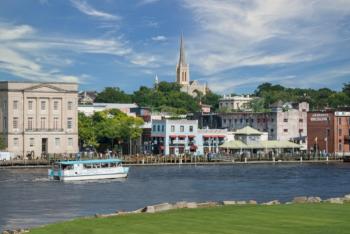 We had lunch on the outdoor deck at The George, where my wife enjoyed the Crab Cake Sandwich, served on lightly toasted brioche bun with cilantro mayo, and I dug into a hearty bowl of George's Shrimp and Grits, both filling and delicious, while our little one enjoyed his fresh flounder fish sticks from the kids menu. We could have stayed there all afternoon enjoying the riverfront view, but we headed down the block to take in more of the city—from the water, and hopped aboard a sunset tour by Wilmington Water Tours—a relaxing and spectacular way to end our fun-filled day.
Accommodations for every lifestyle
With so much to see and do, there's no doubt that we'll be back to explore more of what Wilmington and its beaches has to offer. We enjoyed our stay in a beachfront cottage, but with so many accommodation options, we are looking forward to going back and checking out Wrightsville Beach's newly renovated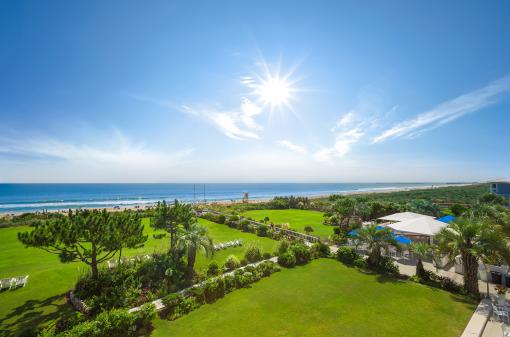 Blockade Runner Beach Resort, which has a supervised, evening "Sandcampers," program for the kiddos, or the super family-friendly Holiday Inn Resort, with their playground and KidsClub, or booking a suite at the Shell Island Resort, also newly renovated.
Several new hotels have sprung up in downtown Wilmington, and others have been upgraded. The Hotel Ballast, Tapestry Collection by Hilton just completed an $11 million renovation featuring a new indoor/outdoor restaurant and bespoke bourbon bar, Board & Barrel, showcasing locally-sourced ingredients and sweeping views of the Cape Fear River. Embassy Suites by Hilton Wilmington Riverfront Hotel, opened last year next to the convention center and along the scenic Riverwalk and features a roof deck and expansive views of the river and downtown.
There is a transformation underway in Wilmington's award-winning riverfront that you don't want to miss. Come see what all the excitement is about.