Wilmington, En Route as the First "American World War II City," as a WWII Tourism Destination
By Wilbur D. Jones, Jr., author/military historian/WWII tour guide
March 10, 2016 - Fresh from the February passage in the U.S. House of Representatives of a bill that would designate Wilmington as the first "American World War II City," Wilmington and Southeastern North Carolina [SENC] are launching numerous activities celebrating the 75th anniversary of prominent area wartime events and facilities in 2016.
These activities spotlight the attraction and importance of Wilmington as a WWII tourist destination for history enthusiasts also seeking a vast array of cultural, recreational, and entertainment opportunities.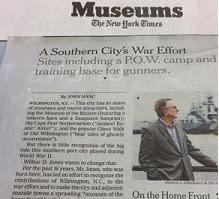 First the bill. It's now in the U.S. Senate with promising prospects for passage. The potential designation is based on the Wilmington area's mighty contributions to the war effort, and just as significant, what we have done to preserve that legacy.
In what essentially strengthens our claim to be the first "American WWII City," the New York Times on March 17, 2016 published a feature story on Wilmington as a WWII tourism destination. The writer, John Hanc, and his photographer toured our sites.
Meanwhile, here's the legacy visitors will enjoy.
New Hanover County was wartime SENC's population center and economic, defense industry, military, cultural, social, and entertainment hub. Wilmington, the county seat, was officially called "The Defense Capital of the State" and evolved into the country's unique wartime boomtown.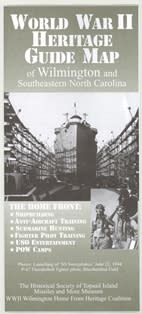 Our varied war industries included a major shipyard building cargo vessels. Other factors: all five of the armed forces were based here, strategic military location, major fighter aircraft training airfield, major railroad headquarters, state port, near tripling of population, enormous civil and jurisdictional problems, German prisoner of war camps, two Congressional Medal of Honor recipients, and the combat record of its servicemen.
Evidence remains of many of these attractions, facilities, and activities, thanks to a vigorous preservation effort since 1997 by the WWII Wilmington Home Front Heritage Coalition and public officials, which the visitor can see by downloading a self-guided tour map of Wilmington-area WWII sites from the home page of www.WilburJones.com.
The most compelling sites for visiting include, for starters, these two Crown Jewels of WWII preservation.
Battleship USS NORTH CAROLINA Memorial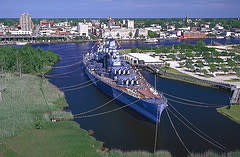 On the Cape Fear River across from downtown Wilmington - Since 1961, the WWII museum ship is the State of North Carolina's memorial to WWII veterans and its 10,000 dead. Always among the state's most visited tourist sites and open daily except Christmas, it presents frequent WWII programs, exhibits, and activities, including crew members' reunions, and frequently hosts community events.
On April 9, in conjunction with the 2016 North Carolina Azalea Festival, the Battleship will observe 75 years since its commissioning into service. In May the annual Memorial Day commemoration, a moving ceremony aboard the ship, draws 1,000 or more.
In the spring of 2016, construction begins on a steel cofferdam (and wood memorial walkway) around the ship to prepare for needed hull repairs. This activity ought to draw tourist excitement on its own! The ship's Generations Campaign has raised most of its $17 million goal for this project. Text 41-444 Battleship, or visit www.Battleshipnc.com to donate.
Hannah Block Historic USO/Community Arts Center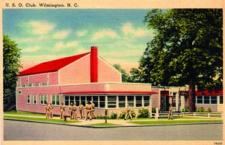 At 2nd & Orange Streets - Renovated, city-owned WWII USO building restored to wartime appearance, with lobby area home front museum; hub of WWII commemoration activities in Southeastern N. C.; on National Register of Historic Places. This popular community venue is a perfect blending of the arts and history, and among a handful of such buildings still standing.
In 2008 the lobby area was restored to its wartime appearance to become the hub of Southeastern North Carolina's WWII heritage and arts activities. The lobby area contains the original flooring, colors, radiators, and windows; original and reproduction period furniture and furnishings; snack bar; wing studios; and display cases and photomurals portraying local USO activities and home front and military life.
On Veterans Day, we will celebrate the building's 75th anniversary by presenting an original musical play titled, "Mrs. World War II Wilmington: We fell in love at the USO." The writer/director is Tony Stimac, a 40-year veteran New York producer/director of musical theater. The show opens with an evening gala reception followed by a veterans/active duty military salute November 12, 2016 matinee among four performances.
USO lobby exhibits include:
•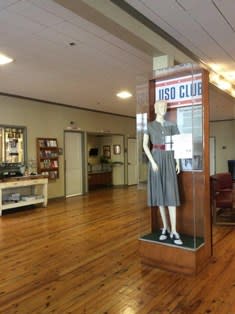 New Hanover County's memorial to its 248 WWII dead servicemen
• Memorial to WWII New Hanover County Aviators (39 of 122 died)
• Memorial to New Hanover High School's two WWII Medal of Honor recipients: Charles Murray and William Halyburton
• Dressed mannequin of USO hostess
• 3 uniforms worn by servicemen who visited the wartime USO
• Decorations and personal memorabilia, including original art of his unit in combat, donated by family of Sgt. John J. Burney, Jr.
• Photomurals of Wilmington USO and home front life
• Many pieces of original USO equipment artifacts (such as a cash register), furniture and furnishings, and repro furniture/blinds
• Original butcher block from kitchen
• Piano played by Hannah Block to entertain troops there
• Repro artifacts, toiletries and cigarettes, copies of Wilmington newspapers, including mounted on original newspaper rack, and repro copies of ration books and USO flyers, handbills, brochures, etc.
• History labels describing wartime Wilmington
• Model of Liberty ship SS Virginia Dare built at Wilmington shipyard
• Remnants of champagne bottle used to christen Liberty ship SS Roger Moore in 1943, with photo of christening party
• Wall art painted by German prisoners of war in their mess hall
• Posters, including Rosie the Riveter        
...And we have many more sites to satisfy history and cultural enthusiasts
North Carolina Shipbuilding Company, 1941-46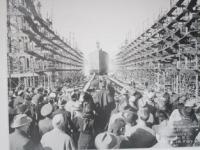 At Shipyard Boulevard and & Burnett Boulevard - The Wilmington shipyard, now the site of the North Carolina State Port, constructed 243 Liberty and C-2 hulls for Navy and Maritime Commission. The port received petroleum and other products for inland shipment, and shipped tons of "Lend-Lease" war materiel to U.S. Allies.
Several wartime buildings on the property are still in use, including the most prominent, the 5-gabled mold loft, and the International Seamens Center (foremen's building). The chain fence and railroad tracks are wartime. The apprentice dormitory on Burnett Boulevard stands unoccupied.
For security reasons port access is restricted.
German U-Boat Firing on Ethyl-Dow Chemical Company Plant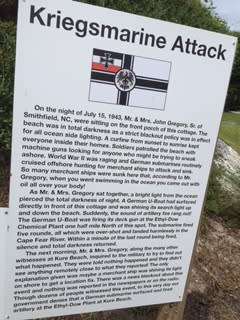 Kure Beach area - On July 25, 1943, according to substantial circumstantial evidence, a German U-boat surfaced off of Kure Beach and fired three shells at this plant, located on the Cape Fear River side of Federal Point which was making bromide, an additive for military aviation gasoline. They landed on the river's opposite side.
Still debated, the incident is marked by a private historical marker at the Gregory family oceanfront house on Atlantic Avenue whose then occupants were aware of it.
To our knowledge, it would have been the only time the Germans attacked the East Coast. A historical marker to the Ethyl-Dow plant is located on the eastern side of Fort Fisher Boulevard in Kure Beach (the plant was torn down many years ago).
Three German Prisoner of War Camps
From February 1944 to April 1946: The first German POW Camp was at Shipyard Boulevard and Carolina Beach Road (historical marker at the CVS), then moved to the Robert Strange Park main camp at 10th & Ann Streets (historical marker); with a detachment (nothing exists) at Bluethenthal Army Airfield (ILM airport)
The main camp held 550 German POW's captured from the Afrika Korps in Tunisia in 1943. A sightseeing attraction, they caused no trouble, held no breakouts, and worked dairy and truck farms, fertilizer and pulpwood industries.
Congressional Medal of Honor Memorial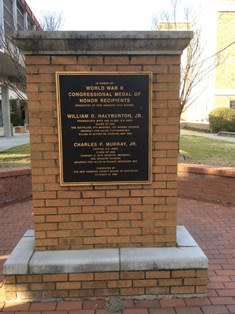 At New Hanover High School, 13th & Market Streets - A masonry and brick garden memorial to NHHS graduates Pharmacists Mate Second Class William D. Halyburton, Jr., USNR (class of 1943, killed in action 1945 on Okinawa, posthumously awarded); and Captain Charles P. Murray, Jr., USA (1938, awarded for valor in France in 1944). We believe ours is the only high school with multiple WWII Medal of Honor recipients.
Other worthy area WWII attractions to visit include:
Pearl Harbor Survivors Memorial, Battleship Park adjacent to the Battleship USS NORTH CAROLINA Memorial, hosts the annual Southeastern N. C. December 7, 1941, commemorations.
Fort Fisher State Historic Civil War Site visitor center, south of Kure Beach. Exhibit to WWII Army anti-aircraft artillery advanced training base. Airfield visible. On October 15, 2016 the site will celebrate its 75th anniversary with WWII programs and displays.
"The Bottoms" mixed-race residential area between Market and Wooster Streets around Robert Strange Park.
William D. Halyburton Jr. Natural Park, South 17th Street. Visitors center Medal of Honor plaque.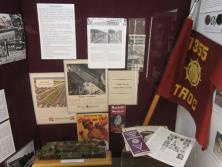 Wilmington Railroad Museum (WWII exhibit) and Coast Line Convention Center: The only remains of Atlantic Coast Line Railroad.
Cape Fear Museum of History & Science, Wilmington: WWII exhibit.
Carolina Beach Boardwalk: WWII storefront structures exist.
Federal Point History Center, Carolina Beach: WWII exhibit.
Front Street post office building, Wilmington: exterior, lobby, mural unchanged.
Front Street neighborhood between Orange and Grace Streets: Most buildings are pre-war, including Finkelstein's, the only wartime store still in operation. Wartime public housing projects still occupied: Lake Village (near Greenfield Lake), Maffitt Village south of Shipyard Boulevard, Hillcrest at 13th & Dawson Streets.
Forest Hills School, Wilmington: original front, classrooms, and auditorium; second floor added during wartime.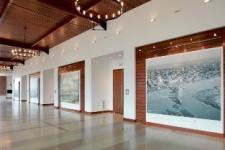 Wilmington Convention Center, 515 Nutt Street, Wilmington: Historical images inside the convention center include WWII-era photographs of the Wilmington Shipyard and Hugh Morton's photograph of the epic arrival of the Battleship NORTH CAROLINA to Wilmington's riverfront in 1961. 
Charles P. Murray, Jr. Middle School, Halyburton Boulevard, Veterans Park, off Carolina Beach Road, with Medal of Honor plaque.
Wrightsville Beach Museum of History: WWII exhibit.
In Neighboring Counties:
North Carolina Maritime Museum at Southport: WWII exhibit.
Southport memorial to sinking of the tanker SS John Gill in 1942 by German U-boats.
Camp Davis at Holly Ridge: U.S. Highway 17 marker, some streets and a few WWII structures remain.
- - - - -
About the Author, Wilbur D. Jones, Jr.: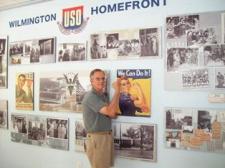 Wilmington native and retired Navy captain Wilbur Jones, an author/military historian who grew up here during the war, authored two books on wartime Wilmington, A Sentimental Journey: Memoirs of a Wartime Boomtown, and its sequel, The Journey Continues: The World War II Home Front. He is chairman of the WWII Wilmington Home Front Heritage Coalition, and immediate past chairman of the USS North Carolina Battleship Commission.
Jones conducts individual and group tours of these sites. He can be contacted at: JonesWD@ec.rr.com, 910-793-6393, and www.WilburJones.com.