In addition to miles of sandy shores, the Wilmington area has oceans of inspiring artists, eclectic galleries and annual festivals for the art lover in us all.The prestigious Cameron Art Museum is an ideal starting point, complemented by visionary Downtown studio spaces and a host of independent galleries exhibiting everything from wire sculptures to 3D handmade paper collages.
Wilmington's art scene is alive and well, year-round, so it's always a good time to celebrate and become a part of the creative buzz! Here's what's painting at some of my favorite spaces.
Cameron Art Museum ("The Cam")
Wilmington's beloved art museum is a cultural gathering place that hosts dynamic public programs, unique events and high-quality exhibits. Open six days a week, enjoy a delicious lunch at the Cam Café surrounded by a wide range of artistic expression.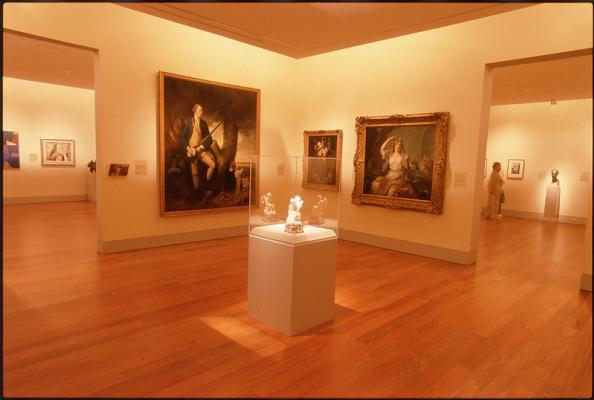 Current exhibits include: The Eye Learns – Modernist Prints from the Louis Belden Collection (through April 26, 2020) and the ageless Photography of Phil Freelon - Structure in Space and Time. Future exhibits include the Wilmington U.S. Colored Troops (USCT) Public Sculpture Project by Durham artist Stephen Hayes that features casts of USCT descendants, re-enactors, and community members (opens November 14, 2020).
Fourth Friday Gallery Nights
The inspiration of the Arts Council of Wilmington and New Hanover County, the Fourth Friday Gallery Nights art walk is a recurring 'after-hours celebration of art and culture' that happens on, yes you guessed it, the fourth Friday of every month!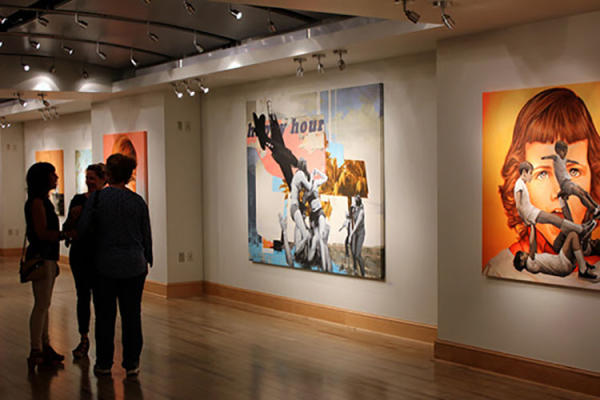 Galleries from the South Front District all the way past the Castle Street Arts & Antique District, and down to the Brooklyn Arts District open their doors to the public from 6:00pm to 9:00pm, offering wine, nibbles and art. A good starting point is the Arts Council's very own Aces Gallery on Front Street with exciting rotating exhibits. The free Port City Trolley follows the gallery route, passing by pedestrian art sculptures along the way. For a list of dates and participating galleries, click here.
Independent Galleries - Keeping It Fresh
Wilmington has dozens of galleries. On any given day you can feast your eyes on the serene watercolors of the Golden Gallery at the Cotton Exchange (311 N. Front St.), experimental collage at Bottega Art and Wine (711 N. Fourth St.), or a mix of ceramics, jewelry, mosaic and more at Art In Bloom. Innovation emerges alongside more established spaces such as New Elements (271 N. Front St.), the Charles Jones African Art Gallery (311 Judges Rd.), and Eclipse Artisan Boutique/Blue Moon Gift Shop (203 Racine Dr.), to name a few. Click here for more art galleries and venues.
Studio Space
Wilmington is the place for budding artists. The rustic warehouse of ACME Studios (711 N. Fifth Ave.) houses up to 20 working artists and hosts regular art openings and interactive tours.
The major renovation of old warehouses has created two relatively new studio spaces—The Art Factory (721 Surry St.) and The Artworks (200 Willard St.). Describing itself as an art village, The Artworks has studios, an event venue, gallery space and workshops where you can take in diverse art collections while learning to drum with local musician Perry Smith, or how to use soft pastels with artist Janet Johnson. As the saying goes, "it's never too late to be what you might have been."
Wilmington's Fabulous Art Events
N.C. Azalea Festival Juried Art Show & Sale [March 28-April 5, 2020]. Hannah Block Historic USO Building, 120 S. Second Street.
Orange Street Artsfest [Memorial Day weekend]. Hannah Block Historic USO Building, 120 S. Second Street.
Great American Craft Walk (Sept. 19, 2020). Downtown Wilmington, N. Front Street.
Art in the Arboretum (early November). Arboretum of New Hanover County, 6206 Oleander Drive.
Airlie Gardens. Airlie's 67 acres of glorious Mama Nature are adorned with dozens of permanent outdoor sculptures, water features and the iconic Minnie Evans Bottle Chapel, as well as an annual summer art exhibit. In 2020, SQUIRRELS! will be on display (July 1-Oct. 31) featuring giant fiberglass squirrel models decorated by artists. 300 Airlie Road.
Island Events & Venues
Art and the Bloom (early January] pairs floral designers with works of art in a design challenge exhibition in which floral arrangements interpret the paintings. Blockade Runner Resort in Wrightsville Beach.
Wrightsville Beach Art Company [32 N. Lumina Ave., Wrightsville Beach]. Owner/artist, Jazz, works with oil and acrylic paints, incorporating discarded materials and found objects.
Carolina Beach Street Arts Festival (first Saturday in May): The Island Alliance of Arts and Culture presents an interactive, family-friendly mix of visual, culinary and performing arts at Carolina Beach Lake.
Kure Beach Street Festival [last Saturday in April]. Vendors display art and crafts with live entertainment and kids' activities. Ocean Front Park, Kure Beach.
For more arts events, click here.
Wilmington and Beaches is more than just a beach destination; it's also rich in arts and cultural experiences. For more information, visit the Wilmington and Beaches Arts & Culture web page.