As Cape Fear Craft Beer Week and North Carolina Beer Month (April) get underway we asked craft beer/family travel writer Bryan Richards to round up a list of family-friendly breweries in Wilmington and our island beaches. Here are his recommendations for a craft beer lover's Spring Break getaway with the family. 
When our two became a family of three, one of our biggest adjustments was the family vacation. Before, our travels were more adult-orientated with afternoons spent lounging around vineyards or breweries and nights ending early the next morning in local pubs. Not very kid-friendly, to say the least.
For our first family vacation, we researched a destination that had plenty of family-orientated activities along with a few family-friendly breweries for a taste of our old vacations. Wilmington checked all those boxes. After a day of exploring, we could stop into a brewery for a flight of beer, pick up some wares to go, and enjoy brewery fresh beer from our oceanfront balcony while our son went down for his early bedtime.
Below are my go-to family-friendly breweries in Wilmington for our now semi-annual trip to the beach. Not only are all of these breweries welcoming to families, they all also sell beer to go.
Family-Friendly Brewpubs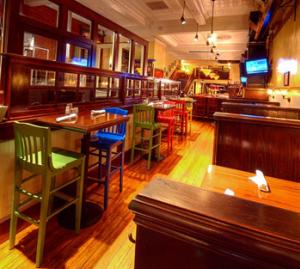 Let's start with Front Street Brewery in Wilmington's historic city center. Founded in 1995, Front Street is the area's oldest operating brewery. It's a great spot to grab a bite to eat and a cold one between the many activities available in downtown Wilmington. The brewery brews clean, old world style beers alongside upscale pub fare. Little ones are given crayons and a children's menu to keep them occupied. The shrimp platter and hummus options are a nice diversion with the standard kids' menu offerings like grilled cheese and chicken tenders. Older kids can enjoy creative, family-pleasing items from the menu like the behemoth Pimento Pork Belly Burger. After your meal, present your children's menu to the Children's Museum for a dollar off admission.
Also located in Wilmington is Bill's Front Porch Pub & Brewery. While the kids' menu looks pretty bland at first glance – only offering requisites like hamburgers and quesadillas – don't overlook those chicken tenders. Bill's is known for their fried chicken, which also comes in a bucket to enjoy family-style. Beyond their variety of traditional and experimental beers, the brewpub is known for a homemade dessert menu that changes daily. Allow the kids to split a towering hunk of homemade cheesecake while you enjoy a Raisin the Dubb Belgian Dubbel aged on rum-soaked raisins. It's a win, win.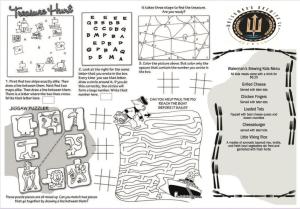 Heading out to Wrightsville Beach are two relatively new brewpubs. Our son, in particular, dug the seafaring décor of Waterman's Brewing Company. The bright paintings of fish and boats kept him occupied beyond the colorable children's menu. He also loved the Loaded Tots kids' menu entrée, even though his mom wanted him to pick something healthier like the Little Viking Rice – a blend of grains, herbs, and fresh vegetables. While he ate, we enjoyed the Blackened Tuna Tacos and the Ahi Tuna Sandwich – two unique interpretations of the locally caught fish – with a vibrant Plate Shifter West Coast Pale Ale. Waterman's also has a large patio with games like cornhole, Jenga, and ring toss.
Wrightsville Beach Brewery is a favorite for those looking for fresh seafood alongside freshly brewed beers. Order a dozen oysters on the half-shell along with the Orange Krush Kolsch and send me a thank-you note. We liked the creativity of both the adult and children's menus. Po' Boy Pizza for us and NC fed beef sliders for him? Yes, please! Like Waterman's, Wrightsville Beach has a spacious beer garden with plenty of games and room for the little ones to run.
Family-Friendly Breweries
The family-friendly brewery concept isn't exclusive to brewpubs but also extends to many breweries, like the ones below – all of which host regular food trucks. There are plenty more breweries brewing great beer in Wilmington and the beaches than those listed below. These are just some of the more family-friendly breweries. For the others, plan a date night!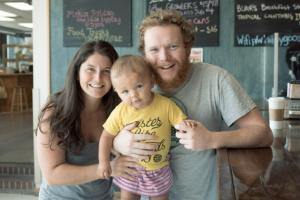 Wilmington Brewing Company is a great example. While the taproom itself is rather claustrophobic, there's a converted warehouse behind it with cornhole, foosball, ping-pong, Jenga, you name it! Our son even found a Lighting McQueen car he rode around the brewery while we enjoyed some adult conversation and hop forward beers (I can't get enough of their Tropical Lightning West Coast IPA). Behind the brewery is a beer garden with picnic tables and a children's playset complete with swings and slides.
Likewise, Waterline Brewing Co. has a large outdoor space and enough games for children of all ages to enjoy like cornhole, can jam, soccer balls, Frisbees, and, yes, even squirt guns. If the weather is inclement, the back room of the brewery houses a small game room with air hockey and basketball. If hunger kicks in on an occasion when a truck isn't scheduled, the brewery sells healthy snacks like black bean hummus from The Veggie Wagon.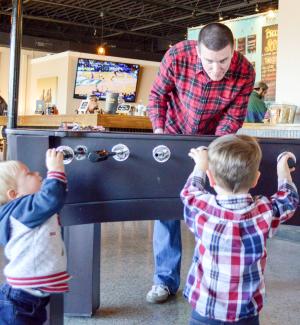 The Sour Barn – sister brewery to Broomtail Brewery – is a smaller, but still family-friendly space pouring Belgian and farmhouse influenced ales. There's plenty to keep the family occupied like cards, Jenga, foosball, cornhole, air hockey, and ping pong. They do have an outdoor space, but we found it a little too crowded with dogs for our son's comfort.
For those staying down in Carolina Beach and Kure Beach, your family-friendly brewery option is Good Hops Brewing. Expect a spacious taproom and beer garden with more than enough games for the kids to spend a few hours playing while the adults sip on a variety of American craft beer styles designed for easy beach drinking. Good Hops' differentiator is the onsite disk golf course. Children under the age of 15 must be accompanied by an adult if they want to play.
Please remember, that no matter how family-friendly a brewery is, these are still adult drinking establishments. Be sure to mind your children (and your own consumption) for everyone's safety and enjoyment.
Find out more about Cape Fear Craft Beer Week and North Carolina Beer Month (April).