Christmas comes but once a year, unless you cue up the right Wilmington-shot holiday production. Over the past 30 years Hollywood has repeatedly brought its cinematic holiday spirit to Wilmington. Perhaps it's the small-town atmosphere or the idyllic waterfront vistas that attract everything from blockbusters to history-making TV movies to stage their Christmases here.
For locals, these holiday-themed projects mean one thing – Christmas comes early. Production crews often shoot during the summer, armed with biodegradable prop snow (it rarely snows here, even in winter), and glistening artificial trees and wreaths. Private residences and businesses are decked out in all the trimmings, and actors brave the humid days of a Carolina summer in their best winter wardrobe.
As a longtime resident and Christmas lover, there's nothing quite like walking through downtown Wilmington in August and seeing a snow-blasted Riverwalk while dreams of air conditioning are still dancing in your head.
A sampling of Wilmington's festive filmography includes these movies and TV series that dressed up the town for the holidays:
"One Christmas" (1994)
Wilmington's first true Christmas production was a historic one, as it featured the last screen performance of Oscar-winning actress Katharine Hepburn. The NBC TV movie starred the Fonz himself, Henry Winkler, as a con artist pursuing the daughter of a wealthy socialite (Hepburn) in 1903 New Orleans. Hepburn only shot for about four days on the project, before closing out her legendary career in Wilmington. While most of the film's sets were private residences in the historic district, it did shoot at the Bellamy Mansion.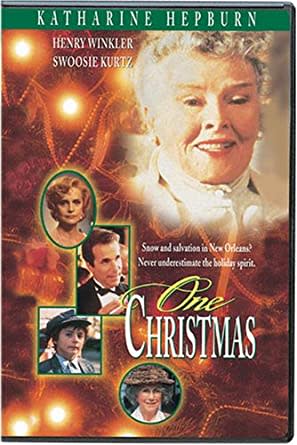 "One Tree Hill" (2006)
"Songs to Love and Die By" (S4 Ep. 10): In this beloved episode of The CW's drama series, Lucas (Chad Michael Murray) recovers from a heart attack by seeing what Tree Hill would be like without him, "It's a Wonderful Life" style.
"Dawson's Creek" (2002)
"Merry Mayhem" (S6, Ep. 10): Wilmington's original teen drama saw its characters, including James Van Der Beek and Katie Holmes, come home for a holiday gathering that spills more secrets than eggnog.
"Iron Man 3" (2013)
People might raise an eyebrow at this Marvel blockbuster's holiday credibility, but don't forget the final solo movie of Tony Stark (Robert Downey Jr.) was set at Christmastime. The film isn't exactly brimming with holiday cheer, but the festive flourishes and references are there, including the Iron Legion scene at the N.C. Port of Wilmington. There's even a New Year's Eve party shot at Wilmington's Cape Fear Club.
"Christmas in Conway" (2013)
This Hallmark Hall of Fame entry starred Andy Garcia as a devoted husband who rallies the community to give his terminally ill wife (Mary Louise Parker) one final Christmas to remember – complete with a vintage 1921 Ferris wheel. The film's carnival centerpiece was built in the backyard of a Forest Hills home in Wilmington, while Greenfield Park also got spotlighted.
"Christmas in Harmony" (2021)
The latest Christmas movie to call Wilmington home stars Ashleigh Murray as a singer tricked into auditioning for a holiday choir directed by her ex-boyfriend. Murray played Josie (of Josie and the Pussycats) on The CW's "Riverdale," so she's got the pipes. But with backup from Destiny's Child alum Michelle Williams and Loretta Devine, the Hallmark movie hits plenty of high notes. The movie, which prominently featured St. Andrews-Covenant Presbyterian Church, premiered before Halloween and will rerun through Christmas.
"Good Behavior" (2017)
"Because I'm Mrs. Claus" (S2, Ep. 3): TNT's Michelle Dockery crime drama felt the Christmas spirit for this episode which found most of its characters on a holiday vacation.
With plenty to unwrap this holiday season, there's good reason to celebrate Christmas through Wilmington's filmography. Select titles are available for streaming on various platforms and for purchase on good ol' DVDs. Happy holiday viewing!