Wilmington is the perfect pet-friendly destination no matter the time of the year. Dogs are always welcome in this charming city and its beaches. The city of Wilmington has several dog-friendly restaurants for you to choose from as well as countless dog parks, tours and even two year-round dog-friendly beaches.

Day 1: Spend the day at the beach with your pooch

Wilmington offers visitors and residents two year-round dog-friendly beaches and even more beaches that are pet-friendly from October through March, including Carolina Beach, Wrightsville Beach and Kure Beach. Remember: dogs are always required to wear a leash on the beaches.
Start your day with a delicious breakfast from The Workshop at Wrightsville Beach. This iconic restaurant is based on a new concept that integrates both local scuba divers and coffee lovers. In the shop you can even purchase shark teeth jewelry or a Megalodon tooth alongside top-notch craft coffee.

If you are visiting between Memorial Day and Labor Day we recommend heading to Fort Fisher State Recreation Area, where dogs are allowed year-round for some fun in the sun and sand. While at Fort Fisher, make sure to check out the Basin Trail and see the WWII bunker where the legendary Fort Fisher Hermit once lived.
You can also enjoy a stroll along the Island Greenway in Carolina Beach. This fantastic network of trails, parks and scenic areas are linked together with several routes, providing a great way to explore more of the natural features Carolina Beach has to offer alongside with your dog.

After a morning of swimming and exploring with your pooch, head to Michael's Seafood for a delicious lunch on the patio. The restaurant is located on the way back to Wilmington from the beach and offers a range of fresh seafood options. We had the Salmon with a simple lemon butter sauce and were blown away by how tasty it was.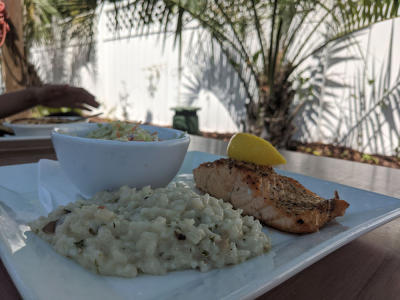 In the afternoon, explore downtown Wilmington and visit some of its most interesting pet-friendly art galleries, including the Art in Bloom Gallery and walk along the riverfront. While at the riverfront enjoy a creamy gelato made in Turin, Italy from GelaRto. Pretty sure our dog wouldn't mind giving it a taste as well!
We recommend walking around the small historic downtown Wilmington and check out the many quaint shops on Market St and Front St. Do not miss Unleashed, the Dog & Cat Store to get a new toy or treat for your furry friend. With the Wilmington History Tours app you can take a self-guided walking tour of Wilmington's riverfront and historic district, learning the history of many of the buildings combined with historic photographs of the area.

If you have any extra time in the afternoon, there are dog parks dotting the county, including at Long Leaf Park, Empie Dog Park, Greenfield Lake Park, Ogden Park, Joe Eakes Park, and Mike Chappell Park.
There is no better way to finish your day than with a delicious dinner watching the sun set over the Cape Fear River. We love the food at Anne Bonny's, a floating restaurant on a barge. Just keep in mind that it can get crowded around sunset due to the relaxed atmosphere and amazing view, so it might be too much excitement for your pet.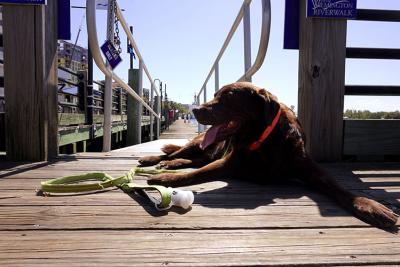 The Satellite Bar's courtyard is a perfect after-dinner pet-friendly bar for live music and a beverage to unwind. They have a massive selection of bottles to meet everyone's taste, but we always recommend trying a local beer. Downtown Wilmington has several other dog-friendly craft breweries including Flytrap Brewing and Waterline Brewing Company.
Day 2: Fun day with your dog

If you couldn't tell from the first day of fun, there are so many dog-friendly activities in Wilmington and the beaches, so get the day started early! Folks Café is a local favorite because of its delicious drinks and strong community feel. There's no better way to start off your day than with some fresh Argentinian empanadas and a good strong iced coffee!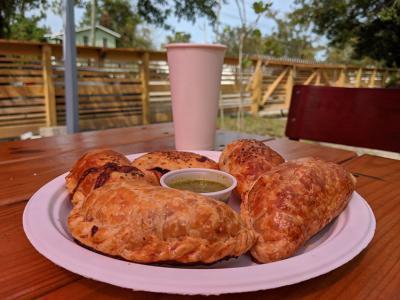 Then it is on to a spot for both you and your pooch to enjoy at the Arboretum of New Hanover County. The Arboretum is a small botanical garden that allows dogs. It is a nice relaxing stroll where you can take countless photos of your doggie at the Japanese themed garden. Or just sit back, enjoy the surroundings and soak in some sun.
For lunch head to Ceviches, a Panamanian-inspired restaurant with fresh-to-table cooking and a beautiful tropical ambiance with indoor and patio dining. We highly recommended sharing a few different dishes to get a sampling of the menu, since they are all so good. They are closed for a time between lunch and dinner, so make sure to plan your mealtime, as you do not want to miss this spot.

In the afternoon there are several options for you and your dog. From October through March you can go back to the beach at Wrightsville Beach and swim with your pooch until sunset. Alternatively, you can take your dog for an afternoon of adventures with Cape Fear Paddleboarding. If it is low tide, you can paddle to the famous Palm Tree Island and its parking meter. As the day comes to a close, we recommend a water tour with Wrightsville Beach Scenic Tours, who offer a sunset cruise and are happy to provide a spot for the dog with advance notice.
| | |
| --- | --- |
| | |
Finish off your amazing getaway trip to Wilmington on a high note with a dinner at the Brasserie du Soleil. There are many delicious fresh seafood options, including the Tuna Tartare or a nice juicy steak paired with a red wine. The friendly service and delectable Crème Brulee put our meal over the top as we sat on the pet-friendly patio overlooking a cute little pond.
Where To Stay
Pet-friendly lodging choices in Wilmington and its beaches include brand hotels, small inns and vacation rentals. The times we visited we have stayed at both the ARRIVE Wilmington hotel (temporarily closed for renovations) and The Beacon House Inn City Flat, each with its own charm just steps from the center of town. The Beacon House Inn City Flat offers a two-bedroom apartment, with a full size kitchen perfect for cooking some of your own meals, and a dog amenity basket with treats, bags and some food bowls to use. The owners also offer pet-friendly Cottages at The Beacon House in Carolina Beach. The ARRIVE Wilmington has a beautiful designed patio, with some lawn games and fireplaces lit each evening. The hotel even has a gazebo bar to grab a drink in the evening without having to go far.