When in Wilmington, there's no shortage of scenic views, historic sites, tasty bites and more to explore, and there are plenty of ways to check out all the area has to offer. 
 
With so many options to explore, from water tours and historic outings to ale trails and beyond, read on to discover five of the most unique ways to tour Wilmington:  
River Excursions 
Take in Wilmington from the water with a boat tour along the Cape Fear River. Set sail on a variety of narrated excursions, from history and eco-tours to sunset cruises, with Wilmington Water Tours. Hop aboard the 50-minute Eagle Island Cruise for views of unspoiled nature and coastal wildlife, or plan your trip at the perfect time to catch a Full Moon Cruise.  
Join Wilmington's oldest continuously running cruise company, Cape Fear River Boats, for a sightseeing tour aboard the Henrietta. A skilled local captain will teach you about the Cape Fear River's role throughout history, while you take in riverside views of some of Wilmington's oldest homes and sip on beverages from the onboard bar. Or, reserve a BYOB (Bring Your Own Beverage) excursion aboard BrewBoat Wilmington's environmentally friendly paddleboat to explore Wilmington over drinks with friends. 
Back in Time 
Home to a 230-plus-block National Register Historic District rivaling that of cities like Charleston and Savannah, Wilmington is the perfect place for anyone passionate about history. Established in 1739 as a port city along the Cape Fear River, Wilmington became the region's center of trade, politics, and culture due to its proximity to the river and the ocean.  The city survived the trials of the Revolutionary War, Civil War and WWII. To commemorate the city's contributions to the WWII effort on the home front, Wilmington became the first city designated as an "American World War II Heritage City" in 2020.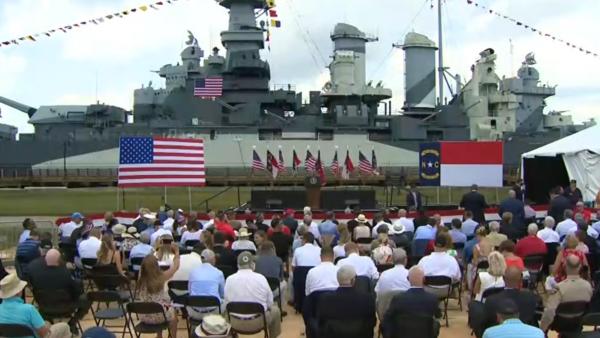 Head to the corner of Market and Water Streets to embark on a walking tour with Tour Old Wilmington, where you'll discover the coastal city's rich history through tales told by a local guide. Or, explore Wilmington at your own pace with six self-guided tours – from African-American and Civil War history to a pub crawl through downtown – offered through the Wilmington History app. 
Experience Wilmington like travelers from centuries past with a horse-drawn carriage tour with Springbrook Farms. Sit back and relax as your experienced guide recalls stories of the city's history, its famous residents and stately homes.  
Get a glimpse into the lives of some of Wilmington's wealthiest residents with a historic home tour. Wander through the 10,000-square-foot house and manicured grounds at Bellamy Mansion Museum of History & Design to see one of North Carolina's most spectacular examples of early 1800s architecture. Explore Burgwin-Wright House and Gardens, a circa 1770 residence featuring beautiful Georgian architecture, or travel back in time to Victorian Wilmington with a tour of the Latimer House Museum. 
Lights, Camera, Action 
Known as "Hollywood East," the Wilmington area has served as a backdrop for a number of blockbuster movies, TV shows and indie productions over the years. Print out this guide and put on your favorite walking shoes to embark on a self-guided tour of filming locations from hits like Sleepy Hollow, Safe Haven, Matlock and more.  
One Tree Hill fans flock to the area for our self-guided tour of "Tree Hill," the show's fictitious town set in Historic Downtown Wilmington. Venture to the Wilmington Riverwalk to find the famous "Naley Bench," where Nathan gave Haley the Cracker Jack bracelet, or check out the location used as "Karen's Café" on the corner of Grace and North Front Streets. Or, take a trip to "Capeside, Massachusetts" with our self-guided tour of dozens of Dawson's Creek filming locations. From "Capeside High School" to "Joey's Wall," relive some of your favorite TV moments from the early 2000s.  
When in Wilmington, keep your eyes peeled for filming taking place around the city. Or, check out blockbusters like Halloween Kills and Scream to see if you can spot some of the iconic filming locations in Wilmington.  
Bites & Beverages 
Taste the town with a food or self-guided brews tour through downtown Wilmington, where you'll sample craft beer, eclectic eats and more. Sign up for a Downtown Tasting Tour with Taste Carolina to nosh on bites from an assortment of eateries, meet some of the city's best chefs and learn about historic downtown.  
Spend a day exploring the nearly 30 breweries and bottle shops along the Wilmington Ale Trail to sip brews like the Coastal Kolsch at Front Street Brewery or the Scallywag Session IPA at Edward Teach Brewing. Or, try something new during a tour and tasting at End of Days Distillery, Wilmington's first craft distillery, where you can sample ultra-premium and limited-release vodka, rum and gin.  
Historic Haunts 
Head downtown around dusk to take part in a Ghost Walk of Old Wilmington in one of the country's most actively haunted cities. Keep your eyes peeled for friendly spirits as your guide leads you on a 90-minute adventure to the city's most haunted homes and burial grounds.  
Raise a glass to Wilmington's spooky history with a Haunted Pub Crawl through Historic Downtown Wilmington. During the two-and-a-half-hour adventure, visit some of the city's best pubs and hear ghostly tales of mystery and mayhem. Or, take the Haunted Cotton Exchange Tour to hear spooky stories as you explore the eight interconnected buildings that have been in use since the Civil War.  
No matter where your tour takes you, you will discover the beauty, charm and friendly hospitality Wilmington is known for.